MEET MOLLY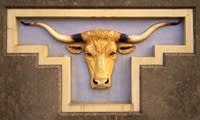 To honor the cattle industry upon which Fort Worth was built a longhorn head sculpture was placed on the Stockyards National Historic District's Livestock Exchange Building in 1909.
Folklore holds that the sculpture was named Molly, and her vantage point gave her a view of all the activity in town.
Molly is now the official mascot of Fort Worth and has a place in the City's logo, on many local businesses like Molly the Trolley, and as a pin on the lapel of many a proud Fort Worthians.
Fort Worth offers a variety of accommodations for every group's style, taste and budget.
Transportation options like a free downtown shuttle make getting around Fort Worth easy.