PLAN A TRIP
Our itinerary builder is a great place to start, allowing you to plan your ideal visit day-by-day. Request a copy of our free Visitor Guide and get inspired by pages of attractions, events and insider tips for each district.
Our preplanned itineraries provide great ideas on ways to organize your trip.
Before you board your flight or hit the road, check out our deals page for special offers from hotels,attractions and restaurants.
Getting here is easy with the close proximity to Dallas/Fort Worth International Airport. Just 17.5 miles from downtown, DFW Airport offers more flights from more destinations than almost any other airport in the world.
During your visit:
Our interactive maps will help you find your way around, whether driving, biking, walking or utilizing our convenient network of shuttles, buses and trolleys.
Prefer face-to-face advice? The friendly staff at our Visitor Information Centers can answer questions and offer expert recommendations.
See you in Fort Worth!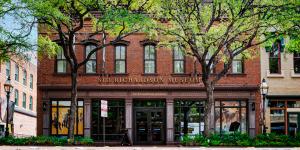 Museums
In Fort Worth, you can explore many museums that are world-famous for the beauty of their architecture.
Fort Worth offers a variety of accommodations for every group's style, taste and budget.
Transportation options like a free downtown shuttle make getting around Fort Worth easy.