TRANSPORTATION
Fort Worth is located in the center of the United States, so it's accessible from practically anywhere. And once you're in town, it's very easy to get around Fort Worth or travel to nearby cities.
Walking Maps: Ready to hoof it? Walking is a wonderful way to experience the major entertainment districts in addition to the Trinity Trails that connect several of our major districts.
Bus service: The Fort Worth Transportation Authority, offers rides all over Fort Worth, including routes to popular attractions like the Stockyards National Historic District, the Fort Worth Cultural District and downtown's Sundance Square. Hop on Molly the Trolley, a free downtown get-around.

Rail service: Trinity Metro also operates the Trinity Railway Express, or TRE, which provides convenient rail transportation between Fort Worth and Dallas and transfer access to DFW International Airport. In downtown Fort Worth, hop aboard at either the historic T&P Station or the Intermodal Transportation Center (ITC).
Tex Rail: Take the Tex Rail from the airport to the heart of downtown! A $1 billion rail project linking Fort Worth with DFW International Airport giving visitors easy, affordable transportation.
Air travel: The fourth-busiest airport in the nation, Dallas/Fort Worth International Airport is only 17.5 miles from downtown Fort Worth. From this airport, you can reach any major city in the U.S. in less than four hours.
Ground transportation from the airport: Take a seat in a convenient shuttle bus or taxi cab. Or ride a remote shuttle bus to the Trinity Railway Express and take it to the ITC in downtown Fort Worth. For more info about taking the TRE to and from the airport, click here.
Fort Worth Bike Sharing: Bike sharing is an inexpensive, healthy and environmentally friendly way to get around Fort Worth. Simply pick up a bike at any bike sharing station and ride it to any other station. You'll find more than 40 docking stations throughout the city, including downtown, the Near Southside and the Cultural District. 
Group Transportation: Traveling with a large group? Choose from shuttle service, limos or charter services.
Need Help Downtown?: Hospitality Services, Directions, a Safety Escort, or Referrals to Social Services? Here is information about the Downtown Ambassadors Program, they can help with these amenities and more!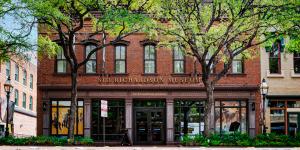 Museums
In Fort Worth, you can explore many museums that are world-famous for the beauty of their architecture.