Fort Worth keeps health in mind year round as part of the Blue Zones Project.  Here are some tools and ideas to incorporate health and wellness into your next event.

Healthy Snacks
Attendees fear event food can often be too heavy. Work with your hotel/venue to provide healthier options for breaks and meals. Our Fort Worth hotels offer a variety of lighter menus often packed with locally sourced items like Omni Hotel's own herb garden, or sourcing local nuts from one of our favorites Vending Nut.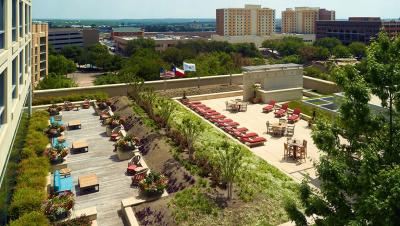 Heading out for an afternoon snack or meal?  Give one of our healthy restaurant options a try –  Righteous Foods, Spiral Dinner, Bird Café, or look for one of our Blue Zones-approved restaurants. 
Keep Moving
Incorporate a walking or biking session into your conference. It will get blood pumping and gives attendees a different perspective. Our hotels have flexible meeting space that make them a perfect venue, some even have outdoor space like the Worthington Renaissance Hotel's terrace.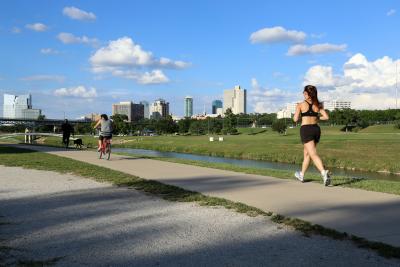 For your next break, lead attendees on a brisk 15-minute walk (you can walk 2,000 steps!) just outside the Fort Worth Convention Center at the Fort Worth Water Gardens. Another popular option is to include b-cycle passes with your attendees' registration. The bike-share program in Fort Worth now has over 30 stations throughout the city and is a great way to explore the Trinity River Trails.
Mindful Meetings
Laughter is the best medicine, and it also opens brain paths for learning and remembering information. Need help finding a humorous local speaker? We suggest Four Day Weekend, or let our expert convention services team be a resource for you.
Offering attendees a guided 10-minute meditation or five-minute breathing exercise could also help create a more mindful experience. You can even set up an easy five-to-ten minute circuit for a quick stretch between sessions.