Fort Worth runs on coffee! Just visit any local coffee shop and you'll find it full of locals busy at laptops, chatting with friends or grabbing a quick cup on the go. Lately, coffee shops have been opening in just about every Fort Worth neighborhood, each with its own unique personality, and all worth a visit. 
Casa Azul
Driving on Central Avenue in Fort Worth's Northside neighborhood you can't miss Casa Azul, the vibrant bright blue house and pink sign beckons you to walk in and check it out. Inside you'll find a light and bright space with a rotating menu of Latin-inspired specialty drinks that incorporate elements like marzipan, marigold and churros. Cinnamon and piloncillo (Mexican cane sugar) spice up drip coffee in their version of a traditional Cafe de Olla and their selection of pan dulce (Mexican pastries) makes the perfect companion to this home-style coffee. Since opening in 2021, this neighborhood spot is the first coffee shop in the area that regularly hosts community events and occasionally provides free coffee thanks to sponsorship by local businesses. 
Black Coffee 
Black Coffee opened in 2018 in the East Side of Fort Worth. Neighboring Texas Wesleyan University and filling a coffee void in the area, this coffee spot has picked up steam as a community gathering place while also serving exceptional coffee beverages. Expect creatively crafted seasonal drinks with unique ingredients like lavender, turmeric and sweet potato offered alongside coffee shop classics like lattes and Americanos. Colorful murals by local artists on the interior and exterior add a creative touch to the sunlit space. You can take the Black Coffee experience home with you by picking up bags of their custom-roasted coffee beans like "The Poly Blend" or "The Eastsider Blend". 
Ampersand
Coffee or cocktails? The aptly named Ampersand opened in 2017 in Fort Worth's West Seventh entertainment district and serves coffee by day and cocktails at night. During the day, they serve coffee shop favorites in addition to a creative specialty menu that changes monthly. Take a 'gram-worthy pic in front of their "Rise and Grind" neon or pull the curtain back on the speakeasy space and find a dimly lit cozy spot to settle in. In 2018 they expanded to add another shop located near TCU which makes it a perfect place to perk up students, staff and nearby residents. 
Cherry Coffee
In the heart of W. Magnolia Street in Fort Worth's Near Southside, Cherry Coffee serves up coffee with style and grace. Top-tier customer service, crafted and curated coffee selections along with a chic, cozy aesthetic make this neighborhood coffee shop one worthy of a lingering visit. Ample space with nooks for working or gathering make this a popular spot.  Savor exceptional sips at home by purchasing a bag of their conscientiously sourced coffee beans that offer transparency and insights on the farmers that cultivated the coffee, the process used, the variety of bean and even the elevation it was grown at. 
Race Street Coffee
It's all in the details at Race Street Coffee. Located in the historic Riverside neighborhood, Race Street Coffee is a destination coffee spot. Housed in a vintage, pre-Mid-Century stand-alone building, this brightly orange and blue-hued shop on its namesake street takes its coffee seriously. As part of the Oak Cliff Coffee Roaster family, they value ethically sourced, high-quality coffee beans and that shines through in every sip. This off-the-beaten-path spot rewards you with a laid-back atmosphere and cheerful service that make it a great spot to enjoy a book or contemplative conversations with friends.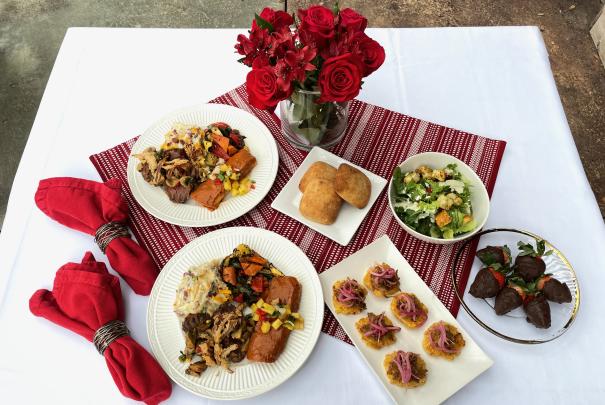 Valentine's and Galentine's Day Meals
Whether you're trying to impress a sweetheart, getting over a breakup, or just want to get out with the gals, here are some Valentine's and Galentine's Day events for 2023. For most...
Read More