The Cultural District will soon be flush with thousands of rodeo fans as the Fort Worth Stock Show and Rodeo springs to life this January with acrobatic shows, competitions, western-themed parades and lots more.
When one finds themselves hungry, dozens of restaurants are within walking distance, including these top 5 picks:

1. Hanabi Ramen and Izakaya is a cozy restaurant located one block north of the Modern Art Museum of Fort Worth. The menu offers a wide selection of authentic Tokyo cuisine, including dozens of savory ramen bowls, small dishes (including two of my favorite: fried squid legs and asparagus wrapped in bacon), rich soup bowls and a long list of beer, wine and sake.
Japanese cuisine relies on natural, often subtle, flavors rather than the heavy use of sugar and oils. It's about as guilt-free as sit-down dining gets.
2. If your dining preferences tend to be more traditional, Cork & Pig Tavern is an excellent option. The menu offers a blend of brick oven pizzas, gourmet salads, signature sandwiches, and mouth watering entrees from the grill. Try your hand at a few of these house favorites: Crab and Parmesan Dip, Panzanella Steak Salad, Texas Burger and Carolina Pork Ribs. 
3. Put Terra Mediterranean Grill's lunch buffet on your culinary dance card if you haven't already. Seemingly endless trays of saffron-infused rice, lamb chops, kabobs and a blend of Greek, Turkish and Lebanese cuisine have made this buffet one of the most popular in town.
The dine-in menu offers many of those items plus specialty dishes like the Saffron Chicken (my personal favorite, served with mushrooms and a curry cream sauce) and the Oven Roasted Trout (served with a lemon butter caper sauce, saffron rice and roasted vegetables).
4. Tortaco builds its reputation on a triumvirate of tortas, tacos and mezcals. With prices hovering around $6 to $8 dollars per entree, it's a great bang for the buck. My personal favorite is the Diablo Shrimp, which packs just the right amount of heat along with plump shrimp and garlic seasoning. The restaurant also proclaims to serve the largest selections of mezcals around. The staff is always happy to guide you through the various styles of this Mexican delicacy.
5. Full disclosure: I plugged Taco Heads last year. And I have to do it again. The home grown business, which started as a popular food truck, has become a staple of dining life in and around the Cultural District. I'm yet to find a better pozole in town. The rich red broth is balanced by chopped cabbage and sliced radishes. And the portions are perfect, meaning you'll never feel weighed down after leaving this little gem.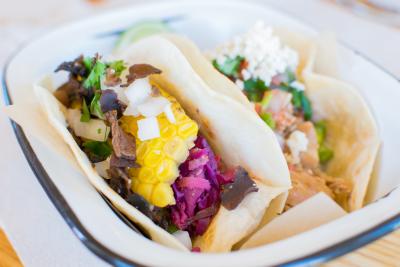 PC: Farrar Food Photography