Image copyright: © 2012 Stephen Flavin / Artists Rights Society (ARS), New York
1.) When it comes to "hidden" art gems, perhaps no work sums up both the concealment of such an exceptional piece, along with its eye-catching modern aesthetic than Dan Flavin's Untitled (for you Leo, in long respect and affection) 4, 1978 -- at the top of the back north-staircase of the Modern Art Museum of Fort Worth. Located here is Flavin's varied-colored light yellow and blue fluorescent glowing sculpture (whose color palette becomes a panoply of green).
2.) Just across the street from the Modern, at the ever-present Kimbell Art Museum, you'll find the relatively under-appreciated, yet glorious, painting by Duccio, the Raising of Lazarus. Art lovers everywhere acknowledge that when it comes to altar art, this Duccio work is considered a part of one of the genre's most complex and beautiful around. The Kimbell's work -- a rarity in that most of the altar piece's original panels are located in the original Siena Cathedral museum -- is considered to be the final scene of the altar piece's back "predella" or a section devoted to Christ's ministry and is located in the museum's permanent gallery. Admission is free.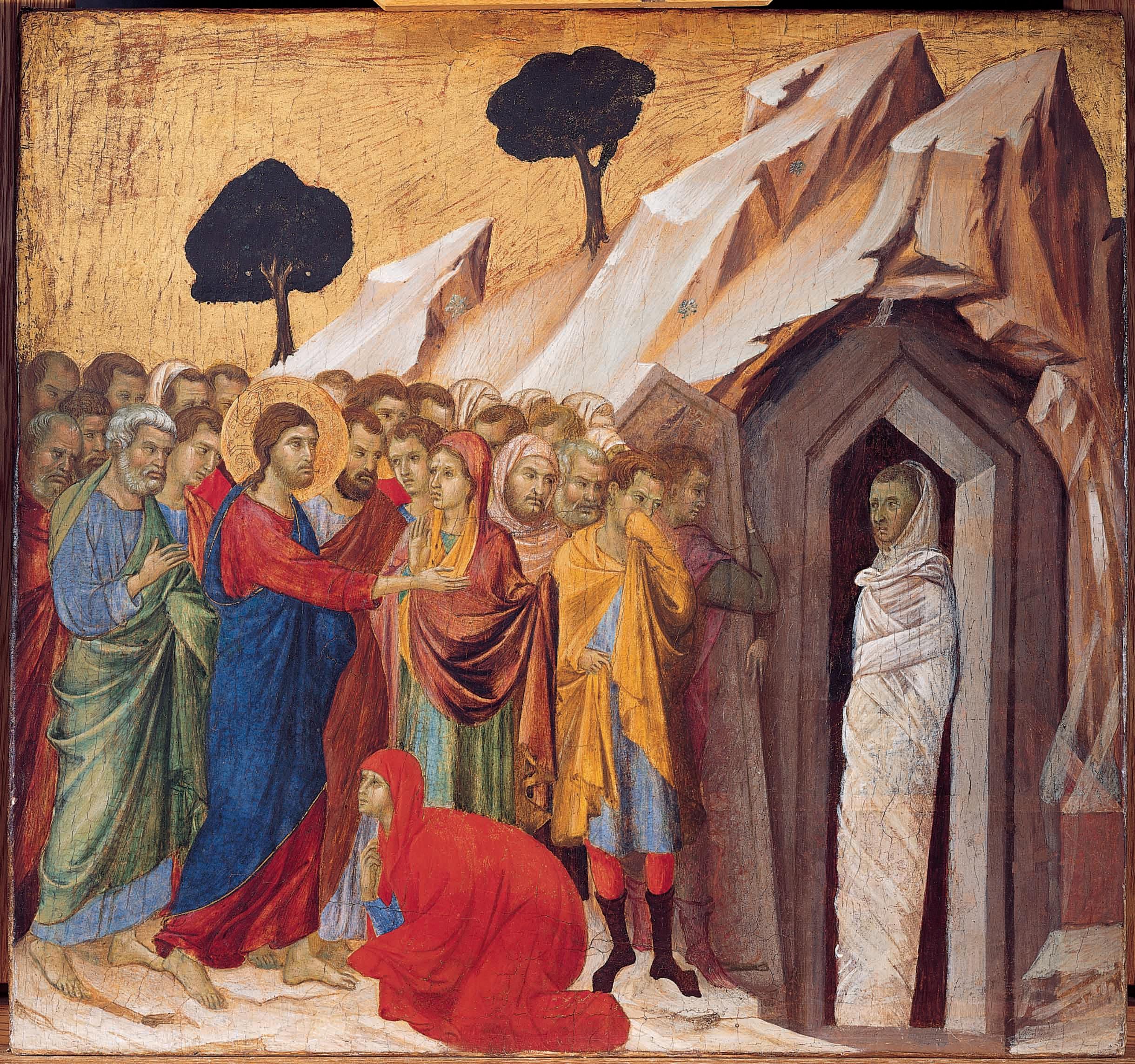 Duccio di Buoninsegna, The Raising of Lazarus, 1310-11, tempera and gold on panel, Kimbell Art Museum
3.) Not far away at the Amon Carter Museum of American Art lies Cinder Sun, a 1964 bronze sculpture by Gene Owens. This brilliant, scintillatingly rendered bronze work is literally tucked into a corner of one of the Carter's several 20th century galleries. Owens' work required such meticulous care in its creation that he actually reportedly rotated the piece sideways and upside down just to ensure that it offered a rewarding visual experience from every conceivable angle. Admission is free.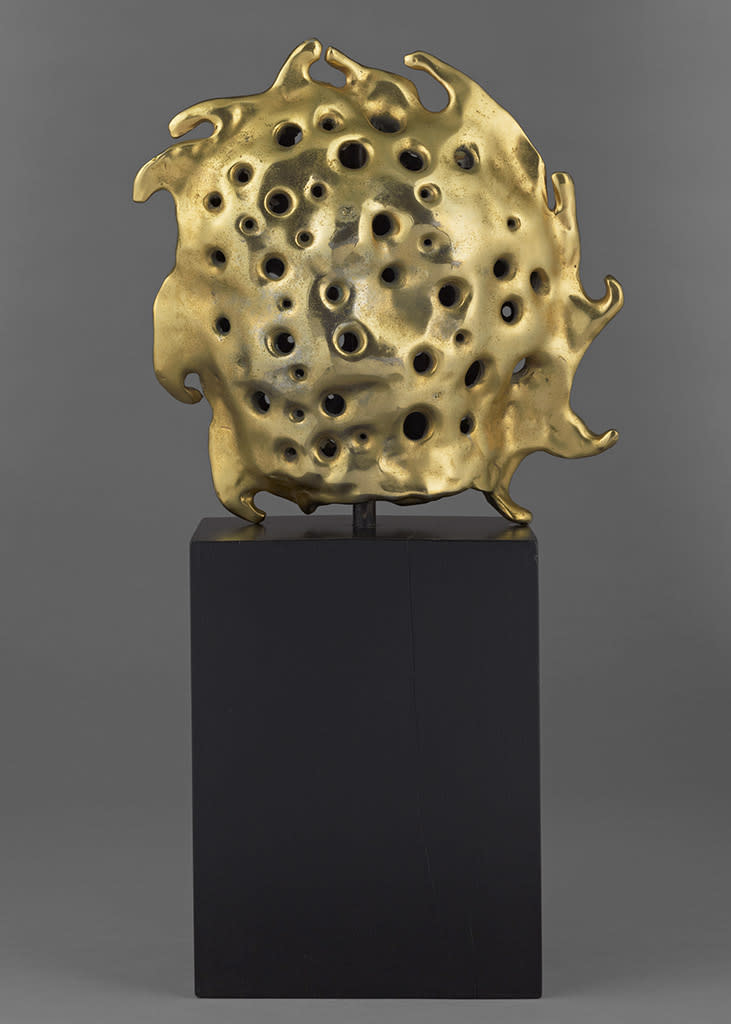 Gene Owens (b. 1931), Cinder Sun, 1964, bronze, Amon Carter Museum of American Art, Fort Worth, Texas, Bequest of Ruth Carter Stevenson

4-5.) The William Campbell Contemporary Art gallery, one of Fort Worth's most prestigious and enduring privately run galleries, is the somewhat "hidden" holder and displayer of two special works: One by 1971 Prix de Rome winner, Stephen Daly, called King and Queen which, is that rare ink on paper piece that manages to convey all of Daly's habitual big concerns about communication and the environment. Meanwhile, the Campbell space also provides the haven for Robert Mapplethorpe's Calla Lily, an 1986 gelatin silver print. To see a Mapplethorpe of this unabashed quality, in the cozy and intimate setting of the Campbell space, is to have the chance to really appreciate the exceptional quality of this rare Mapplethorpe photo that is pristinely composed, yet does not contain a human form. 
6.) From the category of unexpected artistic delights comes the National Cowgirl Museum and Hall of Fame's expansive and ambitious, brand new mobile that will debut in the museum's spectacular Grand Rotunda on May 29th. Composed of 100 different moving pieces, each of which represents numerous women honored in the National Cowgirl Hall of Fame (and echoing their images on the Honoree medallions already located on the Rotunda's walls), this mobile -- which was constructed by several different designers and architects and is, so far, untitled, will be divided into a top element of still photos, and a bottom section that will reflect video footage of those same Honorees.