Historically, when we think of "riding" in Fort Worth, we think of people wearing cowboy hats and holding reins. Recently, however, riders wearing helmets and clutching handlebars have taken on a higher profile in the city. And there's a big – you might even say "gran" - event headed to town that promises to raise it to a whole new level.

History Behind the Race
"The Gran Fondo-style race has been a growing, and started in Europe, and Italy in particular. It's more of a festival," said Fort Worth Chef Lanny Lancarte of the bicycle race (and more) set for Saturday, March 30. Its name incorporates not only its Italian heritage, but also one of the biggest names in American cycling: Gran Fondo Hincapie.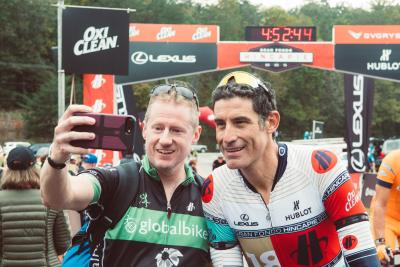 "About a year and a half ago, I wanted to do this ride in Fort Worth," explained Lancarte, an longtime cyclist who participates in a local cycling club and has even served as resident chef on a cycling/culinary tour of Emilia-Romagna, Italy. "I called the Hincapie group to consult on my race, because I wanted to just do it myself and have a homegrown Fort Worth race. And they were so interested in Fort Worth and what I had built already. Then they asked me if they could just do their race here and I can be a partner."
George Hincapie competed in 17 Tour de France races during his career as a professional cyclist and the company he and his brother Rich run extends its reach into several areas of the sport. On the event side, they operate races like the one they'll host in North Texas, and the Hincapie name won't be the only one cycling devotees will recognize. Two of George Hincapie's former teammates, Lance Armstrong and two-time Olympian Christian Vande Velde, will join him in the field.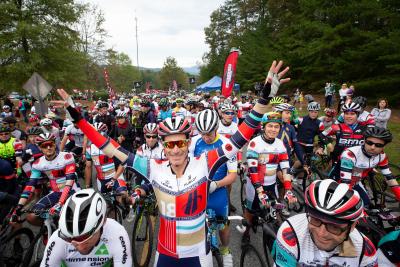 "Getting to ride next to Lance and Christian and George and then be at the festival while they're roaming around, hanging out, I think that's a draw for people that are just fans of theirs," said Lancarte.
Despite the Hincapies' world-class pedigree and guests, they don't limit their gran fondo experience to competitive riders.

During the Race
"All rides in the Gran Fondo Hincapie series offer 15-mile, 50-mile, and 80-mile routes. The ride is open to all ages and skill levels," said George Hincapie via email.
Those riders will pedal through much of west Fort Worth, with the longer distances continuing south.
"We are pretty excited about the course in general. We work and live at the base of the Blue Ridge Mountains and do not often get the chance to ride in the wide-open plains that our course will offer in Fort Worth," said Hincapie. "Sky Road on the Medio Course and North Pearson Street/Hwy 2331 on the Gran Course will certainly give us the opportunity to enjoy 360-degree views of the Texas countryside. The second KOM (King of the Mountains) section will be a great chance for riders to challenge their speed over rolling terrain. We are also looking forward to visiting communities like Crowley and Godley along the way."
The on-course experience includes catered rest stops and live bands, plus a team of SAG vehicles and on-the-bike course marshals. The participants will enjoy more than just the ride, too.
"Something that Hincapie feels really strongly about having as an aspect of their Fondos is that free festival afterwards," noted Lancarte.

After the Race
"After the ride, we'll have a family festival out on the lawn at the Heart of the Ranch at Clearfork, offering free food and beer for cyclists, as well as their friends and family," added Hincapie. "The festival even has bouncy houses for the kids."
Lancarte family landmark Joe T. Garcia's will host the evening afterparty. There's also a pre-party at the Botanical Research Institute of Texas the night before that features some big names in food.
"The Celebrity Chef Dinner is the best pre-ride meal you'll ever experience," Hincapie said. "Accomplished chefs—many who will ride in the Fondo the next day—share gourmet creations with guests. This year's lineup of chefs include the renowned Biju Thomas, as well as Fort Worth locals Lanny Lancarte of Righteous Foods, Jon Bonnell of Bonnell's Fine Texas Cuisine and Blaine Staniford of Grace."
One doesn't have to ride to buy tickets for the dinner. And for those who do want to ride but don't have any experience, Hincapie says that's just fine.

How to Prepare
"We generally suggest a standard road bike that the rider has been training on and is comfortable riding around other cyclists," he said. "As far as routes are concerned, many of our first-timers ride the Medio (50-mile) distance to get a feel for the event and then step up to the Gran (80-mile) at the next event. We ask that participants arrive 90 minutes before the start of the ride to ensure proper time for parking, warming up, staging, etc."
An event that gets Fort Worthians off their couches and onto two wheels fits in with the city's embrace of this form of riding.
"Proceeds from the event benefit FitWorth, a campaign started by Mayor Betsy Price to create a culture of wellness through physical activity and mindful eating," said Hincapie.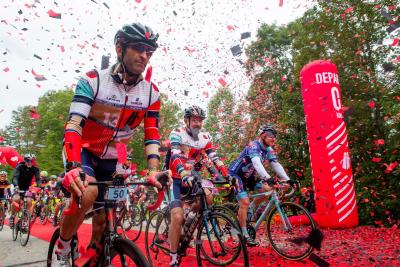 "With a big event like this, it is just going to get more people out, training for the ride, out riding their bikes, and being a more cycling-friendly city," said Lancarte.
Fort Worth is already a gateway to some 70+ miles of prime riding surface on the Trinity Trails, and riders traversing them on wheels often pass their traditional counterparts on hooves. The former now have their own big event - a gran fondo, even – to help their sport gallop forward in Fort Worth.