Every fall, the State Fair of Texas opens our eyes to new variations of fried food. Sometimes the offerings are great (fried Oreos, fried Snickers bars, and the classic Fletcher's Corny Dog). Sometimes the execution leaves something to be desired –– my experience with the fried beer six years ago still leaves a bad taste in my mouth. But you don't have to wait for the Fair to enjoy fried goodness in Fort Worth!
For starters, Magnolia Motor Lounge's Dip Sticks are chunks of breaded, fried, Applewood-smoked bacon. Bird Café  has crispy chicken skins and chicken-fried sweet breads (disclaimer: if you don't know what those are, they're not sweet) on their small plates menu. Varsity Tavern's fried pickles come with a Sriracha Ranch dipping sauce, and the Varsity Balls are breaded mounds of ham and two kinds of cheese. Nothing beats the frothy, crunchy tempura batter at Shinjuku Station, where you can get food you would expect to be tempura-fried (shrimp, fish, mushrooms), and food you wouldn't (pumpkin, lotus root, asparagus). Riscky's BBQ locations have a fried corn appetizer – corn counts as a vegetable, right? Finally, Cat City Grill offers tempura-fried Lobster Bites with a remoulade dipping sauce  on the lunch menu.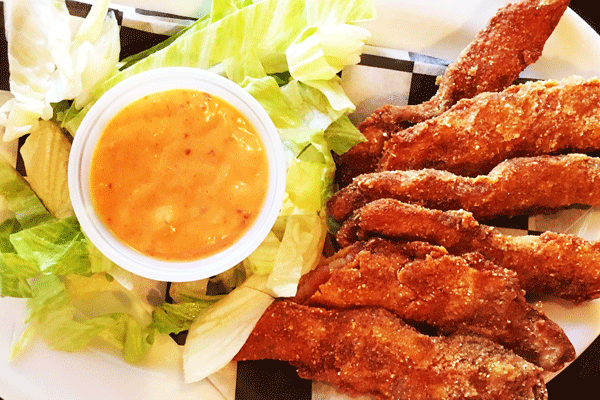 PC: Magnolia Motor Lounge
Soul food is a category that may be difficult to define, but easy to spot. It's gramma's home cooking for lots and lots of company. Drew's Soul Food covers all the soulful basics, with fried pork chops, fried chicken, fried okra, and fried catfish. Madea's Down Home Cooking will stuff you like a Thanksgiving turkey with fried pork chops, fried catfish, and fried chicken, too – but their okra's not fried. At Button's, you'll get excellent fried green tomatoes and Chef Keith's chicken and waffles, along with fried shrimp and "Chicken Thangs" –  fried gizzards. Finally, Taste N See's chicken and waffles are actually chicken wings on waffles, and their smothered fried pork chops will make you forget about pesky little things like calories.
It can also be argued that chicken-fried steak (CFS) is a form of Texas soul food.  At Horseshoe Hill Café, the CFS comes four unusual ways: with ancho chile enchiladas; with chile gravy and a fried egg; with chile con carne and queso blanco; or with a cheese relleno.  Cat City Grill's CFS is more traditionally battered and served with cream gravy. Reata Restaurant's plate-sized CFS pretty much ensures you'll be walking around Sundance Square with one of their nifty to-go boxes.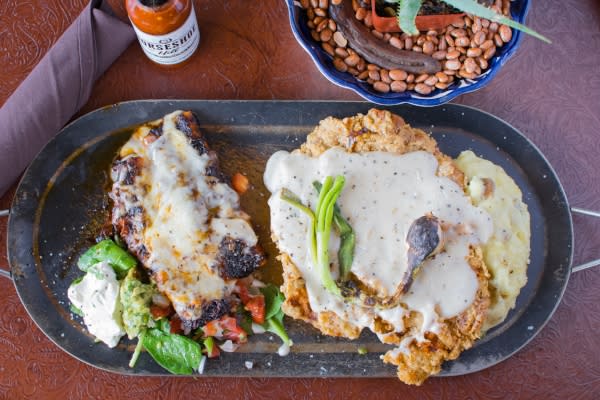 PC: Farrar Food Photography
Do people really fry sandwiches? Sort of. Magnolia Motor Lounge's County Line includes fried chicken, fried bacon, a fried onion ring, ham and an egg. Their Junkyard Dog is a battered, deep-fried Hebrew National hot dog with chili, queso, jalapenos, and grilled onions. Fred's Texas Café offers a chicken-fried steak sandwich with lettuce, tomato and mayo on a Texas toast-ed bun. Little Red Wasp's crispy chicken sandwich comes with a spicy cabbage slaw on a potato roll, and there's also a catfish po' boy on the menu. 
Oysters –The classic Oysters Texafeller with spinach, ham, and hollandaise sauce from Bonnell's Fine Texas Cuisine has been delighting folks for a decade. Max's Wine Dive piles their Nacho Mama's oysters on wonton "chips" with spicy aioli and habanero salsa. Eddie V's Prime Seafood serves up their fried oysters with a light curry flavor and pickled cucumber.
In Texas, you also have to include mountain oysters, AKA calf fries or prairie oysters. Local legend puts the origination point of the waste not, want not fried snacks at Riscky's BBQ. Reata serves theirs as an appetizer with cream gravy, while Fred's Texas Café serves theirs with a sourdough batter, accompanied by fries, Texas toast, and a chipotle gravy. Buffalo West serves their calf fries with spicy ranch dressing on a plate of French fries. Or you can make a meal of the "tastes like chicken" meat at Cattlemen's Steak House, where you'll also get soup, rolls, a baked potato and applesauce.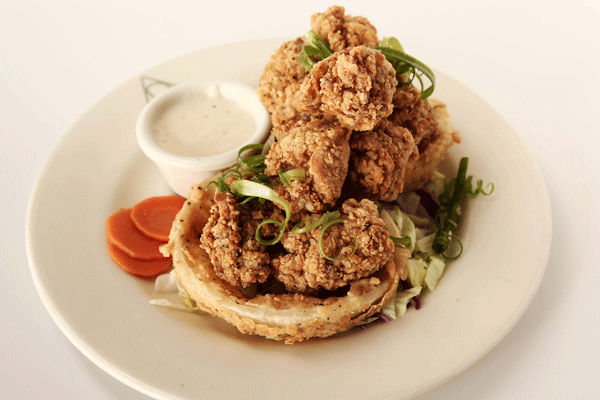 PC: Reata
If you want to top off your fried meal with a fried dessert, Cat City Grill's PB&J Cristo is a sweet version of the savory Monte Cristo sandwich, with peanut butter and jelly on Texas toast, dipped in pancake batter, fried and covered with chocolate sauce and powdered sugar. At La Playa Maya's three Fort Worth locations, you can get an old-fashioned sopapilla with a side of cinnamon ice cream. At Rodeo Goat, you'll find fried chocolate or pecan pies that are so good you won't mind burning your tongue as you cram bites of the molten, gooey, dough-wrapped goodness in your mouth. Lastly, it's been said that the apple fritter at Paul's Donuts, Subs and Gyros is the best apple fritter ever. That may be a matter of opinion, but anything from their donut case would make a great beginning or ending of a meal.
PC Cover Photo: Buttons Fort Worth