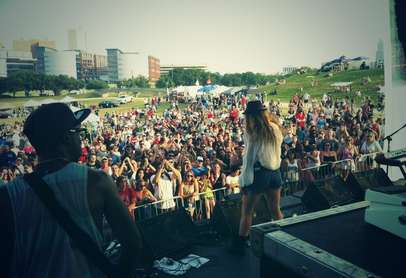 Fort Worth's newest music festival, the Clearfork Music Festival, is also one its biggest with 25 local and regional bands taking the stage this Saturday. Actually, there will be three stages, meaning there shouldn't be any lulls in the music or the partying from noon til midnight.
This year the Clearfork Festival has made the move to Panther Island Pavilion. A friend of mine who is booking bands for the event explained that the festival had simply outgrown the Clearfork-area space used last year. Panther Island Pavilion definitely offers a lot of room, and one heck of a view of downtown.
If you're not familiar with the Clearfork area (off Edward Ranch Road between Hulen and Bryant Irvin) then let me give you the scoop -- it's going to be Fort Worth's newest hotspot very soon. Many of the lofts, restaurants, and stores for this urban village are yet to be built, but you can catch a glimpse of the fun-to-come if you visit The Trailhead. I stumbled upon this little woodland oasis while running along the Trinity Trails with a friend recently. The park provides space for yoga group lessons, custom bike racks beautifully carved into logs, picnic tables, and even food trucks on certain days.
So what can you expect for this year's fest? Well for starters, some great craft beer brands (Real Ale Brewing Company and The Lagunitas Brewing Company) will be on tap in addition to a small army of food trucks. And then there's the music. Local pop/jazz group Lindby's polished, bright sounds open the show at 12:45 on the Main Stage. One great country band that swept much of the Fort Worth Weekly Music Awards recently, Holy Moly, goes on at 6:00 on the KTL Stage while Un Chien takes its tightly-knit psychedelic tunes to the Main Stage at 2:15.   
The concert's band roster reads like a "who's who" of the local music scene. Dollar for dollar, there's no better deal in town this Labor Day Weekend.