Cowtown loves golf and all eyes will turn to Fort Worth June 8-11 as the PGA resumes play for the Charles Schwab Challenge. 

Let's raise our glass to the return of professional sports with a beverage or two from a few of our local distilleries. Most are slowly re-opening their tasting rooms so check their websites for new opening hours and products.
Acre Distilling
What's New? The busy bees at Acre have kept their distilling staff employed over the last two months by partnering with Ricca Chemical Company to produce hand sanitizer in bulk. Many of those 20,000 bottles were donated to volunteer organizations and first responders. Acre has also constructed an array of 350 solar panels, and the company will be capable of using the solar energy to generate the power needed to run the distillery by the end of June!

Cowtown Mule
This version of the mule made with Ginger Peach Tea vodka is surprisingly tart and refreshing. It's reminiscent of the classic Arnold Palmer, with a twist.
2 oz Acre Peach Dream (Ginger Peach Tea Vodka)
5 oz ginger beer
1/2 oz lime juice
Serve on the rocks in a copper mug or rocks glass. Garnish with fresh mint; lightly spanked to release the mint.
Black Eyed Distilling Co.
What's New? In June, the distillery's cocktail bar will be open at 50 percent capacity Friday nights from 5-9 p.m. and Saturdays from 2-9 p.m.
BLK EYE Summer Smile
I love a Paloma with grapefruit juice, and this version's a quick and easy take, substituting vodka for tequila.
1-1/2 oz BLK EYE Vodka
2 oz FRESCA Soda
2 oz Cranberry Juice
Shake or stir, and serve in an iced martini or pint glass.
Blackland Distillery
What's New? The tasting room is set to open June 5, with regular hours Wednesday 4-11 p.m., Thursday and Friday 4 p.m. to midnight, and Saturday 2 p.m. to midnight. Daily tours and tastings will resume Saturday, June 6. Blackland has also stayed busy thanks to the hand sanitizer game. The distillery is selling it by the gallon.
The Hemingway G&T
Hemingway was the first to add bitters to the classic cocktail. Blackland recommends coconut water as a modern twist.
2 oz Blackland Gin
1/2 oz fresh lime juice
1 oz coconut water
3 dashes Angostura bitters
Place all ingredients into a chilled old-fashioned glass. Add ice, briefly stir, and top with aromatic tonic water. Garnish with fresh mint.
Trinity River Distillery
What's New? If you like bourbon, you're in luck. The distillery recently released a Silver Star 1849 Straight Bourbon Whiskey (available through August on-site) that commemorates the founding of Fort Worth on June 6, 1849. The mature bourbon barrel whiskey's aged for three years. The release coincides with Cowtown's birthday on June 6, when the distillery is open for limited tours.
 
Silver Star Whiskey 'Rita
I thought it was heresy to make a 'rita with brown liquor. But this one was absolutely lovely, and the orange plays so nicely with the whiskey.
2 oz Silver Star Whiskey
1 oz each fresh lime and lemon juice
1-1/2 oz simple syrup (to taste)
1 oz of your favorite orange liqueur or orange juice
Shake with ice and strain into a margarita glass rimmed with Halo del Santo spicy rimming salt.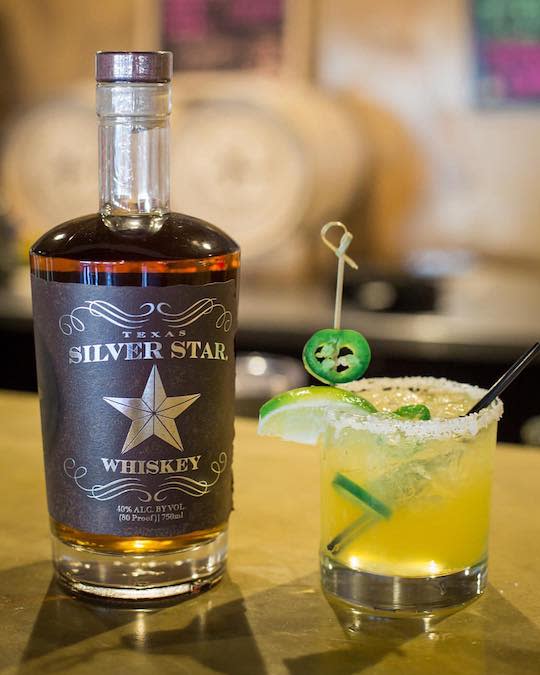 Sourcing the ingredients
Make your own simple syrup using white sugar, unbleached sugar or the low-glycemic index sugar substitute, monkfruit. Boil equal parts sugar and water until the sugar completely dissolves. If you're making a small quantity, use a microwave-safe cup and heat on high until the water boils and the sugar is dissolved.
Ginger beer can be found at your favorite liquor store, Kroger or Wal-Mart. I asked my buddy Josie Villa-Singleton from Eat This Fort Worth Food Tours for her favorite: She recommends Bundaberg from Australia, which she says you can find at World Market. If you don't like ginger beer, make a ginger syrup by infusing some peeled ginger root into your simple syrup.
Find lavender bitters at your favorite liquor store or order on line at Amazon. Be careful because the lavender can quickly overwhelm a drink. Halo del Santo is a Texan product, and you can buy a tin that's perfect for rimming glasses on the company's website or in a specialty liquor store.