Fans consider a Dallas Cowboys football game the most special of occasions. And, like all such observances, it has food rituals associated with it. We call them: tailgating.
Thanks to J.R. Ewing and five Lombardi Trophies, the Cowboys have fans worldwide. For those coming for their first game, or even for folks who've been to a game but want to mix in some new pre- and post-game fun, you might consider a tailgating experience.

The Official Parties
The Miller Lite Corral in the plaza adjoining the west stadium entrances offers plenty of food, frolic, and its namesake's beverage family. If you have a game ticket, you can indulge your tailgate party spirit here.
The team sells tailgate packages through Star Sports Tours. Located next to AT&T Stadium, they offer appearances from former Dallas Cowboys players as part of the experience.
 
Third Party
Any food-and-beverage establishment in Texas with a television turns into some form of tailgate party on fall Sundays. The ones near AT&T Stadium really dig it.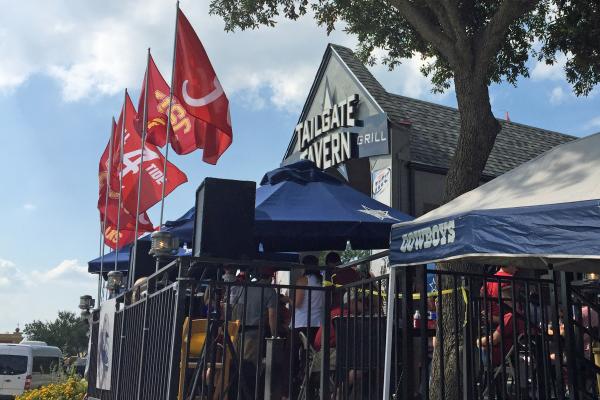 The Tailgate Tavern in particular bills itself as "The Closest Party to AT&T Stadium." Sure enough, they're just a big box parking lot away from the front door. They set up extra capacity outdoors on game days.
Fishbone Grill sits across Collins Street from the big stadium and they host the Ultimate Bill Bates Tailgate Party. The package includes food and beverages. Purchasing a book or photo gets you into a meet-and-great with the former special teams ace himself.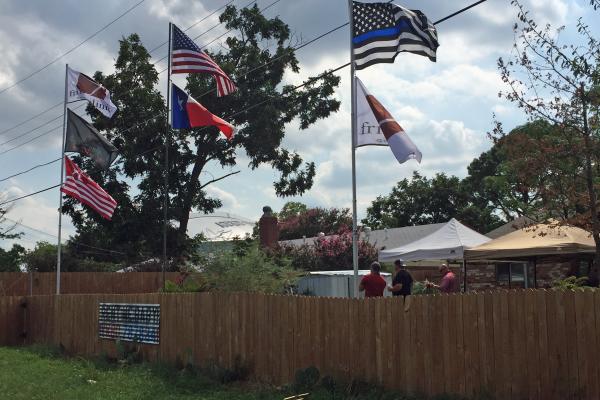 Want to set up your own tailgate party at someone else's place? Consider one of the houses available in the neighborhood for short-term rental. It makes for an easy walk to the game and no driving afterward.
 
DIY
Whether it's a Cowboys game or some other event at the stadium, there are usually some 30,000 parking spaces available, depending on whether the Rangers have a game at the same time. The Cowboys designate spots around the perimeter of certain lots – the ones adjacent to grassy areas - as available for tailgating. Get there early, because those spaces are awarded on a first-come, first-served basis. Similar rules apply when parking in the lots controlled by the Rangers, which the team opens to AT&T Stadium attendees when the baseball team isn't playing.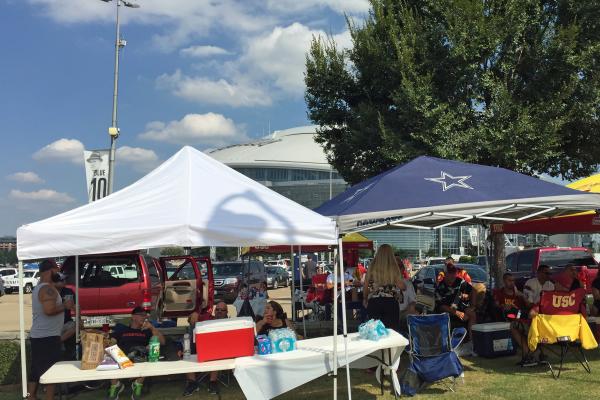 The Cowboys do have a few rules. Some we considered important include :
No saving parking or tailgating spaces: If your brother-in-law who promised to bring the grill and the brats oversleeps, he'll deserve your scorn.
No sale of food: If you've got uneaten veggie trays or cold cuts remaining at kickoff, plan on leftovers for dinner Monday.
No picketing, political campaigning or soliciting/distribution of any kind: Leave your Trump, Clinton, or Johnson signs in your yard. We expect that wearing a Herschel Walker New Jersey Generals jersey (the Trump-owned team for which the running back played before the Cowboys) would be OK.
Want to get all the gear delivered to your spot instead of hauling it yourself? You might check out Big Game Trailers. They bring TVs, grills, and the works to your gameday spot.

Getting Here
If all this talk of tailgating doesn't make you want to jump on a plane, maybe this will. You can book the Ultimate VIP Sports Package and enjoy a sports-lovers dream weekend in DFW. The package lets you select from either the DFW Marriott South Hotel or Sheraton Fort Worth Hotel depending on your needs as well as a tour of AT&T Stadium, Reserved Dallas Cowboys game tickets, Pre-Game Tailgate Party, round trip game day transfers and more!