The Fort Worth Museum of Science and History brings math, science and history to life with their interactive exhibits and activities. The latest offering, Design Zone, shows how mathematical concepts like algebra influence the creative design process. What do algebra and drum beats have to do with each other? You'll find that out and so much more in the Design Zone with the hands-on demonstrations that will have you using math to create dance party laser light shows or design roller coasters.
Design Zone shows the real-world application of math in a fun and approachable way. Even if your child isn't old enough to understand algebra, this exhibit offers opportunities to visually see mathematical principles in action. The interactive nature of the activities don't require a familiarity with math concepts. Your child can mix songs on the DJ turntable, create a video game or figure out drum beats without realizing they are using algebra to complete the activities.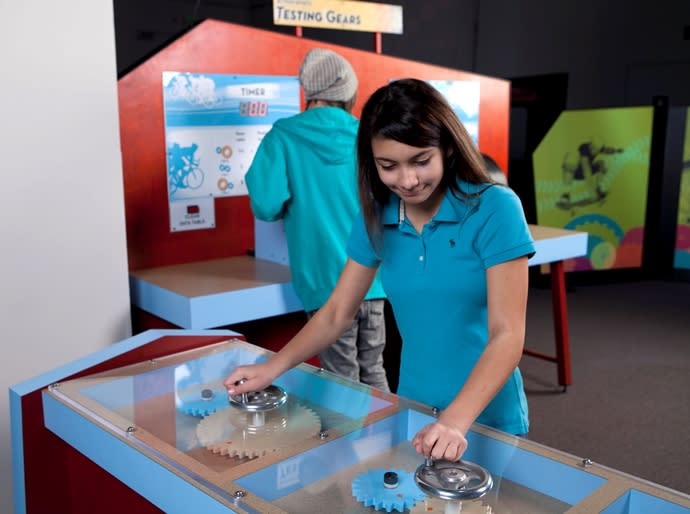 The Design Zone exhibit is divided into three areas:  Music, Art and Action. The Music section allows you to learn about pitch by playing wacky instruments, playing DJ and exploring how math and rhythm work together, and designing a laser light show using ratios. The Art area provides an opportunity to design three different video games, build 3D objects in the Architecture Studio and explore the concepts of slope and value in the Digital Design Domain. The Action section of the exhibit introduces ways in which algebra relates to movement. You'll discover the math behind movement and speed by designing a roller coaster, testing bike gears, competing in a bike race, and designing a skateboard park.
Plan to take your time at the Design Zone exhibit because there are many stations your child may want to visit. Each station provides a helpful explanation of the activity that you can use as a guide, while the museum staff offers demonstrations of the activities as well.
Other activities at the Fort Worth Museum of Science and History include the Omni Theater, the Noble Planetarium, the Cattle Raisers Museum, the Dino Labs, the Children's Museum for guests 8 and under, the Air Park, the 4D Energy Blast Movie and Innovation Studios.
Photo Credit: OMSI (Oregon Museum of Science and Industry)