We're all spending a lot more time at home, which means we will likely be cooking more. Here's an easy-to-make recipe that uses minimal ingredients. 
 
Chilaquiles Verdes
Chilaquiles is something I always have for breakfast when I go to Mexico City, with the best ones always been made at home. This recipe is also a great way to use up corn tortillas past their prime.


Ingredients:
Vegetable or canola oil for frying
1 pack corn tortillas
1 1/2 fresh tomatillos (or two 12 oz cans)
1 small onion
5 cloves garlic
1 bunch cilantro
1-3 serrano or jalapeño peppers (depending on how hot you want it)
Salt to taste
1 tsp oregano (optional)
1 tsp thyme (optional)
To Serve:
Queso Fresco
Crema
Cilantro
Lime


Salsa Verde
If using fresh tomatillos, peel off the outer husk and give them a quick rinse (they will be a little sticky). Place the tomatillos in a pot and fill with enough water to cover. Rough chop the onion, garlic and peppers and add them to the pot.
Bring water to a boil and cook until the tomatillos have changed from a vibrant green to an army green. Remove from heat and allow to cool slightly.
Add all the solids: cilantro, oregano, thyme, salt, a little bit of the cooking liquid and blend. If it's too thick, add a little more of the liquid from the pot. Set aside.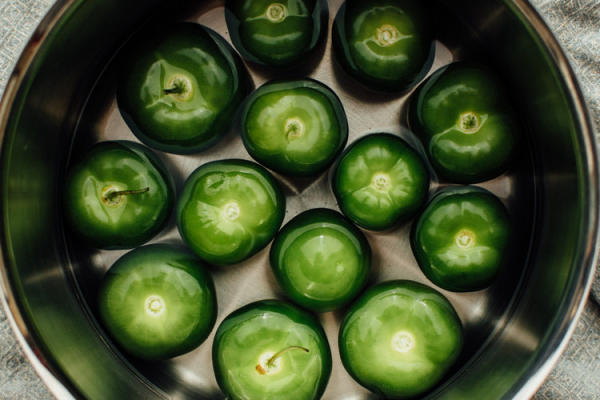 Totopos (Tortilla Chips)
Heat about 4 inches of vegetable or canola oil in a pot. You can place a small piece of tortilla in the pot to see if it's hot enough; if the tortilla immediately starts bubbling, it's ready to go.
Cut tortillas into fourths and fry them a few at a time until golden brown and crispy; be careful not to overcrowd the pot. Remove chips from oil with a slotted spoon or sieve and drain on to paper towels. Sprinkle with salt while they are still hot. If you don't want to fry the tortillas, you can also bake them in the oven.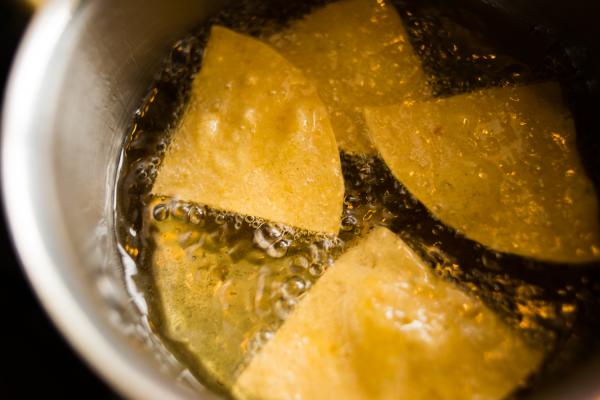 To Serve:
Pile chips onto a plate. Top with warm salsa verde. Add queso fresco, queso cotija, crema and cilantro. If you want to spice it up further and make it a little heartier, you can add shredded chicken or a fried egg on top. Save any remaining salsa verde for tacos, baked enchiladas, or just to snack on with any left over totopos.