No matter if the weather is chilly or you're simply feeling under the weather, these Mexican soups are just what the doctor ordered to warm you right up.

Chalio's Mexican Restaurant
308 E Seminary Drive

Chalio's is the place to be for birria, the satisfying and hearty Mexican dish consisting of slow cooked goat meat in an adobo-spiced caldo (broth).
You can order the tender goat meat by the pound, choosing your cut of meat (pescuezo, pistola, costilla, maciza, pierna, etc.) or a mixed plate (revuelta) like I did on a recent visit.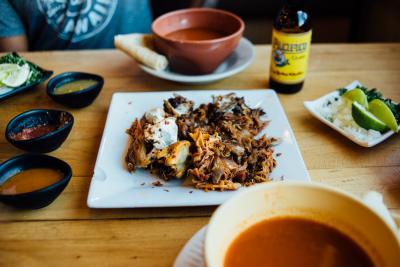 If you're not sure what you what's what, consult the lamb diagram on the back of the menu or ask the friendly wait staff.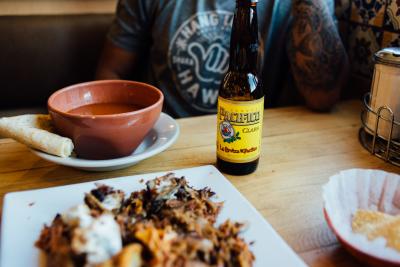 Served with piping hot bowls of consomé (a concentrated broth that the meat was cooked in) and their massive, dinner-plate-sized homemade tortillas, Chalio's Mexican Restaurant is a great place to order shared plates with friends and take a break from the cold, wet Texas winter.
Taquería el Toro
4000 E Belknap Street

Taquería el Toro is nestled among grocery stores, tattoo parlors, and auto body shops on the ever-bustling East Belknap Street.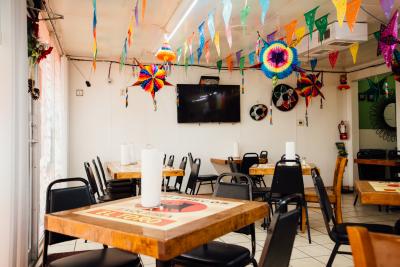 The bright colors of the hanging flags and star-shaped piñatas are almost as inviting as the warm, deep red pozole rojo, a rich soup laden with spices and chiles, soft hominy, tender, slow cooked beef, and all the classic fixins: crunchy radish, lime, cilantro, lettuce, raw onion, and, of course, fresh corn tortillas.
Take a break from the craziness of the holiday season and get lost in this rewarding bowl of goodness. If you somehow manage to finish the whole bowl and you are still hungry (not sure if that's even possible), try one of their gorditas, tostadas, tacos or quesadillas.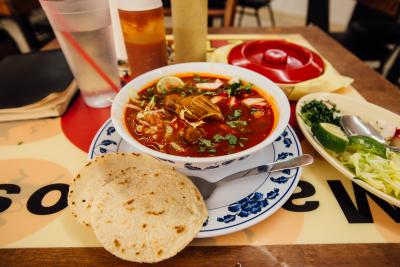 Los Zarapes Restaurant

Los Zarapes Restaurant, a staple in the Northside for over 30 years, is a homey spot with the hookup on breakfast plates, guisados (stewed meats), and, of course, menudo, a Mexican soup made with beef tripe, a bright red chile based broth with hominy and topped with raw chopped onion and oregano.
While traditionally a wedding dish, it has also long been hailed as the ultimate hangover recovery meal due to its rich, satisfyingly fatty broth, generous chunks of beef tripe and spicy broth. My friend Juice says that if the menudo doesn't make your forehead sweat a little it's not a good. Los Zarapes passed the test.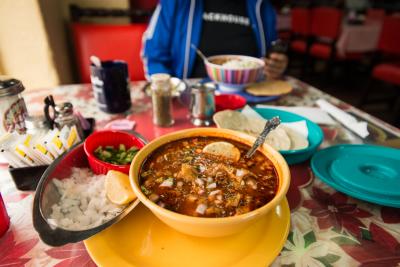 Cow stomach not your thing? They also serve up a mean pozole and wide selection of other plates ranging from Chuletas Ranchera (smothered pork chops) to flautas, burritos, tacos and fajitas. Plan on taking a nap when you finish here, you're going to need it.