Did you know that the second Sunday in November is National Pupusa Day?  Me neither. There are so many national days it's hard to keep up, but this one I'm putting on my calendar. You might be asking yourself, what are pupuas? The pupusa is similar to a flatbread or a thick corn tortilla, stuffed with a variety of fillings and cooked on a flat top grill. The national dish of El Salvador, neighboring countries such as Guatemala and Honduras also have strong ties to the pupusa with both El Salvador and Honduras claiming to have invented the pupusa. We may never know the truth.

Common pupusa fillings include bean, cheese, chicharrón (braised pork belly, not to be confused with crispy pork skins by the same name), revuelta (all three fillings combined), and loroco, an edible flower bud that tastes a bit like broccoli. Pupusas are served with a loose tomato sauce that's typically more savory than spicy and curtido (pickled cabbage, carrots, and peppers). Pupusas are an "eat whenever you want" kind of thing, but I like to have them for breakfast with a side of plantains and crema. However you decide to enjoy them, here are a few spots around the city where you can find them.
Doña Carmen Pupusería
1818 Hemphill St, Fort Worth, TX 76110
Doña Carmen is a great place to start if you've never had pupusas before. Enter the bold, blue building on Hemphill and find yourself in El Salvador, with bright floral tablecloths and telenovelas playing on the TV mounted in the corner. Try one of their breakfast plates with a pupusa, beans, queso fresco and fried plantains, or just grab a few pupusas a la carte. On my last visit I picked up a few bean and cheese along with my favorite, the revuelta. Side note: when a restaurant gives you curtido in a zip-lock bag, it's legit.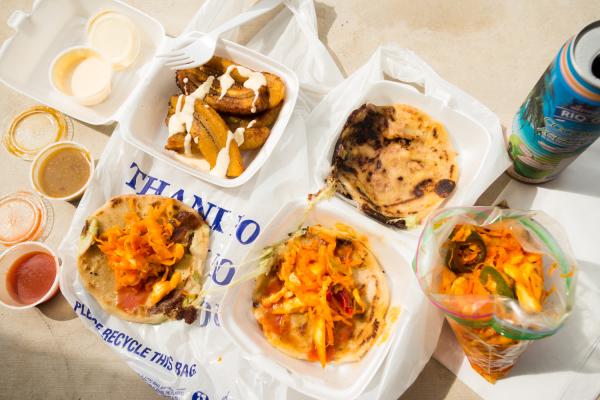 Torito Pupusería
4200 South Fwy, Fort Worth, TX 76115 (Inside La Gran Plaza)
Located on the ground floor of the food court inside La Gran Plaza off of South Freeway, Tortito Pupusería stands out among the other restaurant spaces with it's Salvadoran blue and gold interior. Their curtido is less acidic than others, features red cabbage and tastes pleasantly of oregano. Pupusas come in all different sizes and the ones at Torito are larger than the ones you will find at most pupuserias in Fort Worth, with a masa that is thicker and softer in texture. While I typically order three to four pupusas, here I only needed two.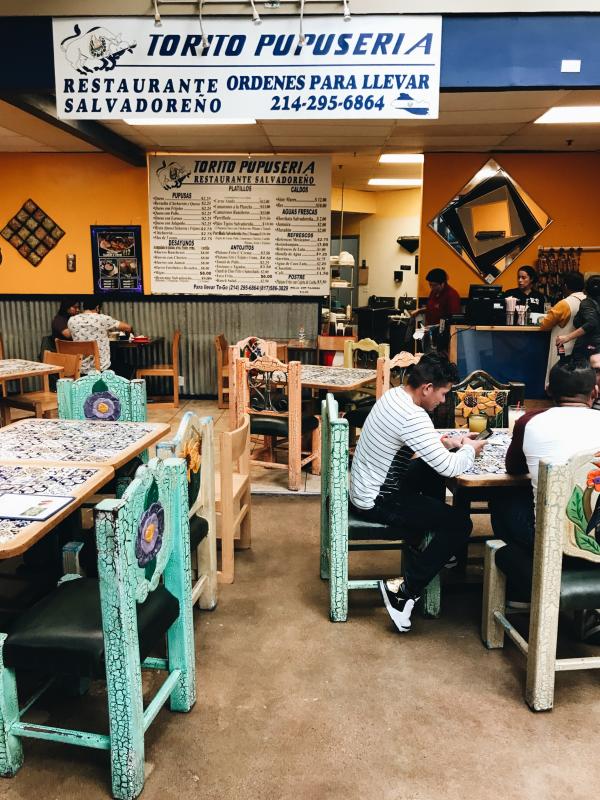 Antojitos Latinos
5201 McCart Ave, Fort Worth, TX 76115
Antojitos Latinos is a small, unassuming restaurant across the parking lot from McCart Thrift. Antojitos are "snacks" or small plates, and Antojitos Latinos has a varied menu ranging from tacos to pupusas. When I say this place is no frills, I mean it is very simple on the inside. A few tables and chairs and a glass counter where you order and get a peek into the kitchen where all the magic happens. But don't judge a book by its cover; Antojitos Latinos had one of the most flavorful pupusas I tried. The filling on the "revuelta" was mouthwatering: melt in your mouth chicharrones, refried beans and melted cheese, all mixed together and delivered to your plate in a warm masa cake. It's hard to beat that combination, and Antojitos Latinos nailed it. I also couldn't resist the tall cups of atole, a slightly sweet, spiced, seasonal beverage made from corn they were selling at the front counter. I was not disappointed.