It's tamal season. That's right, tamal. The singular is tamal the plural is tamales.  So where can you get them? Tortillerias. When you are on the hunt for tamales a good place to start is the local tortilleria. Many tortillerias will take advantage of the fact that they are making masa for their tortillas and also make other goods, functioning as mini restaurants that often have tacos, burritos, and, of course, tamales.

Tortilleria La Nueva Riograndese
831 N Sylvania Ave, Fort Worth, TX 76111
I started coming to La Nueva Riograndese for tortillas a while back (you can't beat their fresh pack of fluffy corn tortillas for $2), but recently tried their spicy green chicken tamales and really enjoyed them. They easily passed the structure test (meaning the masa or "dough" held together and didn't stick to the hoja (aka corn husk) during unwrapping) and the chicken filling was nice and spicy. At $12 for a dozen, La Nueva Riograndese has great quality for a really inexpensive price and is a great option for grab and go tamales. Open daily from 8 a.m. to 6 p.m.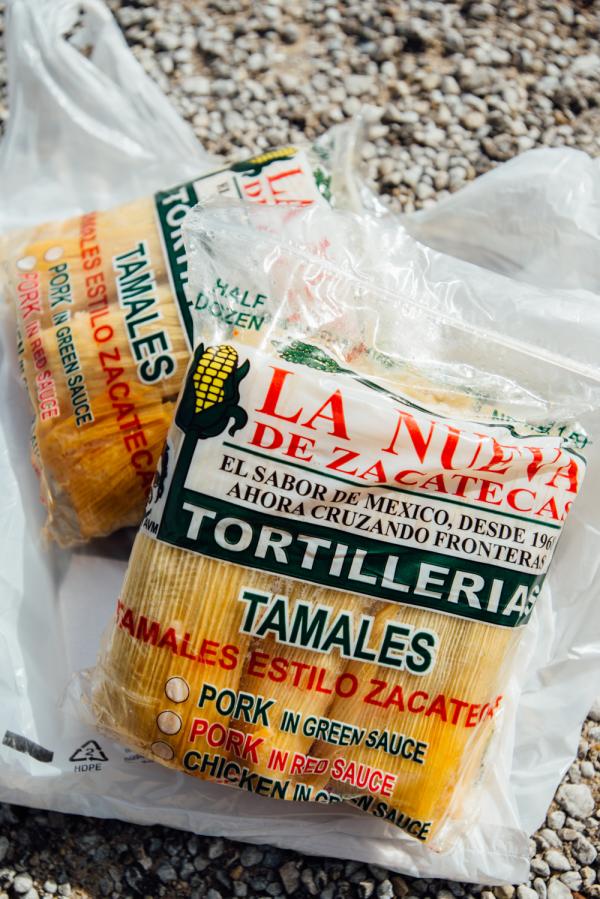 Becerra's Tamales
4817 Brentwood Stair Road, Ste. 145 Fort Worth, Texas 76103
Family run Becerra's has been selling at the Saint Michael's Farmers Market in the Highland Park area for years and recently opened up their first Fort Worth store front on Brentwood Stair Road on Saturday, November 30. With lots of different fillings to choose from, including a vegan option, Becerra's specializes in tamales that are Texas born and raised.
Sold by the half dozen, you can have them steamed on site for you to eat fresh or you can purchase them frozen to save for later. I picked up a half dozen of the Mesquite BBQ (the most popular, I was told), and had one of their Red Hot Pork while I waited for the tamales to steam. The tamales were well proportioned, with filling in the first bite and filling in the last bite, and the masa was tasty. Open Wednesday through Friday from 11 a.m. to 5 p.m. Follow them on Instagram at @becerrastamales.
Ibarra's Mexican Food
1109 NW 25th St, Fort Worth, TX 76164
Ibarra's Mexican Food is a tortilleria and restaurant in the Northside of Fort Worth. I went at 11:30 a.m. on a Saturday and the place was packed, which is always a good sign. I ordered a half dozen of the red pork tamales and couldn't resist bagging a melon-sized concha from the baked goods counter while I waited.
There's nothing better than being handed a warm, foil-wrapped package of tamales on a crisp winter morning as the relaxing aroma of masa wafts up to your nose and neon-orange pork grease drips from the edge of the package. The largest of the tamales I tried, Ibarra's maintained a proper proportion of super flavorful red chile pork to masa. A Northside staple, Ibarra's Mexican Food does not disappoint.