Does it seem like Fort Worth has gone to the dogs? The vast expanse of trails along the Trinity River are part of our #fortworthstory, and runners and walkers are out in all kinds of weather with their four-legged friends.
My rescue buddy Hank, who's a bit of a chow hound and seen in the images below, likes to sit on a patio where I can have a drink and he can hang out, hoping I drop some fries or part of a taco his way. Here are 12 restaurants or areas where you can dine or drink al fresco with your dog.

1. Chadra Mezza's
Chadra Mezza's covered back patio is festooned with twinkly lights and plants, and it's a nice place to wind down.
2. Fixe Southern House
In the Clearfork development, the new Fixe Southern House has a covered front patio that wraps around two sides, with plenty of room for friendly pets.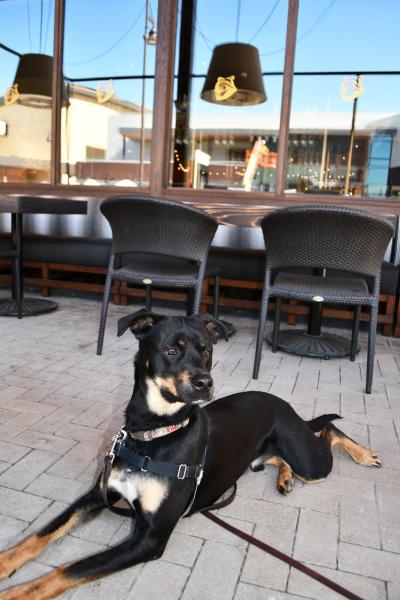 PC: Hank at Fixe by Mom Laurie James
 
3. Press Cafe
Just beyond the roundabout, Press Café also has ample patio space for you and your pup to roam along the Trinity River. And coming to the development this fall: Mutts Canine Cantina, a combo dog park/bar and restaurant where your chow hound is every bit as welcome as you are.
4. West 7th 
In and around West 7th and Crockett Row area, there are several restaurants with dog-friendly patios. Magnolia Motor Lounge, America Gardens, Mash'd, Landmark Bar & Kitchen, and Rodeo Goat all have space for you and your pup.
5. Grace Restaurant
Grace has a beautiful ground-level patio with comfy furniture, and fabulous food and wine. You'll want to sit and stay.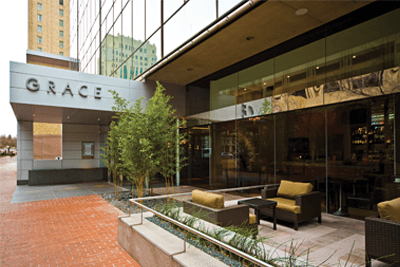 6. Lola's Trailer Park
Lola's Trailer Park offers a pup-friendly patio and access to a wide variety of local and made-in-Texas music.

PC: Joseph Haubert
 
7. Magnolia Ave
Most of Magnolia Avenue is dog-friendly. Specifically, Brewed, The Bearded Lady, Shaw's Patio Bar & Grill, and Lili's Bistro all have nice patios. Cane Rosso takes dog-friendly to the next level: The restaurant also funds a Cane Rosso Rescue, where their volunteers routinely save and foster last-chance dogs who are out of time at shelters across the state.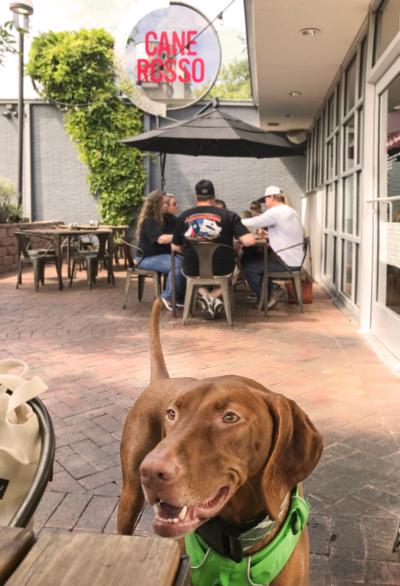 PC: Laszlo at Cane Rosso by Mom Susie Geissler
 
8. South Main
Last year the folks at Pouring Glory, Hop Fusion Aleworks, and the Collective Brewing Project teamed up to do a PupCrawl through their respective locations –– look for more information about a second PupCrawl from these folks.
9. Salsa Limon
Salsa Limon's Distrito location has a huge back patio that takes advantage of all the scenic beauty that The River District has to offer.
10. Tommy's Hamburgers
Tommy's Hamburger Grill & Patio (Forest Park location-only) offers a dog-friendly patio along with an abundant burger selection. Burgers come with traditional sides or you can upgrade to fried okra or their trademark Frog Fries (fries covered in cheddar, grilled onions and jalapeno).
11. Waterside
Waterside's Grove is tailor-made for dining with your dog. You can grab something from Whole Foods Market's vast supply of take-out items, food from Piatello Italian Kitchen, Taco Diner, or several other fast-casual restaurants and enjoy a covered patio or shade with your pooch.
12. Woodshed Smokehouse
The Woodshed Smokehouse gets extra credit for offering actual pet food on their human menu. Your chowhound will love a variety of bones –– Hank liked his dipped in Pitmaster fat, and he enjoyed his water in an individual dog bowl.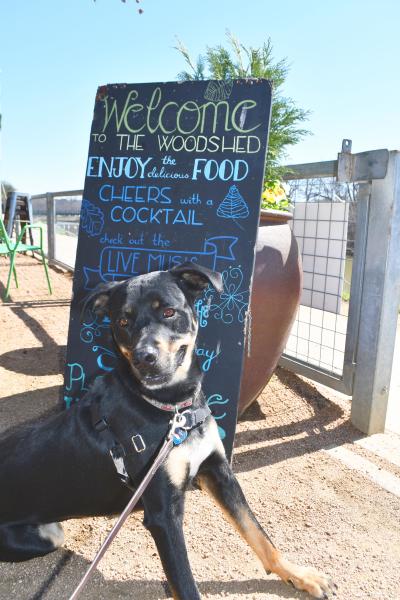 PC: Hank posing at Woodshed by Mom Laurie James
The caveat at all these restaurants is that your dog must be friendly and well-trained. A big puppy kiss to our friends at Fort Worth Near Southside Inc, Waterside, and  Bring Fido.com for the tips!
If this piece made you want to look for a fur-ever friend and running buddy, contact the City of Fort Worth Animal Care and Control Center or the Humane Society of North Texas.