Brunch is such a luxury and such a joy. What other meal allows you to combine the best of breakfast foods and the regular menu….along with a sparkly beverage if you wish? Fort Worth restaurants have really expanded their brunch menus and options. Here's our list of 10 you should check out.

Bird Café has a scrumptious brunch with seasonal, fresh menu items from Chef Scott Curtis, including a Creole eggs Benedict, challah French toast, scrambled duck eggs and a pork cheek hash. If you favor some lighter fare, try the avocado or egg-white omelets or the house-made granola. In addition to more wines than you can shake a tail feather at, Bird's artisan bar menu offers custom and creative cocktails.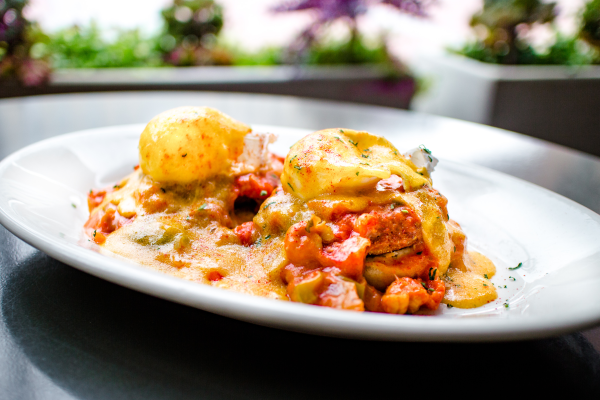 PC: Bird Cafe, Creole Eggs Benedict
 
Blue Mesa hosts a fabulous brunch hours from 9 a.m. to 3 p.m. on Sundays. In addition to the build-your-own street tacos, the proprietary and oh-so-delish corn cake, and fresh-made guacamole, you'll find glazed ham, Belgian waffles (with chicken if you want to get your sweet and salty together), brisket, fruit and salad. All these items, plus dessert and two glasses of champagne/mimosas, come standard at $22 per person.
Cat City Grill offers one of the best year-round brunch menus ever. Like eggs Benedict? You'll find a choice of four, including a spinach Benedict. There are a half-dozen omelets on the menu, including a veggie version and a seafood omelet with crab cake mix, Swiss cheese and Hollandaise sauce. One of the best things about this brunch menu: Mimosas, Screwdrivers, Bellinis and the traditional bloody Mary are all a mere $2 each!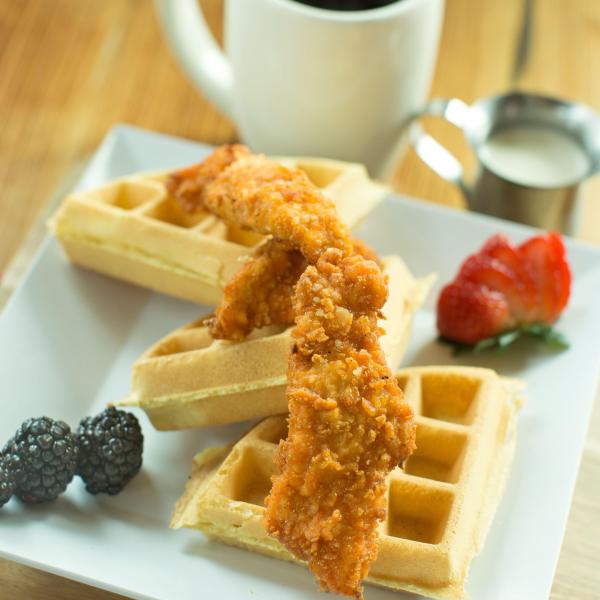 Blue Mesa Waffles
Cafe Modern is tucked inside the beautiful Modern Art Museum and is quite possibly one of the best-kept secrets on the Fort Worth dining scene. The seasonal menu offerings a selection of tasty appetizers, soups and salads, a variety of brunch-inspired entrees and a hearty selection of sandwiches - all reasonably priced under $20 a plate. 
Del Frisco's Grille weekend brunch is offered Saturdays 11 a.m. to 3 p.m. and Sundays 10 a.m. to 3 p.m. in their beautiful location adjacent to Sundance Square Plaza. The regular brunch menu includes scrambled egg tacos, a decadent Red Velvet Belgian waffle, the Grille Benedict, and a build-your-own bloody Mary bar. Lunch items like meatloaf and salmon are also available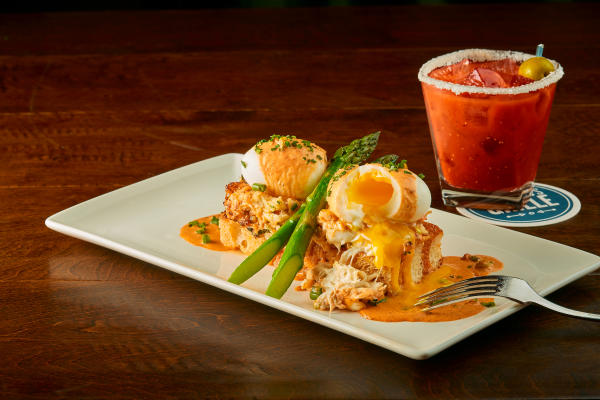 Del Frisco's Grille
Little Red Wasp's Chef Blaine Staniford isn't afraid to mix things up. His brunch menu includes the traditional (French toast, cheddar biscuits, deviled eggs), the extravagant (a short rib Benedict and housemade donut holes), and food that isn't generally on brunch menus (a Reuben sandwich and brisket potstickers). The cocktail menu is also full of surprises –– try a pear mimosa or one of several dozen craft and unusual beers.
Piatello Italian Kitchen has a fresh new brunch menu launched in April. Fresh, beautifully-prepared seasonal items like Panzanella salad and Primavera pizza with spring onion, asparagus and rosemary fill the menu. If you're in the mood for something more exotic, try their version of shrimp and grits (with polenta and mushrooms) or opt for a brunch-tailored cheese board. Brunch runs every Sunday from 10 a.m. to 3 p.m.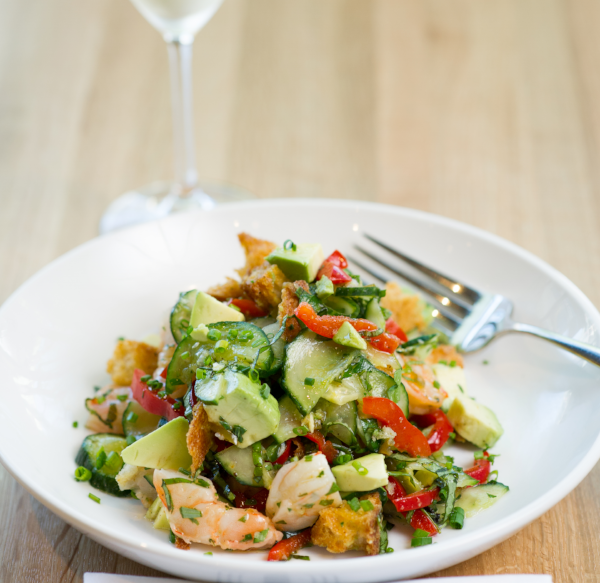 Piatello's Panzanella Salad
Max's Wine Dive just excels at weekend brunch. Our mouth's start watering just thinking about the traditional gourmet comfort food offerings like the honey butter Benedict, chilaquiles, Chicken Fried Steak and eggs, and the fried egg sandwich so large it can serve two hungry people. The wine list includes more bottles of bubbly then one could consume in a month's worth of brunches.

Reata Restaurant's brunch menu is packed with traditional favorites spiced with a definitive southwestern twist. Take the biscuits and gravy topped with diced elk sausage. There's a version of chicken and waffles that includes fried quail atop a sweet, crispy cake batter waffle. And the shrimp and grits are served with spicy chorizo sausage.