Valentine's Day isn't just romantics, it's also a perfect excuse to spend a little extra time together as a family all in the name of LOVE. Sweeten things up with these five heart-shaped inspired Valentine's Day activities for you and the kids.
EAT TOGETHER
There's never a good excuse NOT to go to Sweet Sammies. And this is one Valentine's Day date where no reservations or scheduling is required. Just walk in during store hours and let the simple magic of ice cream cookie sandwiches take over. Get ready for pictures, though. There's nothing like being covered in your own stinky concoction while simultaneously attempting to take that photo at the same time.
 
INDULGE TOGETHER
Willy Wonka, eat your heart out. All of your candyland dreams and chocolate wishes come true with Central Market's Chocolate Stroll on Feb. 9. As part of their month devoted to chocolate, you're invited to walk through the store and taste some of the world's finest avant-garde chocolate items. Learn how chocolate is made, discover unexpected pairings, and delight in all the fun. Reservations are requested for this magical evening! 


CREATE TOGETHER
A great date night go-to and GNO (girls' night out), Painting with a Twist lives up to its name with a twist on family night. Bring your 10 year-old (or above) on Saturday, Feb. 11, from 1-3 p.m. for "I Whaley Love You!" Together you will each create your own beautiful whale-inspired work of art. All you have to bring is your creative juices.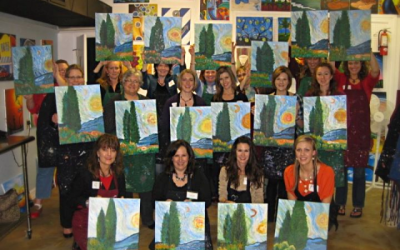 EXPERIENCE TOGETHER
There's nothing like having a book come to life on the big stage. Watch the magical performance of Rapunzel: A Very Hairy Tale at Casa Manana now through Feb. 19. The hour-and-a-half long adventure tells of Rapunzel, her suitor, a dragon, and her beautiful long mane of hair. With times both during the day and at night, your little prince or princess will love this show (and so will you).

 
WATCH TOGETHER
Before there was on-demand, Netflix and Amazon Prime, there was good ol' movie watching. Remember how much fun it was to catch a flick with popcorn in hand? Technology may have changed, but the fun of going to the movies hasn't. If your evenings are too full for a night out at the movies, then head to Movie Tavern (three locations in Fort Worth) for Breakfast and a Flick. On Saturdays and Sundays, Movie Tavern offers a special brunch menu for AM shows. And with "The Lego Batman Movie" and "Beauty and the Beast" debuting in March, this is one experience you can make a tradition once a month.