For beer retailers, it's called a "reset." That's when grocery stores and specialty shops pull light, session-y beers from the shelves and replace them with stouts, pumpkin ales and styles associated with fall. I noticed the prominence of burnt orange signs advertising spiced suds on a recent trip to Central Market.
I finally got my hands on Riverside-based Martin House Brewing Company's new Yakima Valley Apple, brewed in collaboration with Dallas-based Bishop Cider Company. Apple Beer being a new term to me, I wasn't sure what to expect. The yellowish hazy ale wasn't sweet or tart, to my surprise. The lightly hopped ale had a mild grapefruit rind flavor. Overall, it was mild, pulpy and delicious — something you have to try for yourself.
The second fall release I hoisted was another Martin House brew. This one, Pumpkin Latte, made its debut last fall. I was glad to see its return. Coffee and beer lovers share at least one thing in common: a love/hate relationship with the bright orange gourd. But Martin House employs the divisive pumpkin flavors masterfully. The roasted flavors of coffee greeted my palate first, followed by welcome notes of cinnamon, nutmeg and clove. The secret to getting pumpkin flavor into beer, many brewers have told me over the years, is to use the spices we associate with that famed American culinary tradition.
Rahr & Sons Brewing Company is popular for its Bourbon Barrel-aged Winter Warmer, but I opted for Pumpkin, a brown ale brewed with spices. Weighing in at 7.8 percent ABV, the bold brew tasted like Thanksgiving in a can. Like Martin House's release, this ale played off the idea of pumpkin pie, but this beer was heavier, maltier and laden with pumpkin spices. Way to step it up, Rahr.
Many this fall are waiting expectantly for the release Panther Island Brewing's Sweet Fang. The peanut butter-laden milk stout reminds me of a liquid Reese's Peanut Butter Cup. Without being cloying, of course.
The Collective Brewing Project is bucking the stout trend with its Petite Golden Sour Raspberry. The tart ale is not for the faint of palate, but the experience is like no other.

The resplendently named Yam Dankee is Revolver Brewing's season draught-only release. The IPA is brewed with "100 pounds of dried sweet potatoes and dark Belgian candy sugar."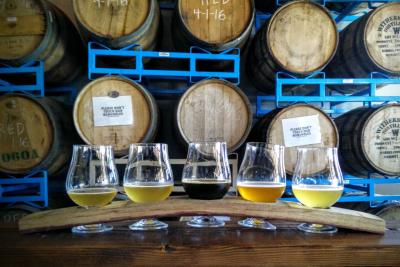 The team at HopFusion Ale Works must never sleep. The Near Southside brewery seems to have something new on tap every week. Amped Fusion is a coffee-forward milk stout that has a welcome, creamy mouthfeel. Orange Blossom Special is the Feisty Blonde with a generous addition of orange zest.
I had to end my night with another Martin House beer, the River Horse. The barrel-aged saison is aged in cabernet barrels for 15 months. Oak-y, complex, and funky were the first three words that came to my beer-enraptured mind.
Happy beer hunting. And remember, some of the best fall beer releases coming out across the United States were brewed right here in Fort Worth.