There are so many ways to spend the Christmas holiday in Cowtown.  Here's our pick of what to see and do throughout the final month of 2017. 
December 2 & 3
A Clearfork Christmas - The Shops at Clearfork
Disguise your holiday shopping as another day of family Christmas fun when you take the kids to the Shops at Clearfork on Saturday, December 2, 12-4 p.m. You will be treated to free, horse-drawn carriage rides and hot chocolate!  
Spy carolers and even catch a performance from the Texas Boys Choir. The kids will be able to have their faces painted and you will be able to savor your memories with pictures from the vintage photo booth. Get the details.

Holiday at the Park - Alliance Town Center
On Sunday, December 3, from 4-7 p.m. head to Alliance Town Center for Holiday at the Park! It's a completely free event where you can get your photos with Santa, show the kids live reindeer and marvel at toy soldier stilt-walkers.
Plan on riding down the Snow Hill Slides and staying for the Tree Lighting. The kids will even get a chance to send holiday cheer to our military members currently serving. Get the details.
December 9 & 10
Winter Wonderland in The Foundry District 
Give your kids the opportunity to help in The Foundry District's latest art installation for the holidays! You may remember my Strike a Pose post highlighting several of the murals in the city. Be a part of my new friend Katie Murray's latest creation: The Found Tree.
Bring an item that is either found, unique, or random to be added to the collaborative sculpture on December 9 from 2-6 p.m. While there, visit The Grinch, enjoy music, stop by the mimosa bar and taste wonderful holiday treats. Get the details.

The Polar Express: An IMAX Experience - The OMNI IMAX®
Yes, The Polar Express has become a beloved holiday classic book and film. But have you taken the kids to their very own Pajama Party at the Fort Worth Science a History Museum yet? It's a great chance for them to really become a part of the movie, while in their actual pj's! They can enjoy hot chocolate and wintry hands-on activities as well as getting to experience the movie on OMNI IMAX®! Get the details.
 
December 16 & 17
Photos with Santa - Leonard's Department Store Museum
Take your kids back in time to the original department store in Fort Worth, Leonard's, on Saturday, December 16, from 10 a.m. to 4 p.m. While waiting for your visit with Saint Nick, enjoy a walk down memory lane as you discover memorabilia and artifacts from Fort Worth's earlier years. 
Complimentary popcorn and hot chocolate will be served. Get the details: (817) 336-9111.
Elf the Musical Jr. - Fort Worth Academy of Fine Arts
This hilarious musical adaptation of the popular holiday movie will be pre-formed by the talented youth of Fort Worth's Academy of Fine Arts on Saturday, December 16, and Sunday, December 17. Expect laughs and lots of fun as you help Buddy find his true identity! Get the details.
December 23 & 24
Panther Island Ice - Coyote Drive-In Theater
Family in town? Looking for something fun to do on Christmas Eve or Christmas Day? Panther Island Ice is open on both! Get out on Fort Worth's only outdoor ice skating rink and work off some of that holiday energy. Get the details.
 
Texas Ballet Theater's The Nutcracker - Bass Performance Hall
Catch the last few performances of the time-honored holiday classic "The Nutcracker" on Saturday, December 23, and Christmas Eve. Check for special performance times that include children's activities, story times and surprises. Get more details.
December 30 & 31
Starlight Symphony at Crockett Row 
Soak up the last of the holiday season as you head out to spend those gift cards at Crockett Row at West 7th. Visitors will enjoy a dazzling music-and-light show every hour on the hour from 6 to 9 p.m., musical performances and free carriage rides on Fridays and Saturdays. Get the details.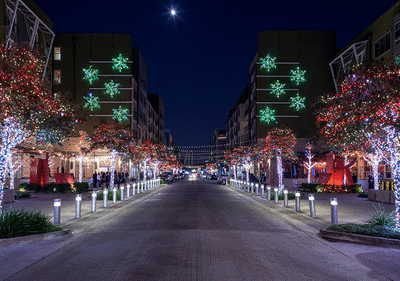 Panther Island Ice - Coyote Drive-In Theater
Yes, Panther Island Ice is open on NYE too! Get the details.

Out With a Bang Hike - Fort Worth Nature Center and Refuge
Break free from all the holiday demands and stress. Take the family out into nature during the Fort Worth Nature Center and Refuge's "Out with a Bang Hike" on Sunday, December 31, at 2 p.m. and enjoy the fresh air as you get ready to begin again. Get the details.