Spring into fun this month in Fort Worth! No need to be green with envy because there so much to do for everyone of every age. From flowers, fishing and finding new traditions, March is just the right time to catch Fort Worth at its best.
 
March 4 & 5, 2017
Dolphins - Fort Worth Museum of Science and History
Splash into learning with one of the ocean's most intelligent creatures, Dolphins. Dolphins is now showing at the Fort Worth Museum of Science and History in IMAX. This promises to entertain the whole family. Narrated by Pierce Brosnan and featuring a soundtrack from Sting, Dolphins takes you from dazzling coral reefs to windswept seas as you learn about their behaviors, ability to communicate and even explore the dolphin-human bond. Get more details and see trailer here.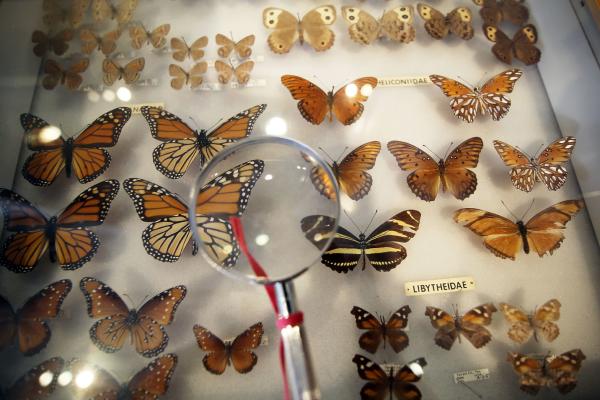 PC: BRIT

First Saturday - Botanical Research Institute of Texas
The Botanical Research Institute of Texas is open to the public the first Saturday of each month (Feb-Nov). There are so many things to do there it may take a few Saturdays to fully get it all done. Some of our faves: Bella's Storytime (10:30-11:30 a.m.), free public Ambassador-led tours (10:30 a.m.), and exploring the pocket prairie and geology wall. Get the details.

 
March 11 & 12, 2017
TRWD Flyfest - River Park Trailhead
Saturday, March 11, 10 a.m.-5 p.m., the Tarrant Regional Water District (TRWD) is partnering with Fort Worth's urban angling community to bring back TRWD Flyfest. They are releasing 2,200 trout into the Clear Fork of the Trinity River and inviting all to come fish and enjoy activities for the day. Great things to look forward to: contests, learning, cooking demos, food trucks, kids activities, craft beer and wine and, of course, lots of fishing. Get the details.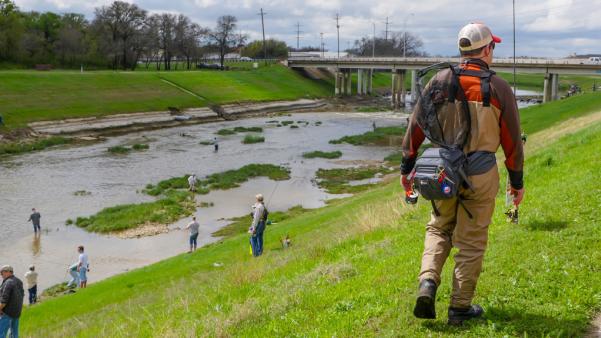 PC: TRVA, Flyfest

Flight Science Saturday - American Airlines C.R. Smith Museum
Share with your children the magic of aviation, Saturday, March 11, 1-3 p.m., at Flight Science Saturday offered by American Airlines C.R. Smith Museum. They will learn how to build a plane powered by stored energy from a rubber band, balloon or spring. This event is geared toward kids 8-12 years old. Get the details.
March 18 & 19, 2017
Cowtown Goes Green - Stockyards Station
Celebrate St. Patty's Day, Saturday, March 18, 12-5pm, with this free family-friendly day at Stockyards Station. This promises to be a lot of fun with: free activities for kids including armadillo races, a petting zoo, face painting, games and contests with 92.1 Hank FM, live music, and gunfights. The Western and Irish-themed Cowtown Goes Green parade will follow the 4pm cattle drive. Get the details.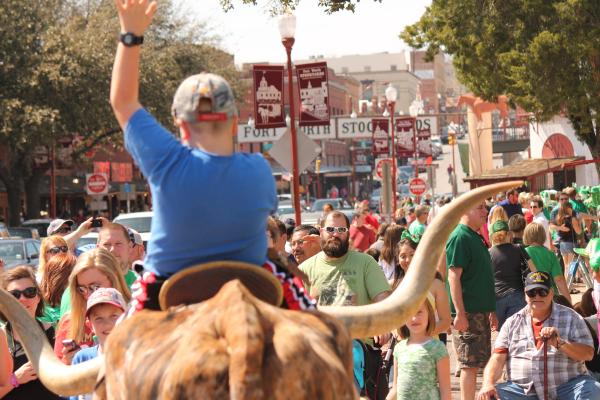 PC: Rachel Noble, Cowtown Goes Green

Red Riding Hood - Casa Mañana
Join Casa Mañana for their opening weekend of Red Riding Hood on March 17, 18  and 19. Red Riding Hood tells an uplifting story of brave Red. Will she reach Grandma's house in time? Or will the charming Big Bad Wolf distract her from her quest? Join Red on her journey into the woods, where no one is who they seem and adventure waits at every turn! Get the details.
March 25 & 26, 2017
Yoga For Littles - The Fort Worth Library (Central & Northwest Locations)
Introduce your preschoolers to Yoga and have fun with them as you learn simple poses, breathing techniques, calming skills and enjoy early literacy activities. This is a five-week course that you can start on Saturday, March 25, at the Fort Worth Central Library at 11 a.m. Classes are 60-minutes for parents and children ages 2-5. Get the details.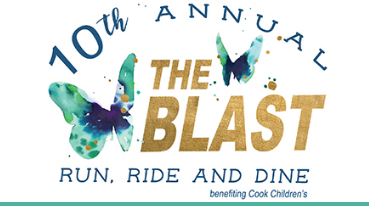 The Blast – Run, Ride and Dine - Heart of the Ranch for Cooks Children's
Plan to join the 10th Annual "The Blast Run and Ride and Dine" on Saturday, March 25, to make a difference in the lives of Cook Children's patients and families fighting Neuroblastoma, a rare and aggressive form of cancer. You are invited to run, walk with strollers or wheelchairs, and ride bikes. Participants can enjoy food and drinks from local vendors. Get the details and register.