Planning a dinner party or a small get-together with a few of your favorite friends? Wow your guests with these (now not-so-secret) recipes from Fort Worth's best chefs.
Chef Jon Bonnell - Hot Crab Dip
Bonnell loves crab, and the dish he shares is from Bonnell's Fine Texas Cuisine. The trick, he says, is to use fresh blue crab (jumbo lump or lump) from the Gulf.
"This dip is the perfect kind of dish to bring to a Super Bowl party, baby shower or any informal social gathering," he said in the text accompanying the recipe. "It's very easy to make ahead of time and just pop in the oven at the last minute before serving."  
While he says pasteurized crabmeat may be an acceptable substitute if you can't find fresh crab –– never, ever let him catch you using crab that's spelled with a K.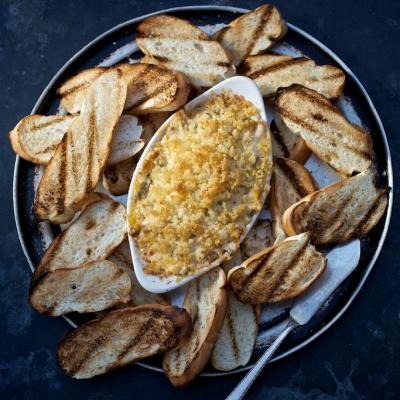 Hot Crab Dip 
2/3 cup Panko bread crumbs
3 oz butter
2 bunches scallions, chopped
2 ribs celery, finely diced
3 cloves garlic, minced
2 tbsp chopped fresh thyme
1 pound soft cream cheese, room temperature
2/3 cup mayo
2 lemons
1 tbsp Texas Red Dirt Rub, Creole Blend
6-8 healthy shakes Crystal Hot Sauce
2 shakes Worcestershire sauce
8 oz jumbo lump blue crab meat
8 oz blue crab claw meat
Cooking Directions
Melt the butter and pour over the Panko bread crumbs, then toss to combine. Set aside for later. Combine all remaining ingredients except for the crab in a mixing bowl and stir well. Once the mixture is a soft and smooth consistency, gently fold in the crab being careful not to break up the large pieces. Place in a casserole dish and spread the buttered bread crumbs across the top. Bake at 325 degrees for 40 minutes, or until the top is nicely browned and the dip is bubbling. Serve with your favorite crackers, flatbreads or toast points.
 
Chef Juan Rodriguez - Oaxacadillas
Juan worked with Chef Tim Love before Reata Restaurant called. After making his way to head chef at the Sundance Square stalwart, Rodriguez struck out on his own with Magdalena's Cocina Mexicana Local, his restaurant/catering company named after his grandmother, who taught him to cook. Rodriguez and wife Paige are planning some exciting things in 2017. The chef offers what he calls Oaxacadillas –– quesadillas made with Mexican Oaxaca cheese. If Central Market doesn't have the specialty cheese, your local Michocana Market probably will.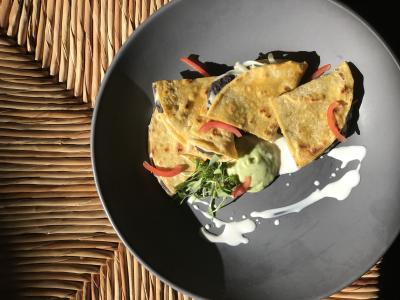 PC: Oaxacadillas from Magdalena's Cocina Mexicana Local
Oaxacadillas
Black Bean and Oaxaca Cheese Quesadilla, Avocado Crema
Servings: 4
4  ea. yellow corn tortillas,
2  tbsp oil
½ small yellow onion, diced
½ lb black beans, canned and drained
½ cup chicken broth or water
1  tbsp Epazote, chopped Mexican herb can be found at your local Mexican Market
1  tsp cumin
½ lb  Oaxaca cheese, grated
Set your corn tortillas aside.
In a small pot, over medium heat, add oil. Add onions and saute for 2-3 minutes. Add drained black beans and epazote. Stir until well incorporated. Add your desired liquid to the beans. Season with cumin and mix. Canned black beans tend to be salty so taste before you add more salt. Reduce liquid until it starts to thicken. At this point, remove from heat and transfer to a food processor or if use a stick blender to smash beans. You want the puree to be thick and not runny. You can also do it the old fashion way, by using a fork. Set aside to cool.
Heat your tortillas in a microwave, covered with a damp towel. Heat for 20-30 seconds. You want them soft for easy folding.
On half of your tortillas, cover with black bean puree, add cheese and fold tortilla. You should end up with half a moon. In a sauté pan over medium heat, place your quesadilla and heat until cheese starts to ooze out. Repeat process. Drizzle Avocado crema.
Avocado Crema
1   avocado
2   tbsp cilantro
½  cup Mexican crema
½  tsp. cumin
1   lime, juiced
Puree all ingredients in processor or blender. Use as dip or to drizzle over quesadillas.
 
Chef Lanny Lancarte - Righteous Snack Mix
Lanny comes from a long line of good cooks – the Lancarte family has served at least three generations of Fort Worth's Mexican food aficionados at Joe T. Garcia's and Esperanza's Mexican Bakery and Café. Lancarte's Righteous Foods isn't exactly a chip off the Joe T.'s block. While Lancarte knows the pleasure of enchiladas and margaritas, he acknowledges those are "sometime" foods, not every day foods. The eats at Righteous Foods are clean, organic, and unprocessed. Lancarte shares a twist on a sweet/spicy trail mix.
Righteous Snack Mix
Makes 1.5 quarts
Olive Oil to Coat
4 head   sliced lacinato kale
½ tsp     tumeric
½ tsp     ground ginger
½ tsp     smoked paprika
2 tbsp    kosher salt
1 cup     roasted pistachio
1 cup     roasted almonds
1 cup     popped pepitas (salted)
1 cup     golden raisins
1 cup     coco flakes
1 cup     dark chocolate chips
Coat Kale in Olive Oil with a sprayer or use canned olive oil spray and dust with ginger, paprika, turmeric and salt.  Dry in oven at 350 for 15 – 30 minutes. Let cool completely.
Mix all cooled ingredients together and jar.

Max's Wine Dive - Fried Chicken Sliders
For a perfect bite for two (or one if you're really hungry), here's a tasty take on fried chicken.
Fried Chicken Sliders with pickles, Bibb lettuce, tomatoes and chipotle honey
Servings: 2
4          slider buns
1          chicken breast
1          quart oil blend
4          pieces Bibb lettuce
1          large tomato
2 tbsp  butter (for toasting buns)
Favorite pickles for garnish
Seasoned flour (recipe below)
Chipotle honey drizzle (recipe below)
Seasoned Flour:
(mix together)
2 cups   all-purpose flour
1 tbsp    salt
1 tbsp    cracked black pepper
1 tbsp    garlic powder
1 tbsp    onion powder
2 tbsp    smoked paprika
1 tsp      cayenne powder
Chipotle Honey:
(whisk to blend together)
1 cup   honey
½ cup  unsalted butter at room temperature
1          chipotle pepper in adobo sauce
½ tsp   salt
Butter buns and prepare for toasting on grill or in over for 30 seconds. Set aside.
In a deep pot on stove, bring one quart of oil blend (preferably canola) to 350 degrees. Butterfly chicken breast in half, then cut those two pieces in half to make tenders. You should have a total of four tenders.
Dredge chicken tenders in seasoned flour mix, then once oil is ready, gently place chicken in oil and cook on both sides approximately 1-2 minutes until internal temperature reaches 165 degrees. Using tongs, place chicken tenders on paper towels to rest.
On bottom slider bun, add a piece of Bibb lettuce, a large tomato slice, pickles, chicken tender, drizzle of chipotle honey and then the top bun.

Salsa Limon - Habanero Guacamole
From Salsa Limon comes a take on a classic tailgate item – guacamole with a little spicier twist. Expert advice: If you are preparing this in advance, put a cling wrap on the mixing bowl directly on the guacamole. No air bubbles should be visible. That way the guacamole will stay bright green until you are ready to serve.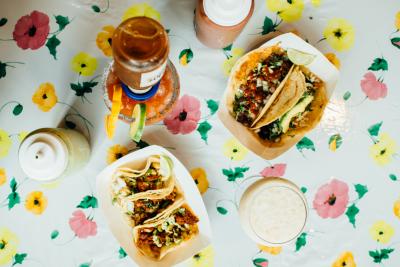 PC: Wero Kitchen
Habanero Guacamole
4 ripe Mexican avocados 
2 limes
1 tbsp kosher salt
2 yellow habaneros
1 tsp white wine vinegar
1 bunch of cilantro
1 garlic clove
1/2 a medium white onion 
Brown the garlic clove directly on flame. Smash garlic on chopping board and purée it with a pinch of salt. Dice habanero with seeds for high heat or without seeds for heat. Add to garlic purée and smash diced habanero with garlic.  Once garlic/habanero is a paste add to large mixing bowl. Scoop out avocados into mixing bowl. Add limes juice, salt, vinegar and mash together until smooth. It can be chunky if you want. Fine chop cilantro and mix in. Top with fine diced white onion.  Garnish with cilantro leaves. Grab your favorite chips and it's ready to roll!
Reata Restaurant - Habanero Margarita
Finally, what's a party without a frosty beverage? Reata Restaurant offers their Habanero margarita recipe. You can make habanero tequila by infusing seeded sliced habaneros (or halved habaneros with seeds if you really want a kick). Strain before mixing.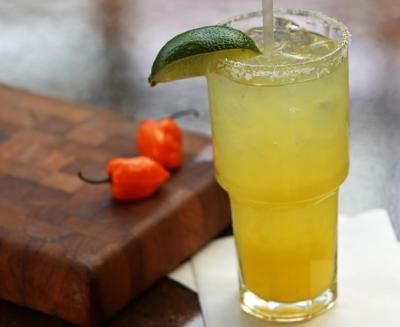 Habanero Margarita
Servings: 1
1 ¼ oz. habanero infused tequila
¾ oz.    Triple Sec
½ oz.    fresh squeezed or Rose's lime juice
Sweet and sour mix to fill the glass
Salt to coat the rim
Combine ingredients in a 16-oz glass over ice. Transfer to shaker, shake and pour into 16-oz glass with salted rim. Add ice and toast to your team's victory.