Cutting a freshman record is a formative moment in any musician's career, and finding the right recording space is a crucial step in that process. Fortunately, Fort Worth is home to several studios that not only house state-of-the-art equipment but also veteran musicians who will gladly guide you through the process.

EAGLE AUDIO RECORDING
Eagle Audio Recording (911 S Main St) has been in the recording business since 1984. Jeff Ward worked as its head engineer for most of that time. He recently gave me a tour of the space. Nearly every inch of Eagle Audio Recording was built with one goal in mind — to record and edit bands and singer-songwriters at their best. 
Advice for Newcomers
"One major thing is pre-production," Ward said, referring to steps bands should take before entering the studio. "They need to be rehearsed, and they need to know how their songs go."
The idea is that more prep time allows musicians to focus on fine-tuning their sound rather than recording take after take.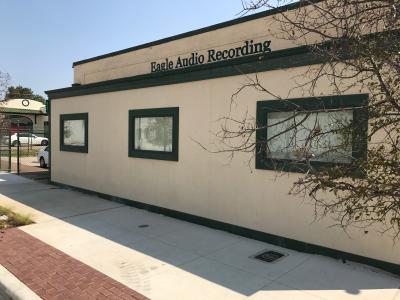 Lessons and Pricing
G.W. Childs IV, Eagle Audio's producer, comes from a wide and varied career in the music industry, which includes work with Lucasfilm. Education is a passion of his, and he recently organized a four-lesson package ($250) that includes songwriting guidance, track recording, editing and mixing.

Eagle Audio Recording's three-tiered pricing starts at $95/hr. A four-hour session is $300. For projects greater than 10 hours, Ward and Childs ask that you contact them for custom pricing. At the end of my visit, Ward shared what he truly loves about his job.
"Giving the client the respect and quality work they deserve is always satisfying," he said.
 
CLOUDLAND RECORDING STUDIO
Another Near Southside-based recording space, Cloudland Recording Studio (1310 W Allen Ave), is a venture of Dreamy Life Records & Music. Combined, the project includes a record label, vinyl store and studio space.
"That allows us to promote bands in different ways," said Britt Robisheaux, Cloudland's studio manager.  

Style and Tips
The business is big on vintage and "esoteric equipment," he added. "In general, we recommend you come into the studio having recorded yourself already, even if it's just on a cell phone. That way, you have some idea of what you sound like."
Apparently, the aphorism of "know thyself" applies to recording as much as to life.
"I've had people come in the first time and say, 'Whoa, we sound more like a pop-punk band, and we thought we were a hardcore band.' " he said with a chuckle.

Pricing and Time 
Robisheaux, who has recorded albums since 1996, welcomes newcomers. He prefers booking the studio space by the day ($450).
"Anyone can pay a neighbor a sixer of beer to record in a garage," he said. "It will take a month and may not turn out that great. I've had a band come in and turn out 10 songs in one day."
 


NEW MEDIA RECORDINGS
Composers of esoteric music have a friend in James Talambas, owner/producer at New Media Recordings. He welcomes musicians and artists who work on the fringes of progressive movements. And he emphasizes a collaborative approach to recording music, one that isn't based on deadlines. His past recordings include musicians and groups like Ronnie Heart, The Theater Fire, and Metronome Collective.  
First-Timer's Advice
Talambas has a recording studio in his Fairmount-based home, but his projects often take him to unique spaces to record. The musician has advice for the recording studio unwashed.
"I would say that they need to practice and really be open to ideas," he said. "Practicing is important, but I think too many young people get into recording for the first time having this narrow view of what their art can be. Let the art take hold. Be open to what the art could be without trying to control it."
Pricing
Talambas prefers to discuss payment on a "case by case" basis as needs often vary. 
Consider this a primer on the local recording studio scene. Whatever your tastes and budget are, you can be sure that the right recording studio is waiting for you. Learn more about the city's music advocate group, Hear Fort Worth, and how you can get involved by visiting www.hearfortworth.com.