Every time I return to Fort Worth for a visit, I'm reminded that far too much time has passed since the last time I was home. I grew up here, have family and friends in the area and sometimes entertain the prospect of someday returning for good. Still, life manages to keep me away year after year, so when I do return I make it a point to visit the kinds of places that feel most like home and remind me of my roots. That's why I always make time to eat at my favorite Fort Worth burger and beer joints, where one-of-a-kind burgers, Texas-made beers and unmatched Cowtown ambiance offer the tastiest welcome home.                 
Brewed Coffee and Pub
Take Brewed Coffee and Pub, in the Near Southside neighborhood of Fort Worth, for example. The interior is a colorful assortment of antiques, curbside finds and junkyard treasures that stir the imagination. Along with a caribou shoulder mount and an eclectic collection of furnishings, there are quirky items all around including a vintage box spring nailed to the wall. The menu, like the atmosphere, refuses to settle on just one personality and so becomes its own counterculture concoction of coffee shop, brewpub and chef-inspired eatery.
Brewed's extensive beer list offers more than 50 craft beers from around the country in addition to 14 Texas-born brews on tap. The food menu's organic, made-from-scratch, farm-to-table offerings are always tempting with the likes of hand-rolled pretzel sticks and fried Brussels sprouts leading the way to a Brewed Burger, served with mustard sour cream and duck fat fries, all washed down with a Revolver Blood and Honey wheat ale from Granbury.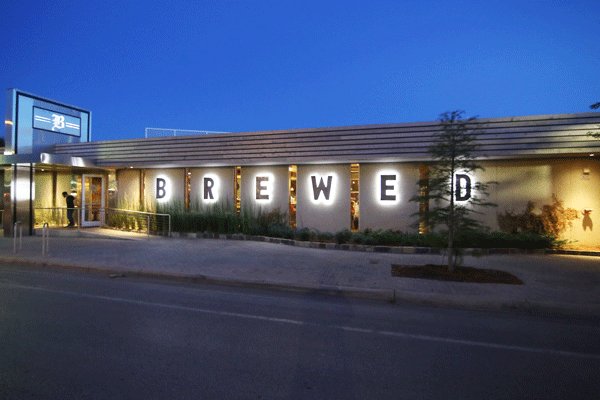 Rodeo Goat
Another Fort Worth favorite is Rodeo Goat. This anything-but-typical dive bar is filled with gleaming chrome barstools alongside green, high-topped communal tables and a classic Dodge Ram tailgate displaying an extensive collection of Texas craft beer taps. 
The beer selection includes a 512 Pecan Porter from Austin and a Noble Rey SteamPunk from Dallas. Whatever the taste, though, Rodeo Goat has a well-traveled selection of brews from around the state and beyond. The trick is pairing the perfect beer with just the right burger option. And there are plenty of burger options here.
A quick glance at the more than 15 ultra-distinctive burger options suggests that Rodeo Goat's burgers are no ordinary patty-and-bun sandwiches. There's the Whiskey Burger with blackberry compote and candied bacon, the Sugar Burger sweetened with grilled peaches, the Telluride oozing with green chili chutney, the Salted Sow with spicy Italian sausage and prosciutto, and the beef-and-chorizo Chaca Oaxaca which is topped with a fried egg.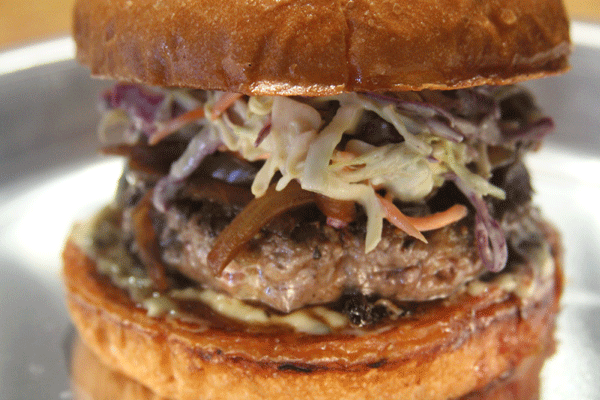 Fred's Texas Café
For a real Fort Worth classic, I head to Fred's Texas Café, a Cowtown landmark dive bar with a more than 30-year history. And while the building may look slightly out of place in the middle of Fort Worth's cultural district, the owner, known as the Outlaw Chef, likes it that way. Nothing too fancy here, just really good, old-fashioned burgers, cold beer and live music.
As soon as I walk through the front door, that "nothing too fancy" becomes the welcome home I need. This place is bathed in neon lights, and the thick aroma of Fred's famous half-pound Fredburger patties and salty hand-cut taco cheese fries. The walls and ceiling are covered in tin beer signs, wood pallets and a hodgepodge of antlers and bleached skulls. From the stage, the deep wail of a telecaster cuts through the noise of the crowd and summons guests to the patio. Are those my taco cheese fries? Sweet.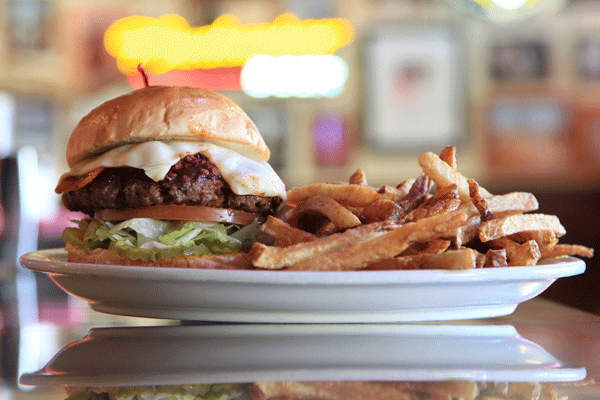 Dutch's
Named after Dutch Meyer, Texas Christian University's most successful football coach, Dutch's is a local burger joint with a reputation for mouthwatering burgers. Inside, Dutch's offers a vintage country feel complete with a stainless steel open kitchen, classic chrome barstools lining a shotgun bar and a dining room filled with wooden tables for community seating. 
Along with classic bar food offerings, Dutch's menu deals out 12 different burgers, including the classic Dutch and the double-meat Lineman for the traditionalist. For something truly unique, there's the Vaquero Burger with fried onion and jalapeño strings, bacon, shredded cheddar, barbecue sauce and chipotle mayo. Or sink your teeth into the Country Fried Dutch, a beer-battered patty with all the fixings dripping with home-style gravy on a sourdough bun. Save room for Dutch's hand-cut fries or a side of giant beer-battered onion rings washed down with a mint chocolate-chip shake or a cold brew.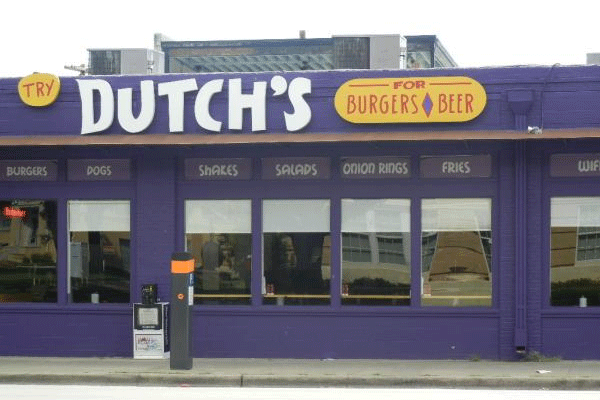 M&O Station Grill
For a step back in Fort Worth history and a reminder of a simpler time in North Texas, the M&O Station Grill, named after the world's only privately owned subway, does the trick. But this 1950s-style restaurant, with its retro atmosphere, serves up anything but simple tastes. When it comes to burgers, Chef Danny, with more than 38 years in the food industry, has redefined the gourmet burger 10 times.
Such redefined burger options include the award-wining Bleu Cow Burger, with crumbled bleu cheese and crispy bacon piled atop marinated Angus beef; the Supreme Tijuana Burger, loaded with garlic cream cheese, fire roasted poblano peppers and a scoop of homemade guacamole; Nathan's Toluca Burger, stuffed with chorizo and melted Monterey Jack cheese; the Greek Feta Burger, with fresh feta cheese and caramelized balsamic grilled onions and sundried tomatoes; and the juicy, old-fashioned M&O Original with a sweet and tangy house recipe sauce.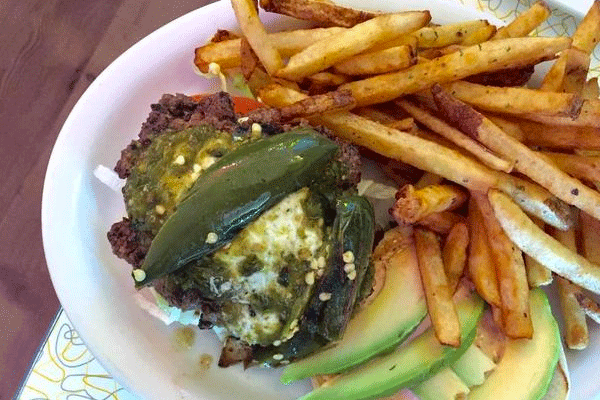 Love Shack
Nowhere says welcome back to Fort Worth like the Stockyards National Historic District. And there's no stockyard burger better than the gourmet burgers made by Chef Tim Love at the Love Shack, next door to the White Elephant Saloon. This Fort Worth burger joint is home to the acclaimed Dirty Love Burger, featuring a juicy patty blended with ground prime tenderloin and brisket, topped with cheese, bacon, Love sauce and a fried quail egg. The Love Shack also features its tenderloin and brisket patty in the Amore Caliente burger where it joins a poblano pepper, guacamole, and pepper-jack cheese in a flour tortilla, and the Love in the Boom Boom burger, which adds a battered and fried Portobello mushroom to LTO, pickles, Love sauce, American cheese and a beef patty. For the best burger experience, add a side of fresh cut fries, onion rings or Chile Parmesan Chips, and a beer or a shake, and you'll feel at home again. 
It goes without saying that Fort Worth has plenty of great restaurants and loads of burger joints. But no matter how long I've been away from Fort Worth, my unease at having been gone for too long quickly fades with the taste of a juicy gourmet burger, the flavor of an ice-cold Texas brew and the distinctive ambiance of Fort Worth's very best burger and beer joints. And when I've got all three, it feels good to be home.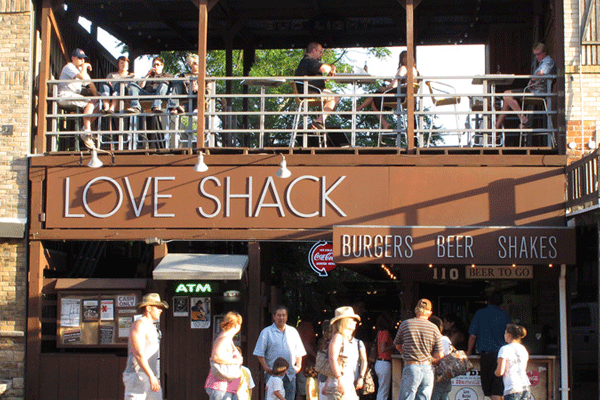 Find your new favorite Fort Worth spot for burgers and brews.