Sure, if you just want to pop in and out for a haircut there are countless hair salons in town for you. But there's no shortage of unique places in the 817 that strive to turn that simple trim into a unique experience that will keep you coming back.
The Boardroom Salon For Men (2861 West 7th St.) offers gents a relaxing getaway. Customers (men only) can enjoy a complimentary beer (!) or play pool while they wait to get a trim. The Fort Worth location is four years old and part of a chain that began in Southlake 10 years ago. Facials, waxes, massages, hand grooming (manicures), and hot lather shaves are also available. The Boardroom's signature option is the "Benchmark," which includes a paraffin hand treatment, hot towel, scalp massage, pressure-point facial massage, and arm/hand massage.
You've probably seen Fort Worth Barber Shop (3529 Lovell Ave.). The simple red brick building sits on the southeast corner of Montgomery and Lovell Ave. Inside, a dedicated team of barbers offers anything you'd want from cuts to shaves and beard trims. Shaving is done the ol' fashion way, with a hot towel, hot shaving cream, and a straight razor. The staff's goal is to build a relationship and experience that will keep you coming back.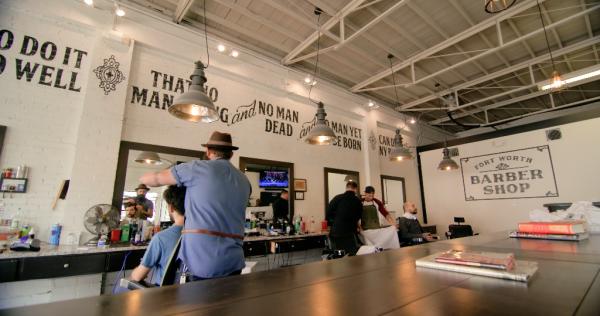 Possibly one of Fort Worth's oldest spots to get a trim is West 7th Barber Shop (701 Barden St.). "Our 35-year-old business offers an old fashion experience," a kindly sounding gentleman said when I called the shop. West 7th Barber Shop is walk-in only. No reservations. In addition to cuts and beard shaves, the venerable business offers shoe shines Tuesdays, Fridays, and Saturdays.
Want a little rock 'n' roll with that haircut? Floyd's 99 Barbershop (2600 West 7th St.) has you covered. The space is adorned with music-inspired decor. Floyd's stylists and barbers are encouraged to dress in the same free-spirited way they would off work. The price points are low ($21 for a haircut) and include a shoulder massage.
The Barber (1264 W. Magnolia Ave.) occupies a smallish, unassuming white building in the bustling Near Southside. The 10-year-old business is popular with students from TCU's athletics program as well as Fort Worth music star Leon Bridges. In addition to trims, The Barber offers straight edge and hot towel shaves. It's an "old school barbershop," a manager there told me.