Has your summer been lacking good vibes, island flair, and jerk sauce? If so, all can be found while seated in a little booth at Angie's Bikkles! Grab a couple of friends, slow on down and get a taste of the Caribbean. With classic reggae playing, you'll slide on into island time in with ease.
Angie's Bikkles, owned and operated by the ever delightful Maureen, has a simple menu full of old-fashioned homey Caribbean cookin'. She's always willing to help out newcomers as they select an entrée from the menu of curries, stews, seafood, and roti. It's easy to greet the menu with uncertainty, but this is not the time to be timid. Bold decisions, such as the curry goat, are their own reward.  
The restaurant has been around for a while, but moved to the little space nestled up next to a gas station across Allen Street from JPS Hospital a couple years ago. Well, the word is getting out about this Southside gem; including rumors of the health benefits of their homemade sorrel drink.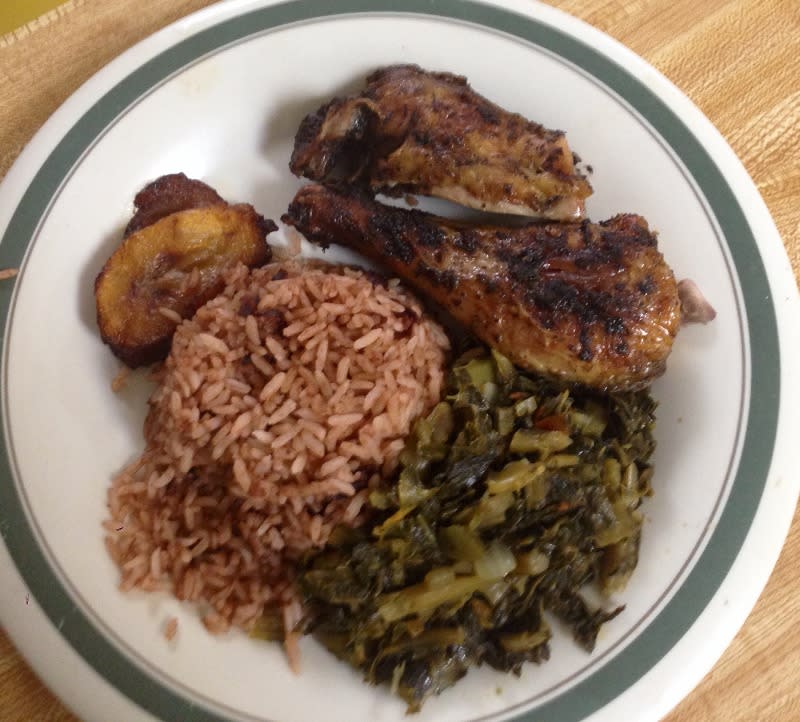 Dishes include Jerk Chicken, Steamed Fish, and Oxtail. The Curried Goat, available both as a plate and wrapped up burrito-style in roti, was a nice surprise. Do note that meat in some of the dishes still include the bones, which actually make for more flavorful entrees. Most entrees are offered in small, medium, or large, and come with two sides. The rice and peas, what folks around here usually call red beans and rice, is perfect for soaking up all the gravies. The vegetables, such as their collard greens or callaloo, are absolutely delicious.  
Jerk sauce is on the table and is different than those I've had elsewhere. It comes across as a rather amped up barbecue sauce. Do be sure to try the sorrel or pine ginger drinks they make, as well as the desserts. The Sweet Potato Pudding and Jamaican Fruit Cake are rave-worthy.
Angie's Bikkles is open Mon-Thurs: 11:30AM - 9PM; Fri & Sat: 11:30AM - 10PM and closed on Sunday. They offer a daily lunch special for $7.99 and are BYOB.  Their address is 1704 Galveston Ave, Fort Worth, TX 76110.