Welcome to Fort Worth! It's the age-old story, you forgot to order room service and you're desperately short on time. Don't despair. Here's a selection of locations across the city offering relatively fast-paced, sit-down service, along with grab and go options. Pro tip: many of these places allow you to call ahead or place your order on-line if you'd like to skip the wait, and some may deliver to you.
1. Boopa's Bagel Deli features 18 different flavors of bagels, along with a baker's dozen of cream cheese varieties. You can get the traditional bagel and shmear, but also a Boopalache (sausage wrapped in a bagel), an Eggel (a bagel and egg sandwich with cheese – bacon and sausage are optional), or even a fresh muffin if you like.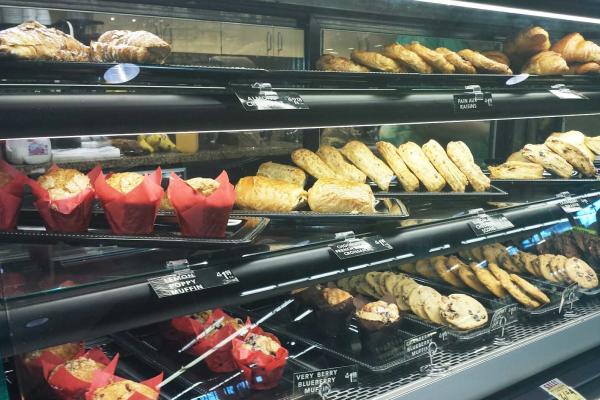 PC: Laurie James

2. Central Market True, this is a grocery store and not a restaurant. But there are all kinds of chef-prepared goodies, including hot cereal, eggs, breakfast meats, biscuits (with or without home-style gravy), and burritos available for your grab-and-go pleasure. If you park by the patio and use that entrance, you'll run right into the breakfast line, along with a mini-pastry case by the coffee bar.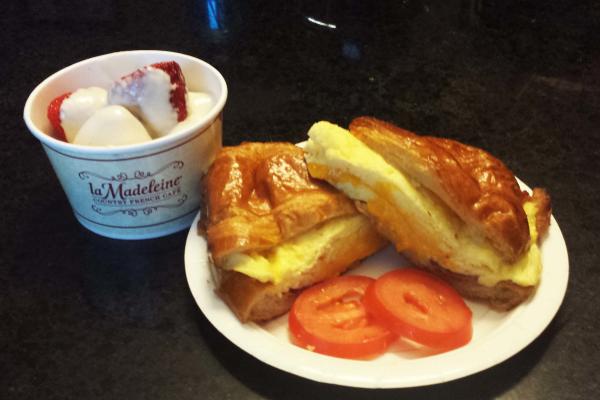 PC: Laurie James
3. La Madeleine French Country Café's Camp Bowie restaurant opened nearly four decades ago, although the restaurant now has locations all over the south and east. Healthier choices like oatmeal, fruit, and yogurt mix tantalizingly with crepes stuffed with your choice of filling, quiche, omelets, and a classic pain raisin French toast. An added bonus – French roast coffee that's "strong as death and sweet as love," to steal from Shakespeare.
4. Oliver's Fine Foods The grab-and-go terrain includes breakfast sandwiches (on biscuits, English muffins, croissants or ciabatta bread), breakfast burritos, and a "cakewich" – bacon, egg, cheese, and hash browns sandwiched between pancakes. If you have a little more time, the omelets are also really good.
5. Paul's Donuts, Subs and Gyros has apple fritters that some locals swear are legendary. Multi-flavored donuts and pastries, pancakes, and breakfast plates with all the fixins', sausage rolls….the list goes on. You may be sad you only have one stomach, or you may be tempted to stay for lunch and the really good Gyro sandwich.
6. Pearl Snap Kolaches Kolaches are a Czech tradition, and the premise is simple. You have a plain dough (not as sweet as a donut) and filling. But the kolaches at Pearl Snap are a little fancier than your average gas station variety. In addition to the traditional sausage, fruit, or cream cheese kolaches, you can get pulled pork kolaches, cinnamon rolls and breakfast tacos as well.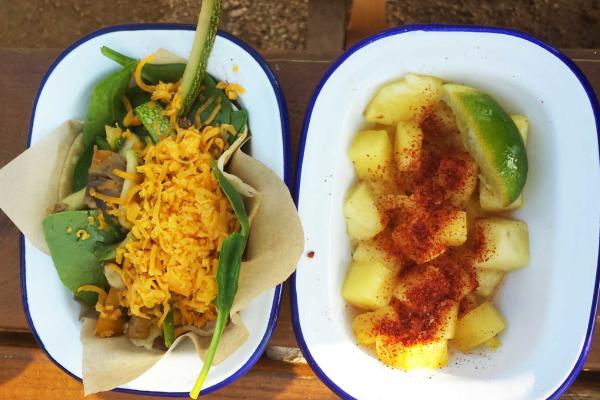 PC: Laurie James
7. Salsa Limon and Taco Heads - In Fort Worth we love our breakfast tacos. Salsa Limon will serve you eggs and your choice of chorizo, bacon, potato, bean/cheese, steak, barbacoa, or pastor wrapped in a fluffy flour tortilla. Salsa Limon has three locations across Fort Worth (with more to be opened in the coming months), but the restaurant at La Gran Plaza doesn't open until 10 a.m. The breakfast taco menu at Taco Heads is a little more pared; you can have your egg with bacon, chorizo, potatoes, or grilled veggies in your choice of corn or flour tortilla. Add a side of fresh pineapple chunks with chile and lime for a great vitamin boost. 
8. Tina's Cocina offers a plethora of breakfast burritos stuffed with everything from grilled veggies to ham, egg, and cheese to a poblano pepper, mushroom, egg, and cheese burrito. The only thing better than a breakfast taco is a breakfast burrito. You can also get chilaquiles (scrambled eggs with strips of corn tortilla in a pungent green sauce) or a breakfast sandwich with your choice of meat on two slices of Texas toast with a side of hash browns.
9. Yogi's Deli & Grill From bagels to eggs Benedict to pancakes, granola and fruit, or breakfast tacos, there's probably something for every appetite at Yogi's. Be warned: the local, family-owned joint is crowded on the weekends, and any time there's a TCU game.
Fresher fast food – There are a selection of chains that will provide a relatively good, possibly healthy and undoubtedly quick breakfast. Panera Bread and Einstein Bros. Bagels both have multiple locations in Fort Worth. But you didn't come to Fort Worth to eat at a national fast food chain, did you? If you absolutely have to go through a drive-through, Whataburger is our favorite Texas chain burger place. The Orange Giant also happens to have a decent breakfast menu: taquitos, a honey chicken biscuit, and for a limited time, the jalapeno-cheddar biscuit. Breakfast is served from 11 p.m. to 11 a.m., just in case you're up early. Or late. We don't judge.