Keeping a popular band together for 15 years is no easy feat. Green River Ordinance is doing more than just sticking around. They're thriving. The Fort Worth-based rock quintet -Josh Jenkins (vocals), Geoff Ice (bass), Denton Hunker (drums), Joshua Wilkerson (guitar), and Jamey Ice (guitar)- released its ninth album, Fifteen, last January.  
The musos took a different tact when recording Fifteen, Jamey said.
"Generally, you record drums, bass, guitar and vocals separately," he said. "But what I feel is special about our band is that we're a band. We've been playing together live for 15 years. We recorded most of the album live, all together in one room. We didn't know how every song was going to end. We just jammed. That was the most fun."
The results, he added, are a little more "raw" and closer to a live show experience than a recording studio. Fans and music critics have been quick to notice the recordings have a more countrified sound too.
Austin's South by Southwest (SXSW) festival offered the bandmates a chance to promote their album. Jamey credits the annual event with helping GRO sign with Capitol Records in 2007.
Making SXSW even more exciting was a new collaboration between Hear Fort Worth and Fort Worth Convention Visitors Bureau, Jamey said. The official SXSW day party, coined the Fort Worth House, hosted seven Fort Worth bands at Austin's SoHo Lounge on March 17.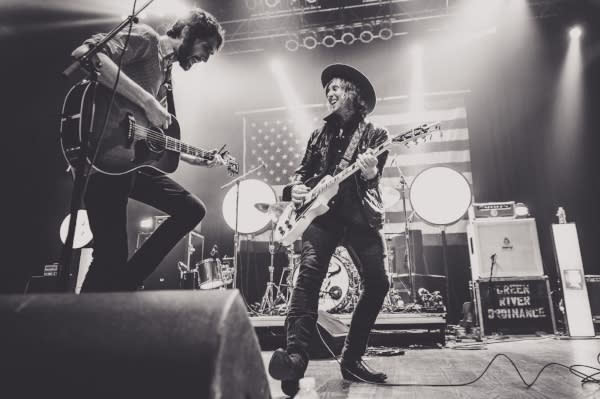 "It was really cool to have the camaraderie of friends down there," Jamey said. "I felt we went down there to represent Fort Worth. It was neat for the city to get behind it and put Fort Worth on the map."
Whenever he's on the road, Jamie enjoys describing his hometown to fans and other musicians.
"I tell people it's my favorite city in America," he said. "I always describe the slower pace of life. The people are friendly. You know your neighbors. It's a city that has a ton of culture. I think we have some of the best museums, restaurants and bars. Other cities have that but we have that small town charm."
The 15-year-mark may just be a number, but symbolically, it has been a reminder to the band members of how far they have come.
"This is what we've always wanted to do," Jamie said. "Anytime you get to go on stage and people pay hard earned money to hear you sing a song is a cool thing. This has been our best year yet. It's really neat that we are still doing this 15 years later."
Articles You Might Like
Fort Worth's 8 Best Live Music Venues
Vodeo and Vincent Neil Emerson: Two Music Groups Keeping Fort Worth Funky
Jake Paleschic and Grady Spencer: 2 Musicians Keeping Fort Worth Funky