It's finally fall, and that means that the weather will turn colder….eventually, right? Here are 10 restaurants where you can find the soup of your dreams.

At Bonnell's Fine Texas Cuisine, you will find a twist on the classic tomato soup, roasted tomato and jalapeño soup, which is a little spicier and denser than the traditional. Meanwhile, downtown at Jon Bonnell's Waters, you can get a bowl of the freshest, spiciest gumbo in town-- a little throw-back to the chef's early days cooking in New Orleans. The gumbo's only available at lunch time.
Café Modern has a New Mexico chile and pork soup that absolutely knocks the socks off of a more traditional Tex-Mex tortilla soup. Green chiles and the other white meat sub in for the red broth and chicken. The bowl comes garnished with a corn pico de gallo, tortilla chips and a good amount of sliced avocado.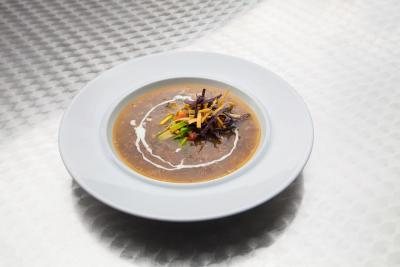 PC: Cafe Modern's New Mexico chile and pork soup
 
La Madeleine Country French Café offers at least four soupes on any given day. There's the classic much-imitated-but-never-as-good tomato basil, which was a happy accidental experiment when the original restaurant got an extra shipment of tomatoes that had to be used before they went bad. There's also French onion soup, creamy country potato, rich cream of mushroom and a seasonal vegetable Provencal soup that's loaded with veggies and easy on the calories. All the soups except the beef-based French onion are vegetarian.
Lucille's Stateside Bistro offers a soup for any mood –– beef and barley, chicken noodle, vegetable, Split pea and ham and a pretty authentic New England clam chowder. But the piece de resistance on the menu is the lobster bisque –– lusciously creamy with a hint of sherry.
Meso Maya may be the new kid on the restaurant block, but the Tanglewood location has one of the best versions of pozole (Mexican stew with hominy). The green tomatillo chicken soup base is loaded with hominy, cilantro, poblano peppers, queso fresco and a touch of lime to lighten everything up.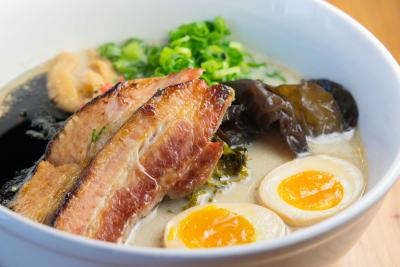 PC: Tonkotsu soup from Oni Ramen, Farrar Food Photography
 
Pho District offers several Vietnamese takes on the classic chicken noodle soup. Pho is usually composed of long rice noodles, a protein and a broth that's made as spicy as you want it. In addition to two types of Pho ga (chicken pho), there's beef (pho bo made with brisket and filet mignon), vegetable pho, curry pho, seafood pho and even dry beef or chicken pho with the broth on the side so you can tailor how slurpy your meal is.
Tucked into a corner of a strip mall on Hulen Street, Thai Select offers some of the most delicious and authentic Thai soups in town. Spicy lemongrass and lime-kissed Tom Yum Goon, savory shellfish-laden Tom Yum Talay, and comforting, coconut milk-enriched Tom Kah Kai share menu space (unexpectedly) with wonton soup.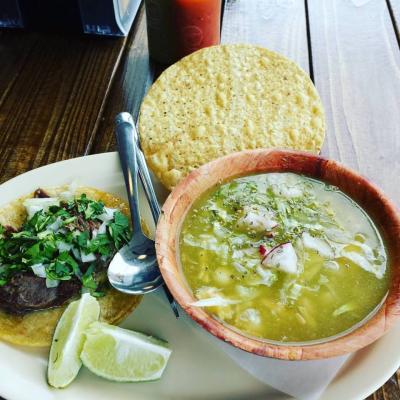 PC: Pozole at Tina's Cocina
 
Tina's Cocina makes soup like mama would –– the recipes come from owner Juan Solis' mama's kitchen. The green chicken pozole is a stellar take on the classic recipe, with plenty of shredded chicken, fluffy hominy and a garnish of Mexican oregano and radish. If you'd rather have a vegetarian option, go for the roasted poblano pepper and zucchini soup in a cream base.