When the National Collegiate Women's Gymnastics Championship comes to the Fort Worth Convention Center April 19-20, the city hopes it brings visitors and exposure. Organizers also expect it to have an effect on the area's next generation of artistic gymnasts. 

"I think every little kid's dream is to be on a team and compete in college," said Jaycie Phelps, a 1996 Olympic gold medalist in the sport.
Young athletes in many disciplines dream of competing at a higher level. In Texas, a lot of them are gymnasts.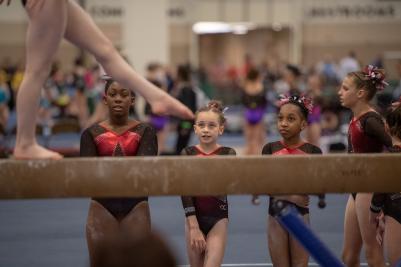 "High school football is king in Texas. I guess gymnastics is queen in Texas," said Bryan Streeter of Metroplex Gymnastics & Swim in Allen. "Just about every single team that went to the national championships has Texas kids on them."
Streeter runs the Metroplex Challenge, a Fort Worth-based meet that combines a day of club competition for youthful competitors with a quad meet that features top collegiate programs. When aspiring gymnasts come to watch that meet or April's championships, he feels they can channel the motivation they acquire into achievable goals.
"How hard is it to be the MVP of the Super Bowl? That's about the same number of athletes that are in the Olympics. That's kind of unrealistic. But college gymnastics is a much more realistic goal," he explained. "From a Division III school, you have your smaller programs, all the way up to your OUs or UCLAs or LSUs, big time programs, that's a goal that more kids can achieve."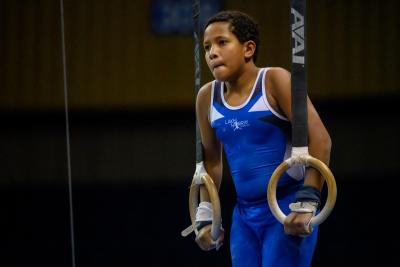 An athlete who won collegiate national titles at Oklahoma before medaling at the Olympics (a normal progression on the men's side of the sport) suggested kids should be inspired by what they see rather than intimidated.
"I used to watch some of my heroes and think 'I'm never going to be able to do that stuff. That's crazy. I'll never get there,'" said native Texan Jonathan Horton. "For the young kids out there, watch it, enjoy it and know that if you put your mind to it, years down the road, you'll be able to do the exact same thing."
Some children will come to watch the NCAA championships having never competed in gymnastics.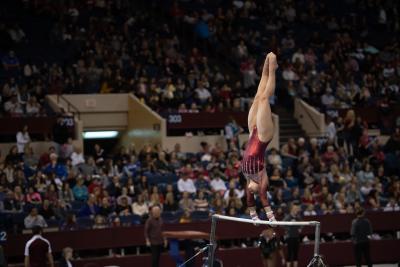 "I always tell people, look, even if you know nothing about gymnastics and you want to have a fun new experience and get out of your comfort zone, go see a gymnastics meet, because you'll be amazed by it," said Horton.
Part of the appeal of collegiate gymnastics meets involves the high-energy atmosphere and observing the passion of the participants. That experience has the potential to get young observers wondering what it might be like if they themselves were the ones exchanging high fives on the Convention Center floor.
"That's what gymnastics is. It's supposed to be fun, and it should be fun. It should be fun when you're four years old, when you're 14 or when you're 24," said Streeter. "Say [a child] is watching gymnastics on TV or attending the Metroplex Challenge or watching NCAA nationals and they're, like, 'I want to do that.' [Encourage them to] tell Mom, 'I want to do that.' Go sign up. There are hundreds of great clubs all around the Dallas-Fort Worth area and go jump into a class. Sign up for a weekly class and take it from there. Who knows where you'll go."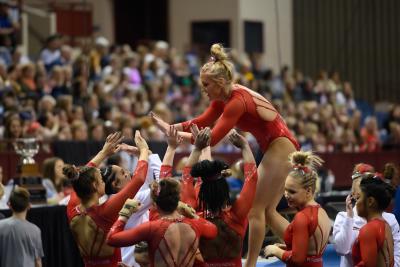 One place they might go is the NCAA championship meet at the Fort Worth Convention Center this April, or in the soon-to-open Dickie's Arena through 2022. In 2019, perhaps they'll attend as a spectator. But someday, maybe they'll get their own chances to be the ones people come to see.
"The vast majority of kids around the country have a teammate that was at their club and is now competing in college," said Streeter. "It's an obtainable goal."
The Fort Worth Convention Center hosts the National Collegiate Women's Gymnastics Championship April 19-20, 2019.