Fort Worth's musicians are the cornerstone our city's vibrant culture and nightlife. The men and women who pick up their guitar/bass/sticks each night come from backgrounds as varied as the stories they sing about. Take Jake Paleschic for example. His journey started on the piano and was influenced by something as random as a high school friend lending him an album. Grady Spencer landed in Fort Worth three years ago. Growing up in small northwest Texas town gives him a unique perspective on his adopted home. Both musos are preparing for a first time performance at South by Southwest (SXSW) next month.  
The best form of guerrilla marketing is word of mouth, and local singer/songwriter Jake Paleschic has that in spades. Hardly a week goes by without someone mentioning the 26-year-old Arlington native to me. Regulars at Avoca know him as the mild-mannered barista who works magic with coffee beans. Music fans know him as an innovative American roots songwriter who was recently nominated by Fort Worth Weekly for its annual Music Awards under the Americana/Roots Rock category. He performs about once a month with his bandmates Peter Wierenga, Austin Kroll, and (evermore frequently) guest Jacob Furr. 
His steady climb in the music world started as a five-year-old.  
"My grandmother taught her 14 grandchildren piano lessons starting at five until they quit," he recalled. "I stuck with it for a long time and learned how to read sheet music."
His early influences were the tunes played in his home, which ranged from classical and jazz to Billy Joel and pop. Paleschic turned to heavy metal in high school. That's around the time he picked up the guitar. Looking back, he admits little of those early days of shredding on his electric guitar remain in the intricate fingerpicking style he's now adopted.
Still in high school, a friend gave him an album by the indie folk group Sun Kil Moon. Paleschic was amazed by the group's guitarwork, vocals, and the way the band strung everything together.
"That was very influential, and I started writing my own stuff soon after," he said. "Ever since then I've been endlessly seeking out as much music as I can take in. Most of it is older music, but I do have my favorite contemporaries, too."
One local influence has been Jacob Furr, who has taught Paleschic that there's a difference between making good music and putting good work into the music after you've made it.
"I tend to have a bad habit of writing and thinking that's all there is to it." Paleschic said. "You really gotta treat your songs with love and do everything you can to get them in the ears of people."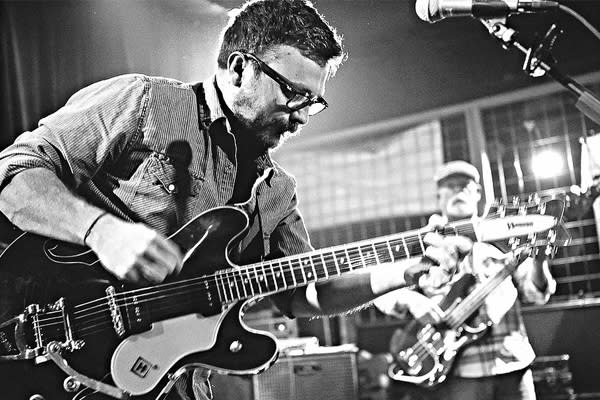 Grady Spencer has a unique perspective on Fort Worth's music scene. Having grown up just outside Lubbock, he moved to The Fort three years ago to accommodate his wife Kaci's new job.
The change in scene couldn't have been more drastic. Venues like Magnolia Motor Lounge, Shipping & Receiving, and Billy Bob's Texas warmly welcomed the Paducah transplant. Already an experienced singer-songwriter, Spencer slowly worked to cultivate the current lineup for his band, Grandy Spencer & the Work.
Dummer Blake Sager, bassist Steve Moore, and lead guitarist Trevor Powell "complement the ideas I write about," he said. "They're talented enough that they can kind of shine up my style, which tends to be gritty, rough, and very blue collar-ish. They polish the edges. That definitely helps out a lot."
Spencer picked up the guitar early in high school and started writing songs while at Texas Tech University. Part of the key to his eventual success, he joked, was a willingness to push through some really bad early originals.
Songwriting, he added, is never easy if you really want to say something.
His message has evolved with time. Most of his early output were of the romantic, confessional vein that characterizes the oft-romanticized singer-songwriter. But lately Spencer and his bandmates are reaching beyond themselves to broach broader topics that highlight the intersections of life we all meet at no matter what background we come from.
Spencer and his bandmates are preparing for a performance at Austin's coveted South by Southwest music festival next month. An official Fort Worth showcase, organized by Fort Worth Convention & Visitors Bureau and Hear Fort Worth, will feature Spencer's band and several others (Green River Ordinance, Luke Wade, Mike Ryan, the Quaker City Night Hawks, Jake Paleschic, and Reagan James) March 17, 11:30 a.m. to 5:30 p.m. at Soho Lounge (217 E. 6th St.). RSVP is required prior to event but does not guarantee entry.
Spencer said he is deeply excited and humbled by the opportunity to perform at the event, which he said often acts as a "pivot point" for new bands.
"It's one of the best opportunities for guys like us to be heard on a bigger scale," he said.
SXSW is only the most recent break Spencer credits Fort Worth with giving him. Already, his band has established a regional presence with regular performances in Midland, Lubbock, Amarillo, and Stephenville. He's glad to catch up with old friends in Lubbock but welcomes the return to his adopted home.
"Ever since moving here we've loved it," he said. "I don't think we'll ever leave."
PC: Jake Paleschic - John Erwin