If you're not lucky enough to attend, in person, the soaring quality theater productions offered annually by the
National Theatre of Great Britain
,
Amphibian Stage Productions
, paired with the
Modern Art Museum of Fort Worth
, has just your ticket -- literally -- to remedy that situation.
Through the magic of live screenings, Amphibian Stage Productions, again with the Modern, offer Fort Worth theater buffs the chance to attend screenings of some of the National Theatre's upcoming hugely entertaining works. And what a line-up of National Theatre live screenings Amphibian and the Modern have planned for the remainder of the year! Everything from Ralph Fiennes bravura performance as Jack Tanner in Man and Superman to BAFTA-winner and Academy Award nomination-grabbing, Chiwetel Ejiofor (12 Years a Slave), in his fight with the writ-large Death in Everyman. James Franco, also an Academy Award-nominee), shares the stage with Chris O'Dowd in the smash Broadway production Of Mice and Men, while very recent Academy Award-nominee Benedict Cumberbatch assumes arguably Shakespeare's grandest and most tragic theatrical creation as he plays Hamlet.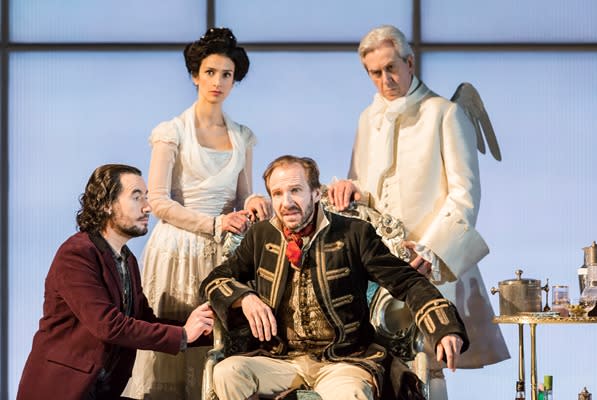 Each performance is broadcast from London's National Theatre prestigious stages, and screened exclusively at the Modern Art Museum of Fort Worth. The screenings continue on June 24 with Man and Superman; Everyman on August 19; Of Mice and Men on September 23; and finally Hamlet on December 9, 12, 16, and 19th.
Tickets for these National Theatre Live screenings are $20 (adults); $17 (seniors); $12 (students). For more information, call 817-923-3012 or check out www.amphibianproductions.org.
Photo Credits:
Top Photo: In the center is Chiwetel Ejiofor (Everyman), surrounded by, from left to right Amy Griffths, Clemmie Sveaas, Joshua Lacey, and Nicholas Karimi. Photo by Richard Hubert-Smith. 
Bottom Photo: Actors pictured from left to right are Tim McMullan (The Devil), Indira Varma (Ana), Ralph Fiennes (Don Juan), and Nicholas le Prevost (Roebuck). Photo by Johan Persson.