It's officially known as the Main Street Fort Worth Arts Festival, or as the "largest four-day event in the Southwest" but it might as well be recognized as the city's annual cornucopia of all things art, music, food, and culture. 
Usually referred to by its abbreviated moniker, Main Street, this four-day event (this year running April 9-12 in downtown, Fort Worth) is also the acknowledged indicator that Spring has sprung in Fort Worth. Though occasionally interrupted by a splattering of rain, or the out-of-the-blue gust of wind, Main Street has been often blessed with sublime weather in which to show off what has become one of the nation's -- not merely Texas' -- most expansive displays of fine art and crafts in all of the country. And don't take our word for it: Referring to its never-ending display of art, the respected Harris List has qualified Main Street not merely as the preeminent "show" in Texas but among the "top five" in the entire Midwest region.
As everyone surely must recognize by now, Main Street is actually short-hand for a festival encompassing tent after tent holding a startling variety of art and crafts fashioned by artists who have been flocking to Fort Worth from all over the country. But fine and rustic art is just the beginning of Main Street's wares. It's also successfully "selling" (for free, naturally) dozens of musical acts, played from not one but three stages, and filling the Main Street air with everything from bluegrass to blues, rock, to polka. And then, of course, there is the food, sold by a seemingly countless array of vendors, many clustered in Main Street's bustling and thankfully shady food-courtyard, and all within easy strolling distance from Main Street's main thoroughfares. And as if that weren't enough, kids coming to Main Street can engage in their own schedule of interactive art-related activities.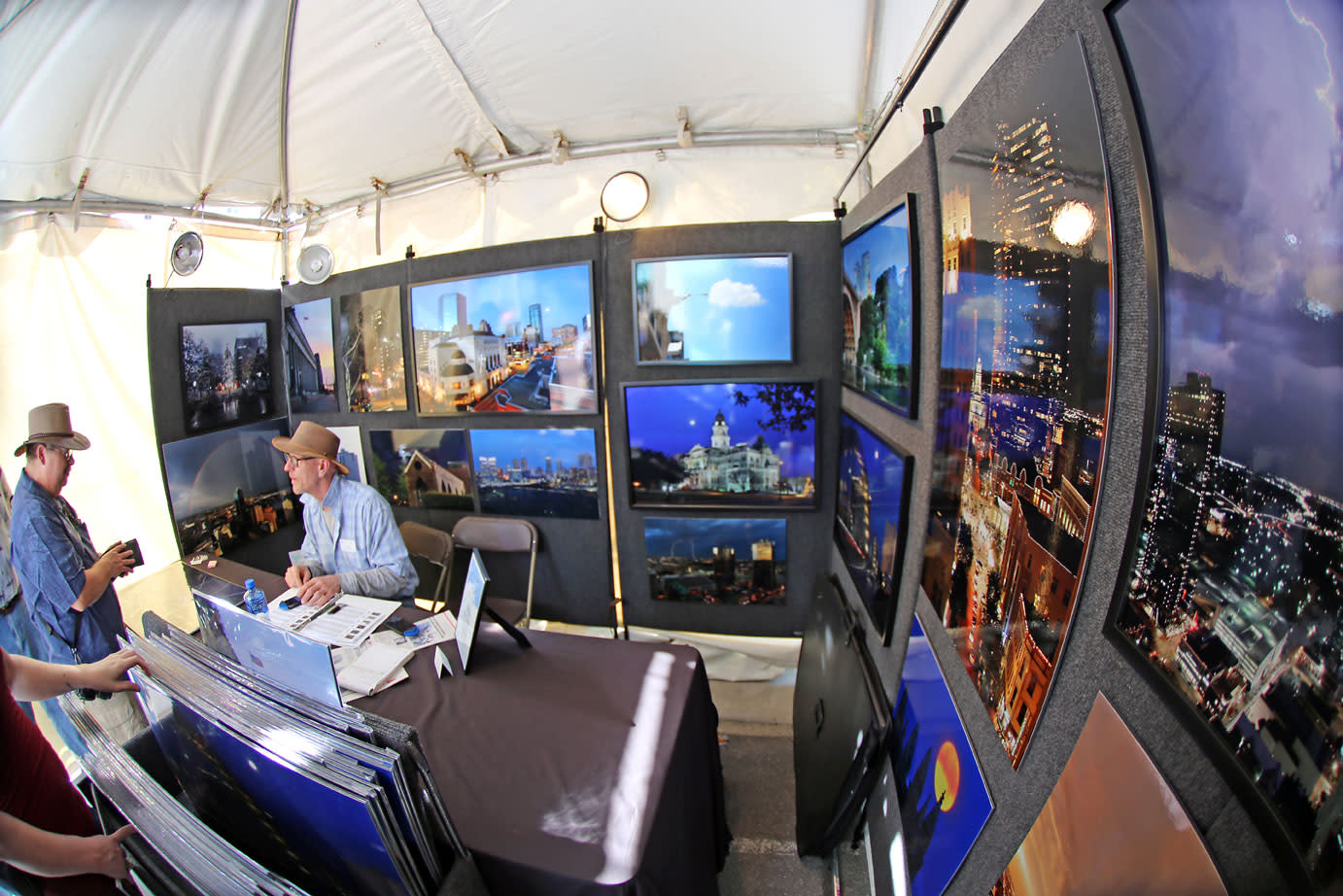 The centerpiece of Main Street is, of course, the seemingly endless variety of artworks, all nestled underneath a stretch of canopy-like white tents. Every form, it would seem, of artistic expression -- from painting, lphotography, printmaking, wood, ceramics, pastels, and fiber, to glass, leather, jewelry, metalwork, mixed media, sculpture, and digital, -- is on display and available for purchase from 215 national, international, regional, and local artists (out of an astonishing 1,400 who originally applied to be in Main Street). And they're all eager to chat up anyone about their work, or possibly to arrange a personalized commission for a future piece.
Main Street has had a sound-track for its thousands of patrons and it's always emerged from the literally dozens of bands and individual performers playing everything from bagpipes to the Beatles, polka to pop, Southern-flavored rock and soul, Latin jazz to something called "musical saw," rock to Dixieland, swing to Zydeco, Celtic to country-and-Western, as they send out their musical message from three individual stages. This year's line-up is no less than stellar, headlined by the southern-fried rocking sounds of Atlanta Rhythm Section and The Georgia Satellites. If it's Latin rhythms that you desire, then look and hear no further than the music of Tito Puente, Jr. and Havana NRG. And who doesn't appreciate the blues-guitar stylings of the great Robben Ford? Local fans of Fort Worth's Green River Ordinance will throng to their set. And classical piano afficianados will be equally enthused to attend Van Cliburn Award-winner, Steven Lin's concert, and the Fort Worth Symphony Orchestra. New musical additions for this year's fest include a "locals only" stage on 7th Street and a Fort Worth Singer Songwriter stage.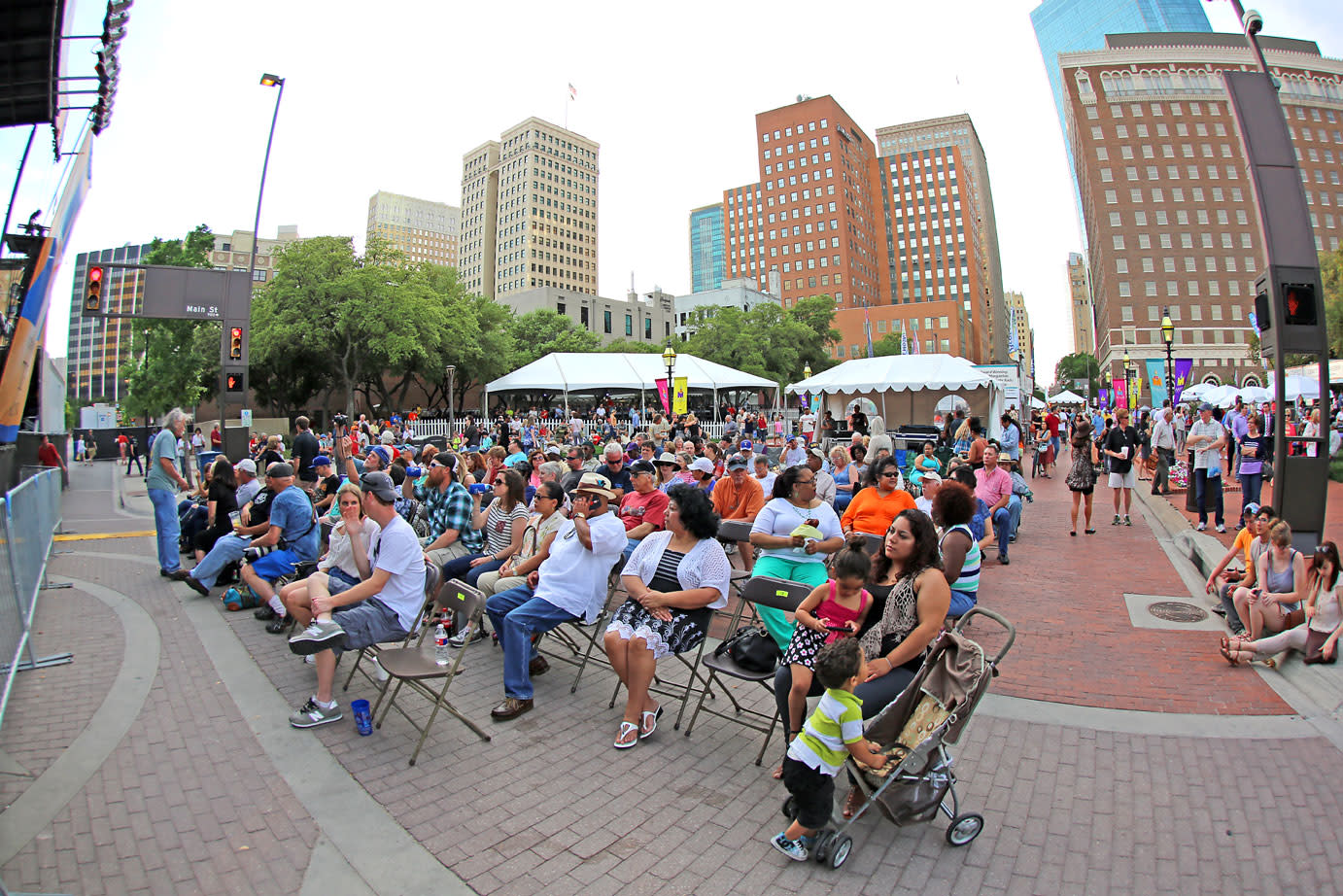 After your eyes and ears have been filled with all the art and music that Main Street has to offer, the only thing a patron might be lacking is down-home nourishment. Well, that need won't last too long given the sprawling food selection Main Street regularly offers up this and every year. Start out with bratwurst and turkey legs, crawfish, and gourmet burgers, and finish off with ice cream and funnel cake, all washed down with a blended-on-the-spot smoothie, unfrozen and frozen margaritas, mojitos, Texas wines, along with a frosty beer, Coke, Pepsi, or Dr. Pepper, or a freshly squeezed glass of lemonade.
Food is so popular an element of Main Street that patrons can frequent a new North Food Court where all the food groups will be served and can be enjoyed at picnic-table seating -- along with even more street entertainment. And for that even more refined palate, Times Ten Cellars' "Wine Experience" tent has returned this year, offering up the average to expert-level wine lover, a chance at even more wine tasting fun -- at the leisurely pace of wine-by-the-glass. And beer lovers will be expected to congregate at the Craft Brew Garden, where they can sample a variety of national and local pints. 
Details: Main Street, Fort Worth Arts Festival: April 9-12 in downtown Fort Worth. Food and beverages are only obtainable by the purchase of coupons, available at festival booths (which almost all accept both cash and credit cards). Free admission. Free water stations. No pets. Artists close their booths at 8 p.m., Thursday-Saturday. They close at 6 p.m. on Sunday. Bike to the festival and park your bike for free at the Bike Corral, at 7th and Houston Streets. There are also 14 Fort Worth B-cycle stations in close proximity to the Festival area.