In our episodic highlighting of new property developments in Tarrant County, we turn west, toward The River District. Nestled on the banks of the Trinity River between Isbell Road and Roberts Cutoff, and bisected by White Settlement Road, the River District is a jumping off point for almost everything Fort Worth –– from the Stockyards to the north to the Cultural District and downtown, the locally-cultivated community offers outdoor pursuits, indoor entertainment, unique restaurants, boutique office spaces and a variety of living options.

Food and Drink
Salsa Limon's beautiful Distrito restaurant was the development's first anchor tenant. The expansive new restaurant offers semi-shaded outdoor seating, so you can enjoy your "Mexican-grade Mexican" food on a nice patio with a view.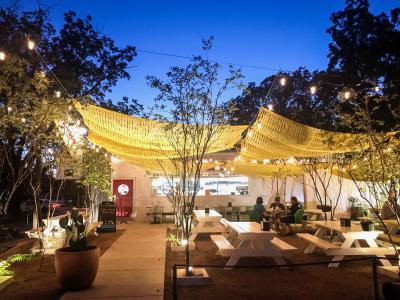 Heim BBQ & Catering, which was recognized in just about every local and state publication last year, is expanding their craft barbecue concept to a second store in the River District, which should be open soon. According to Travis and Emma Heim's Facebook page, the second joint will offer different food options, including (sit down for it) a vegetarian item(s).
Lettuce Cook is a cheerful, fast casual combo deli and catering outfit. If you have no time and need dinner an hour ago, the Meals-on-the-Go section of the store will be just right for you. Options include vegetarian, vegan and Paleo-style dinners and sides. If you have time to sit a spell, pick out a sandwich or salad from the menu and enjoy the view.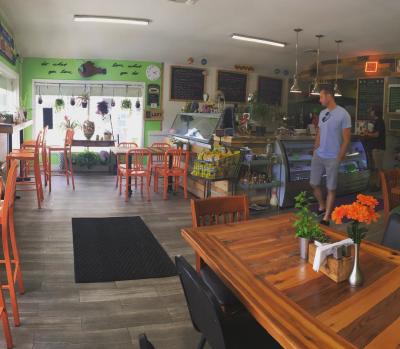 In addition, Happy Donut Shop and D&K Liquors will keep you carb-loaded and contented!

Art
Grassy lawns above the Trinity River make this a perfect place for gatherings. In October, the first RioFest was a family-friendly, dog-friendly fall event featuring local singer-songwriters, a mini-pumpkin patch, games for the kids, a beer garden for the grownups and local vendors and food trucks.
Local artist Jimmy Jenkins has created a show-stopping mural on the side of Lettuce Cook. Jenkins' take on the classic monkey see-no-evil, speak-no-evil, hear-no-evil is charming and packs a veggie punch. In addition, Jenkins is the artist behind a beautiful butterfly mural located a few miles away. Both murals are hot spots for local Instagrammers.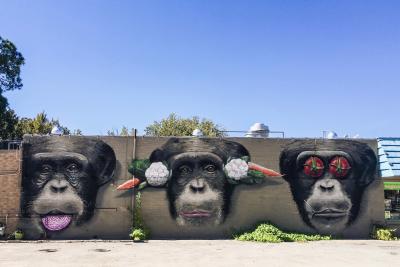 And who can resist an oversized chair, especially one you can climb on? Think an Adirondack chair, but larger. PalletSmart's big green wooden chair (made of recycled materials, naturally) is causing a stir.

Living and Working
The River District is resolutely about providing a home for locally-owned business. Independent shops like Flowers on the Square and the re-purposing, up-cycling home and garden store PalletSmart, as well as a number of small businesses call the development home.
Additionally, there are multiple housing options, from the luxury garden homes of The Grove, to The Palmer's boutique apartments, to single family housing with a river view starting at around $400,000. Whether you want to rent, buy or build, there's probably something to attract you here.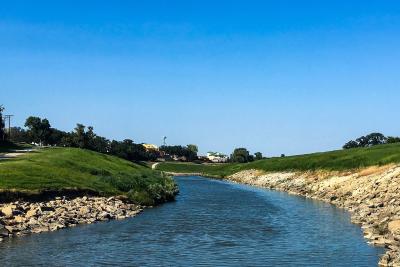 Get a Move On
River District provides access to more than two miles of Trinity River trails, and you can walk, run or bike to your heart's content.
Abundio's Fit Society is slated to open soon, and even if you're not much of a joiner, you will find a lot of fun fitness options at this studio. Past events included holiday couples workouts, Master Barre and Bootcamp –– which might come in handy as we approach the holidays!