We recently explored Fort Worth eateries where you can dine for $40 a day on Magnolia, in the Cultural District, in Sundance Square and off Camp Bowie. Whether you're visiting Fort Worth on a per diem budget or you're just wanting to get a little more for your money, we have some suggestions for how to eat more and spend less!  

Here are four more $40 a Day menu suggestions, broken out geographically:

Northside
Boopa's Bagel Deli  is open every morning by 6 a.m. A bagel with shmear (flavored or plain cream cheese) will run you less than $4. If you want a Boopalache (it's like a kolache, only with a bagel wrapping the sausage), that's less than $2.
At Granny's (703 E Long Ave), they don't take plastic so you'll need cash –– but not a lot of it. A huge taco with beans, meat and cheese wrapped in a giant homemade flour tortilla costs about $6. Granny's opens at 11 a.m. and is closed Sundays.
La Playa Maya offers a pantheon of coastal and central Mexican goodness: ceviche, carne asada, really good seafood enchiladas or fajitas, along with a Maya-rita, beer or horchata. Yes, you've had Mexican food twice today, but you're in the Stockyards, and that's fine.
Total $35-40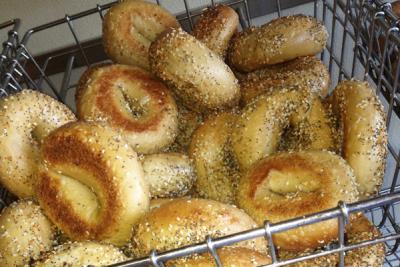 PC: Boopa's Bagels
A couple of options for weekend brunch lovers:
Horseshoe Hill offers a Saturday brunch featuring the best things that come out of chef Grady Spears' kitchen. A plate of chile rellenos with eggs and gravy or Chicken Fried Steak with eggs runs $12. If you'd rather, combine a beef short rib egg burro and bottomless mimosas for $20.
Los Vaqueros has been an institution in the Stockyards for coming on four decades. Sunday Brunch with dollar mimosas can't be beat! Try a bowl of pozole (and if you're still hungry, they'll refill your bowl for free) or pick huevos rancheros or migas, all for less than $12.
Cooper's Old Time Pit Barbecue - a half-pound of the delicious, cherry smoke-ringed brisket runs about $9. If you're feeling diet-y, you can opt for the half-chicken at about $7. Add a side or two and a dessert and you will be full enough to roll home.
Total: $35 -$40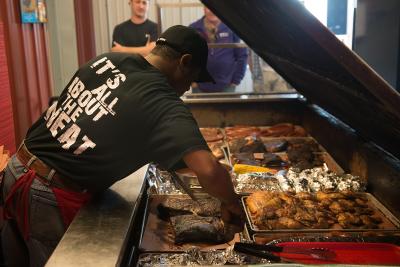 PC: Coopers BBQ, Leo Wesson
East Fort Worth
It's hard to miss the purple building housing Taqueria Tepito (1104 Miller Ave). The menu at Tepito's is full of inexpensive street tacos –– thick corn tortillas filled with lengua, carne asada or tripas, sold individually at about $1.50 a piece or in a plate with rice and beans for under $7. Add a Jarritos soda or a Mexican Coca-Cola for about $2.
Enchiladas Olé owner Mary Perez left her career in the corporate and local government world to sell her enchilada sauce at grocery stores. Two lunch enchiladas or a taco and an enchilada with sides will run you $11.25.
Griff's Hamburgers has been an institution at the Lancaster location longer than some of us can remember. The steak finger basket is essentially portable pieces of chicken-fried steak, served with gravy, fries and Texas toast, and it's a steal at $8.99. Griff's is also open at 9:30AM in case you wanted to have your steak fingers first thing.
Because you did well with budgeting today, you can also have treat at Gypsy Scoops For about $4 you can get a scoop of Wookie's Cookies (a cinnamon ice cream with pieces of oatmeal cookie and chocolate chunks), Gypsy Bride (a take on the flavor of Italian wedding cake, with chocolate chips and pieces of cake in vanilla ice cream), or any of the seasonal flavors.
Total: $35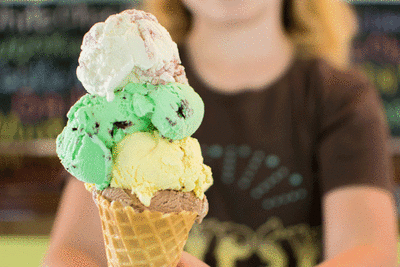 PC: Gypsy Scoops, Farrar Food Photography
 
Outlying Restaurants
Start at Pearl Snap Kolaches. They will sell you some of the best kolaches north of West, Texas. Kolaches are $2.50 a piece, but Pearl Snap also has breakfast tacos and cinnamon rolls for the same price. Add a cup of coffee to two menu items and you're at $7 for a really large breakfast.
Bonnell's Fine Texas Cuisine has been serving up Texas favorites since 2001. Although dinners there are more of a celebratory meal, lunch soups and salads, including the really delicious lemon Caesar, are all priced around $15. The sandwich offerings (like the smoked buffalo sandwich with horseradish cream) come with your choice of a salad or fries.
At Billy's Oak Acres BBQ, what you eat today was smoked last night or made early in the morning. The pecan wood-smoked meat choices include the standards –– ribs (sometimes giant beef ribs, too), pulled pork, brisket, turkey or sausage. Thursdays and Sundays you can also get chicken fried steak. Save room for the homemade pies, too.
Total: $40
 
Please note that the prices are given as listed on the restaurants' social media sites, and that the suggestions don't include tips for servers –– please don't forget tip Fort Worth's hard-working service staff!
Main Image PC: Horseshoe Hill Cafe, Farrar Food Photography