Fort Worth's music scene is more than the sum of its music venues, festivals and performers. The city, with its rich blend of culture and history, inspires local musicians to pen Cowtown's beauty in verse. Here are five local musicians who captured their hometown love affair in song.
 
"Good Evening"
The Quaker City Night Hawks' recent album, El Astronauta, has garnered national attention through a glowing review of "Mockingbird" by Rolling Stone magazine and a plug by "The Tonight Show" host Jimmy Fallon on social media. From that album, "Good Evening" is a bluesy dirge that all Fort Worthians can relate to with lyrics of:
"Good evening from Fort Worth, Texas/It's slow here in the heat/But you're bound to feel a little cooler/With your feet down in some old creek/We're down on Main Street."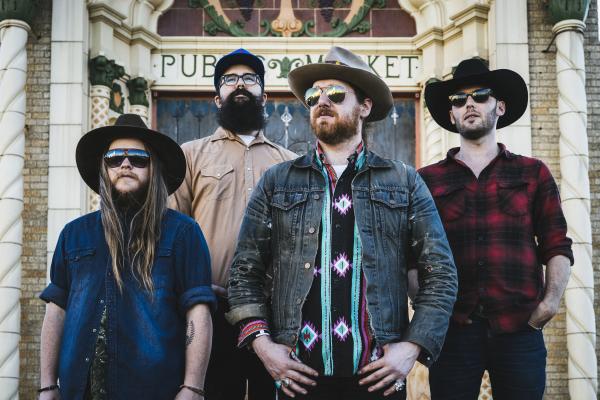 "Grit and Tenacity"
When singer-songwriter Matt "Songbird" Jones heard about the newly commissioned combat ship USS Fort Worth he knew what he had to do. "Grit and Tenacity" is dedicated to the men and women who serve aboard the navy ship and their families. The single was chosen as the USS Fort Worth's  "break away" song, meaning whenever a resupply ship breaks away from the combat ship the tune is ceremoniously played.
 
"Things to Do"
It's been four years since Grady Spencer, frontman for Grady Spencer & the Work, moved here from Lubbock. His love for Fort Worth shines through in his song "Things to Do."  The bright, mid-tempo tune's chorus line says it all:
"So bless my soul and take me back to Fort Worth/Packed my things I've got my lady too."



"Why Can't You Hear Me"
Henry the Archer (the punk-tinged trio headed by songwriter Richard Hennessy) recently released a music video that's dripping with Fort Worth imagery. The idea, Hennessy recently told me, was to "involve a lot of Fort Worth musicians, artists, and podcast reps as well as to cover a lot of historic and modern Fort Worth locations. This town means a lot to me, and it was important to me that it be represented in the video."
 
"Jacksboro Highway"
Folk/Blues outfit Chucho penned an ode to Jacksboro Highway on their recent EP Monotonic Tailpiece. "Jacksboro Highway" captures the imagery of life along the once rough-and-tumble stretch of road in northwest Fort Worth. There's a strong confessional feel to Kenny Uptain's lyrics as he sings, "Music became my life on Jacksboro Highway."  
Header PC: Karlos X Ramos