Friday begins one of the city's largest sporting events of the year, the National Collegiate Women's Gymnastics Championship. The two-day event at the Fort Worth Convention Center will determine NCAA Division I team and individual national champions in the sport of artistic gymnastics.

"The NCAA Championship is the most prestigious college meet of the year," said Bryan Streeter of Metroplex Gymnastics & Swim. Its appeal extends beyond those who already count themselves as fans of artistic gymnastics."
"The collegiate NCAA gymnastics program is one of the most exciting you're going to see for gymnastics," said two-time Olympic gymnast Jonathan Horton, himself a former NCAA titlist at the University of Oklahoma. "Gymnastics is really fun to watch because whether you have a trained eye for it or not, there's an appreciation for seeing a human being know how to flip and twist 10 to 15 feet in the air."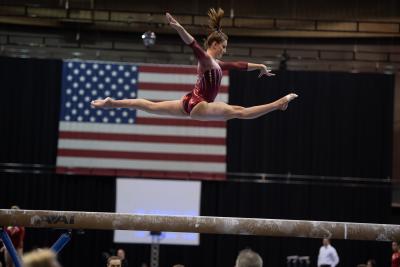 Friday's competition is meaningful in two ways. It consists of a pair of sessions of four teams each. The top two finishers in each semi move on to Saturday's final, billed as the "Four on the Floor." In addition, top individual gymnasts whose schools did not qualify for Fort Worth will compete alongside the teams. Whomever records the best scores of the night, whether competing as part of a team or at-large will earn individual national titles in specific events or the all-around (combining scores from all events). Saturday, the four top squads will face off to determine the NCAA's top unit. The team aspect adds another level of intensity.
"Although it's an individual sport and one person may be up on the apparatus, the rest of the team is standing around them yelling, cheering them on," said Horton.
"They make it fun. They make it exciting. They're high- fiving, they're jumping up and down," said Streeter about the competitors.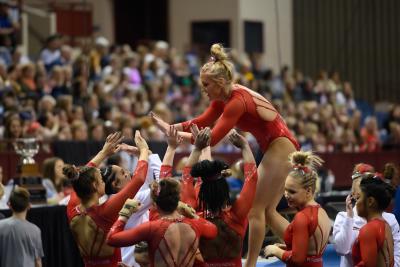 So who might engage in this high-fiving and jumping (and competing)?
Friday's first semi, which starts at noon Central Daylight Time and airs on ESPN2, features UCLA, LSU, Utah and Michigan. All four rank in the top ten nationally. The second semifinal begins at 6 p.m. and will air on ESPNU, switching to ESPN 2 at 6:30 p.m. It features Oklahoma, Denver, Georgia, and Oregon State. Saturday's round begins at 6 p.m. and ESPNU will broadcast the finale.
More Team Information
Oklahoma has remained near or at the top of the rankings all season and will make the short trip to Cowtown rated as the nation's best team. They won the Metroplex Challenge quad meet at this same facility in January (and will return to defend that title next year) and also won the NCAAs in 2016, the last time Fort Worth hosted them. Junior Maggie Nichols returns as the defending NCAA All-Around champion. Sooner Head Coach, K.J. Kindler said that despite their consistent season-long performance, they "have faced every level of adversity this season from personal loss to injuries to illness. Because of this, OU will arrive in Fort Worth as one of the most emotionally connected and toughest teams we have ever coached."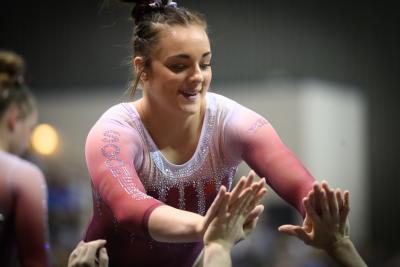 UCLA comes to Fort Worth as defending champions after having won in St. Louis last April. The Bruins trailed Oklahoma heading into the final rotation before pulling out a dramatic win. If both advance to Saturday, the dynamic between the two schools bears watching. UCLA is currently ranked second in the country. Katelyn Ohashi tied for last year's best score in the floor exercise and her routine this year went viral. Four-time national Coach of the Year Valorie Kondos Field, who will retire after this competition, said "This season has been such a joy not just for me and our team but for the sport as a whole. To see college gymnastics blossom and thrive as much as it has this year has been so rewarding and so fulfilling. I could not have asked for a better final year as head coach of this program."

LSU head coach D-D Breaux said, "I'm so proud of the fight in our team to get back to NCAA Championships. They have continued to improve all year and over the last six weeks put together consistent performances."
Her Tigers have reached the Super Six (the final day of the championships consisted of six teams instead of four until this year) seven times in the last 10 years. They have finished as national runners-up twice in the last three years (including 2016 in Fort Worth). The number three-ranked Tigers will look for their first-ever team title this season with a roster that includes 2017 vault champion Kennedi Edney and 2017 bars titlist Sarah Finnegan.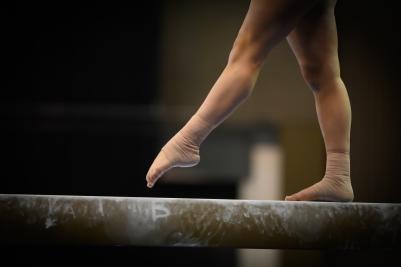 Utah boasts an amazing history in the sport, having won the first five NCAA titles starting in 1982, and a total of nine. They finished fifth last year. The Red Rocks have been to every NCAA championship meet. During the regular season, they won dual meets with Oregon State and Michigan and lost to UCLA and Georgia.
No university has won more team (10) or individual (42) titles than Georgia. Sophomore Marissa Oakley posted a perfect 10 on the uneven parallel bars in the regional to power the GymDogs to a berth in the national competition.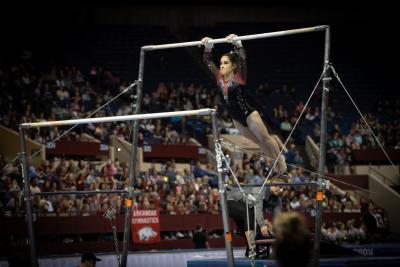 Fort Worth gymnastics fans got to see the University of Denver put up a score of 196.350 to finish second in the Metroplex Challenge nearly three months ago. The Pioneers bring a number five national ranking and a win in the Corvallis Regional into the championships.
Michigan makes a 24th trip to the NCAA Championships in search of its first title. The Wolverines rank seventh nationally and have adopted the motto "Can't Break Steel" as they've toughed out injuries (including to head coach Bev Plocki's thumb) to advance to compete in Fort Worth.
Oregon State comes in with the lowest national ranking of any of the eight schools at #15. The Beavers hit all 24 of their routines in the Corvallis Regional to prevent Florida, who won in Fort Worth in 2015, from returning to Cowtown.