Whether selling vinyl records, hosting bands, or offering choice cocktails, Fort Worth's bars have something for everyone. Several watering holes have opened in the past few months, each offering a unique and original experience.
City Works 
Foot traffic at The Shops at Clearfork is revving up as patrons discover this bastion of fine dining, retail, and late-night imbibing — all within short walking distance from one another. I stopped by City Works Eatery and Pourhouse on a recent evening and was impressed with what I saw.
There's ample space for both diners and folks looking to toss back a pint or two. A long tapwall held what looked like dozens of craft beer offerings, with half of the handles pouring locally made brews. A massive sign adjacent to the bar listed what was on tap. Happy Hour (Mon-Fri, 4-6 p.m.) includes $4 featured appetizers and select beers and half-price glasses of wine.  

Off the Record
I stopped by Off the Record (technically Off the Record "West" since the original one is in Dallas) to see what my friends were so excited about. My guest and I grabbed the last open table at the bar/vinyl store located on West Magnolia Avenue.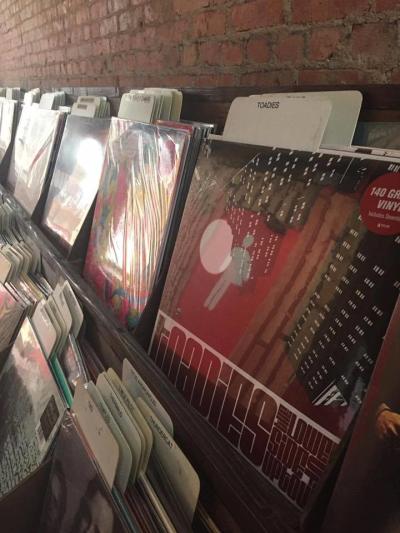 PC: Off the Record West Facebook
The space definitely felt like a bar first and record store second. The industrial-chic space is a harmonious amalgam of new and old. A long bar on the east wall offers 20 craft beers and handcrafted cocktail options.
Toward the back, several neatly organized racks hold new records that average $20 a piece. With vinyl making a strong comeback, Off the Record has a captive audience in an easily accessible part of Fort Worth.

Twilite Lounge
Twilite Lounge recently opened just south of downtown in a rapidly developing part of the Near Southside. The music venue is a microcosm of its home district, offering a posh bar area, generous craft beers options on tap, a spacious live music area, secluded private event room, New Orleans-themed restaurant, and an intimate outdoor patio.
Part of Twilight Lounge's magic is the proximity each room has to the others. A growing number of events include live music and DJs on the weekend and Good Luck Karaoke every Wednesday. The homy lounge has a laid-back feel and attentive staff — definitely worth checking out.   

Texas Republic Bar 
The first thing that caught my attention when visiting Texas Republic Bar & Kitchen in the West 7th area was the indoor seesaw. What's true for tango is true for seesaws: it takes two to do it right. So I went to the bar.
Thinking about beer, I asked what type of brew was coming from the "Texas Republic" handle. Maybe a new craft beer I hadn't heard of?  It turned out to be a cocktail made with vodka, elderflower, and various juices. It was my first draught cocktail, and it was delicious. The elderflower and cucumber flavors were pronounced. Texas Republic has a full-service kitchen, and I've heard the pizza is amazing.