Every year, the genius folks behind Texas Rangers' concession stand creations, Delaware North, come up with new and unusual food items for baseball fans –– anyone remember the Bacon Cotton Candy from 2015 or 2013's Boomstick? Sometimes the new items are home runs, and sometimes they're grounders, but eating at Globe Life Park is so much more than peanuts and hot dogs. For the 2017-2018 season, you'll find a brand new list of Never Ever Quit snacks and meals.
 
The M.V.T
Most Valuable Tamale: Similar to the Boomstick, you get two feet of tamale filled with chopped Boomstick hot dog, topped with Texas chili, creamy nacho cheese sauce and sour cream. That's a lot of tastes in one, so it's best to share with two (or more) folks. The MVT lives in the Texas 24 Stand, in section 29.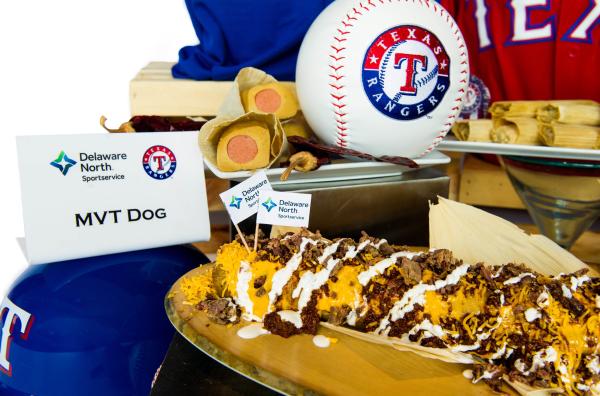 Texas Snowballs 
Succinctly, this is brisket dipped in funnel cake batter. That may sound strange but brisket is often served with sweet brioche-style bread. And funnel cake makes everything better, right? In 2015, the Rangers created a signature stand dedicated to novelties you'd see at the State Fair of Texas, the State Fare Stand in section 141, which is where you'll find these Snowballs.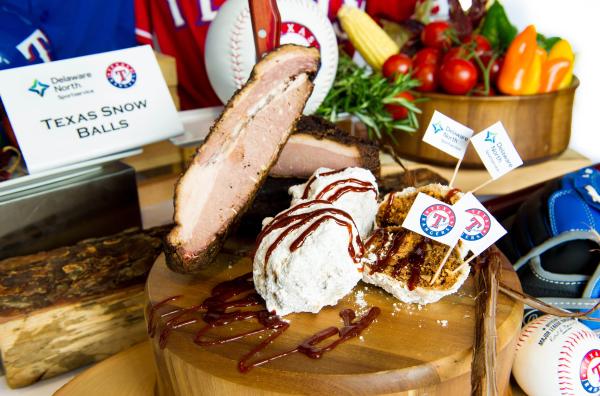 Black Bean Tamales
Props to the chefs at Delaware North for listening to the demand from baseball lovers who want to eat a little lighter. Vegetarian items like the Black Bean Tamales (spicy Mexican-style black beans rolled with masa and steamed) can be found at the Ballpark Vegan Stand in section 16.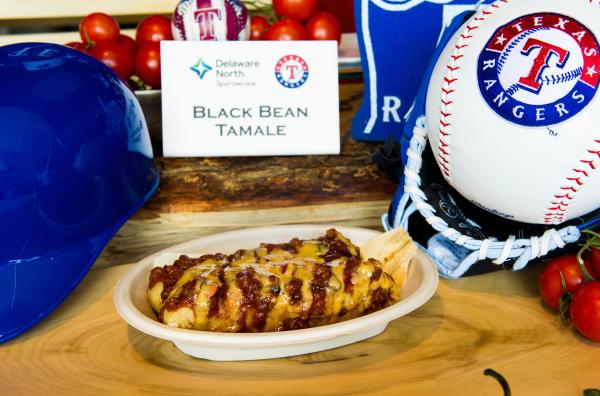 Mediterranean Nachos
A take on the classic baseball nachos we all love –– salty, crunchy pita chips come topped with chickpea hummus, garlic basil tomato and tapenade-like chopped olives. You can also find more vegan, vegetarian and lighter fare in the Centerfield Market.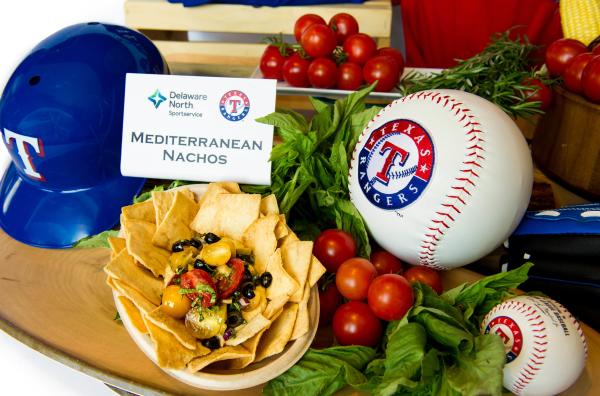 .
Finally, in the Rebecca Creek Saloon, you'll find the Veggie Wrap, a deconstructed black bean veggie burger, piled with spinach, red bell pepper and pico de gallo. The mix is tossed in a cool/spicy salsa ranch dressing and rolled in a tortilla.  
 
Classic Treats
If you're in a throwback mood, or you're just thirsty, here are the locations of some of your favorite old-school goodies.
Buy Me Some Peanuts, and Cracker Jacks, and Cotton Candy…
If you just want the classic baseball favorites you grew up with, you can find peanuts, popcorn, caramel corn and pretzels in sections 9, 45, 303, 310, 319, 336 and 340. Cotton candy is sold in the Centerfield Market, in individual kiosks and through the aisles by vendors.
Beer, Both Foreign and Domestic
The Ale House in Section 50 offers a variety of beer and ciders. The Beers of Texas sections (54, 210 and 328) offer Rahr, Deep Ellum, and several kinds of Shiner beers in addition to Texas macrobrews. The Beers of the World sections (11, 39 and 325) expand on the beers of Texas with several multi-national offerings.

The Rangers' website offers a complete list of amenities and food stands if you're looking for a particular item. And did you know you can assemble your own vacation (or staycation) package with the Globe Life Ballpark Vacation Package? You'll get to select a room from a choice of 27 hotels, along with some fabulous merchandise and souvenirs.