It's a song as old as rhyme, or at least a song that goes back to 1947, when Frank Loesser wrote the wistful "What are You Doing New Year's Eve?" Maybe it's much too early in the game, but here are nine choices if you don't have plans in the Fort.

1.  The Foundry District   
Roar into the new year at the Foundry District's Ritz & Wonders, a 1920s-themed extravaganza billing itself as The Greatest Show on NYE in Fort Worth. From burlesque and drag shows to magicians and DJs, there's going to be a lot to see, including four circus animal installations reaching heights of 20-feet-tall. 
Get your tickets in advance for $40 or pay $50 at the door. Fun runs from 9 p.m. to 2 a.m.
Pairs well with a prix fixe menu from Bird Café or Del Frisco's Grille's.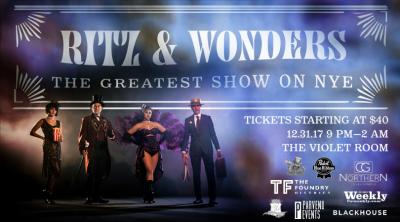 2. Downtown Fort Worth 
Downtown, you can catch the ever-changing, raucous show at Pete's Dueling Piano Bar. If you're more in a jazzy mood, the Fort Worth Symphony Orchestra offers up a tribute to the late, great Ella Fitzgerald. Grammy Award-winning singer Carmen Bradford channels the First Lady of Song at Bass Performance Hall. Details here.
Pairs well with dinner at Grace or Waters Bonnell's Coastal Cuisine, where you have your choice of three evening seatings.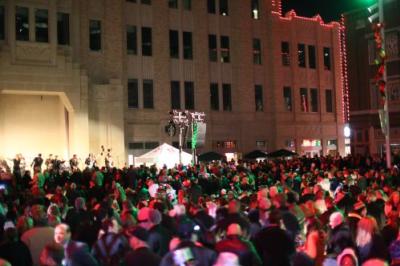 After dinner and before the shows amuse yourself with the people-watching and festive goings-on in Sundance Square. You never know what surprises might be in store.
 
3. Billy Bob's Texas
The Randy Rogers Band's (RRB) spent 2017 touring in support of their newest effort Nothing Shines Like Neon, and they will wind up their 200 shows this year at Billy Bob's Texas. The band has been frequent NYE performers at the world's largest honky-tonk, and it's been an amazing 12 years since the band recorded their Live At Billy Bob's CD. RRB recently wrapped recording in Nashville's iconic Studio A, where everyone from Dolly Parton to Frank Sinatra has recorded.
Admission is $20 general admission, $40-55 reserved. Doors open at 6 p.m. and show starts at 10:30 p.m.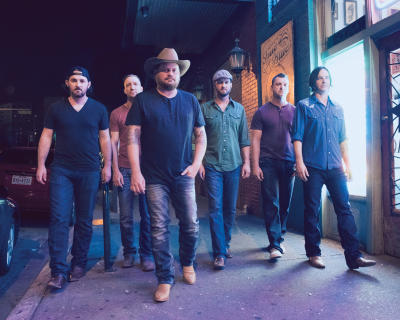 4. Lola's Saloon
If you're looking for a more low-key evening, Austin Americana/Southern Rock band Uncle Lucius performs at Lola's Saloon, the place that won the Fort Worth Weekly's Best Music Venue category seven years running.
Tickets are $17 and show starts at 7 p.m. Pairs well with: Cane Rosso or Velvet Taco.
5. Fort Worth Live
One of the best deals for NYE is the show by hometown gals Danni & Kris at Fort Worth Live.  CVB blogger Edward Brown covered the indie-pop duo earlier this year as part of Five Fort Worth Artists on the Rise. The ladies will be joined by a drummer for a more up-tempo musical evening.
Fort Worth Live is situated on top of the Red Goose Saloon, home to burgers, BBQ and the loaded curly fries (with gravy, cheese, pico, and sour cream).
Tickets are $10 and show starts at 8 p.m.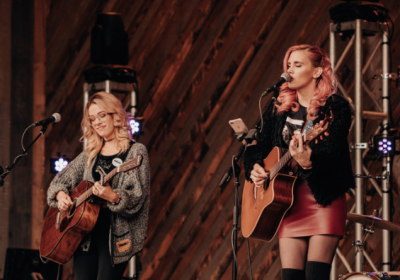 6. Buttons Restaurant
Buttons offers spectacular soul food and a midnight champagne toast after you groove to the band Soulful Soundz. 
Admission is $30 per person and includes a champagne toast. Doors open at 8 p.m.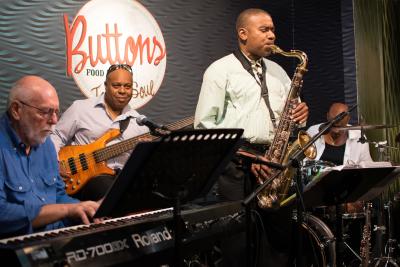 7. Woodshed Smokehouse
The Woodshed Smokehouse is hosting Tunes, Bubbles & BBQ under the stars at the Trinity Riverfront property. If you're there a little earlier, musicians Morgan Lindley and 57 Sauce will keep you entertained.
Tickets are $96.19 ($75, plus 20% gratuity) and doors open at 8 p.m.

8. Rio Mambo
Come Mambo 'til Midnight at Rio Mambo's annual event. Food (including a shrimp bar and street tacos), a DJ, and the Fort Worth Mag-arita will keep you entertained into 2018. Fort Worth location is 6125 SW Loop 820.
Admission is $29.95 per person, plus tax and gratuity, and doors are open 8:30 p.m. to 1 a.m.

9. Fixture Fort Worth
Fixture Fort Worth will help you ring in the new year, Las Vegas-style. You will get blackjack, roulette and craps tables, along with a DJ and Chef Ben Merritt's culinary creativity.
Doors open at 7 p.m., gaming from 7:30-10:30 p.m. Price is $125 person. 
From all of us here at the FWCVB, best wishes for a happy, healthy 2018!