Saint Patrick's Day is an actual saint's day, honoring Padraic, the priest who brought Christianity to Ireland. Even though Ireland has a fabulously rich cultural history, in America the day conjures up images of beer, shamrocks and leprechauns.  Perhaps this is due in part to Ireland's excellent exports, including Guinness Beer ("a dry Irish stout," per the website). Don't forget the whiskey - Jameson if you're a Dubliner, Bushmills in County Antrim, or Tullamore D.E.W, which claims to be Ireland's oldest blended whiskey.
It seems like everyone's a little Irish on March 17. Since we're not on the Emerald Isle, here are three ways to celebrate St. Patrick's Day in Fort Worth.
1. Wearin' of the Green on West 7th (costumes encouraged!)
Come pub crawl through a group of West 7th's restaurants on Sunday, March 13, beginning at 3PM. Your registration fee includes a donation to Autism Therapy in Fort Worth. Participants in the pub-crawling fun include Terra Mediterranean Grill, Thirteen Pies and Social House Fort Worth - all featuring wine and cocktails. Brewsters and Bar Louie can source your Guinness beer, while FW Market + Table will feature a boozy, healthy green cocktail for the event. Registrants will be directed to text a code that will alert them when it's time to crawl to the next place. The best costume earns a prize, so get creative!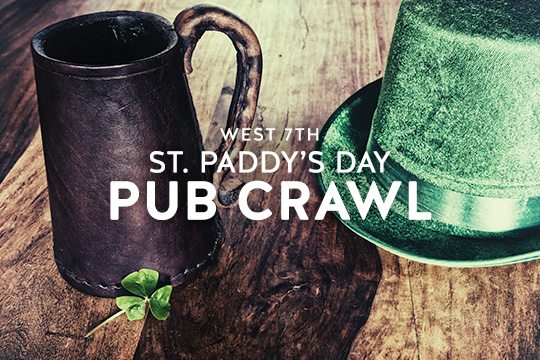 2. Take the little leprechauns day trippin'
St. Patrick's Day collides with spring break for many school districts this year, and three of our excellent museums in the Cultural District offer arts camps during the week with activities on the 17th. The Amon Carter Museum of American Art will be exploring the eastern United States in connection with their week-long "Great American Road Trip" theme. The Kimbell Art Museum offers pottery and other art, a movie, story time and free interactive tours during Spring Break Art Extravaganza. And, The Modern Museum of Fort Worth's Spring Break Wonders allows families to explore the museum with a tour and a hands-on project.
*All museum events are free, and no registration is required.
3. Get your Irish eyes smiling
Every day is St. Patrick's Day at an Irish pub, and Fort Worth has a surprising amount of Irish and Irish-themed bars. Geographically it would be a challenge to pub crawl them all on one night, but downtown you'll find Rick O'Sheas, Paddy Red's Irish Pub, Durty Murphy's Irish Pub, and Malone's. Moving onto 7th Street, hit up Poag Mahone's Irish Pub and The Abbey Pub, or travel a bit further to get to Conlon's Pub. Over near the hospital district, check out Finn MacCool's Pub. Slightly further afield, Dublin Square even has a countdown clock going until the big day. But remember -- while St. Patrick's Day is a national holiday in Ireland, in America, it falls on a Thursday this year. Plan accordingly.