Hatch, New Mexico, is a small town between Las Cruces and Truth Or Consequences. Over Labor Day weekend every year at the closing of the eponymous chile pepper harvest that put Hatch on the map, the town throws a festival for their main crop that draws folks from as far away as Great Britain and is covered by major news outlets and, of course, the Food Network. 

Hatch has a special climate for farming the unique green chile. The combination of hot days and cool nights and maybe the soil itself can't be duplicated in other locations.  While the festival runs at the end of Hatch season, the spicy green chile has already arrived at local stores and restaurants. The first peppers of the season tend to be the mildest, and the chiles' heat increases toward the end of the harvest.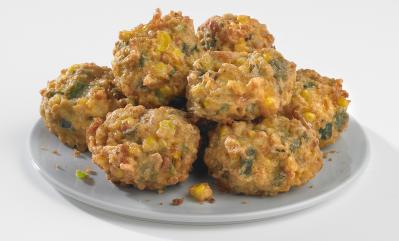 PC: Hatch Chile Corn Fritters, Central Market (Jason Fischer)

Ever since I can remember, Central Market has been the center for all things Hatch. The chain has a dedicated farm for chiles in New Mexico. The air around the outside of the store location at Hulen Street and I-30 has a pungent tang during most of August and into September, as the store roasts their own Hatch chiles. The grocery giant stocks canned Hatch chiles year 'round, in addition to some take and reheat items like a Hatch chile bean dip. There are also a few recipes, from a Hatch chile con queso to mains like a garlic chile shrimp. The store also offers chef-prepared take-and-eat items from Hatch chile corn muffins to Hatch chocolate chip cookies. And Central Market has tips on picking the perfect raw chile (bright green with smooth skin.)
Sprouts Farmers Market also has a formidable section on their website dedicated to cooking with the spicy green chiles. You'll find recipes for Hatch mac 'n' cheese, fried Hatch chicken and salmon and Hatch chile hash. The store offers a few take-and-go items as well, like a Hatch chile-spiked sausage.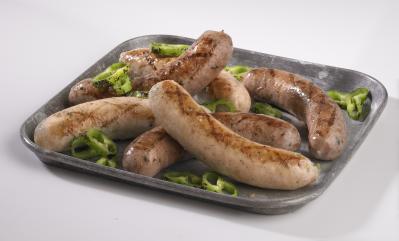 PC: Chicken Sausage Hatch Green Chiles, Central Market (Jason Fischer)

Additionally, Whole Foods Market offers suggestions for cooking with the chiles. The newest location in Waterside is roasting chiles out front, and the chefs have several pre-packaged items to offer, including Hatch pesto, salsa and pimento cheese dip. Whole foods also has on-line menu suggestions if you're feeling creative.
Blue Mesa's 21st annual Hatch Chile festival started at the beginning of the month. Restaurateur Jim Barron points out that, in keeping with the restaurant's philosophy of "fresh is best," the specials only run the length of the season. Two decades ago, Blue Mesa would send a truck to Hatch to bring back the goods to their Fort Worth and Dallas locations. Some of the food specials include Oaxaca cheese bites (cheese wrapped in Hatch chiles, battered and fried); pozole with veal stock, hominy and hatch chiles; and sizzling bacon-and-Hatch-wrapped shrimp fajitas on a hot Himalayan salt rock. You can even get a Hatch brownie sundae with cajeta and milk chocolate sauce crowned with chile pecans.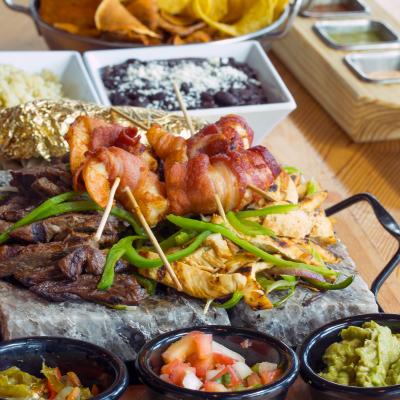 PC: Blue Mesa's new fajitas on a Himalayan salt rock

Chuy's celebrates their 29th Annual Green Chile Festival, which kicks off mid-August. The Austin-based chain brings in over three million pounds of peppers from the fertile Hatch fields. The limited menu of Hatch-based offerings includes the Burrito en Fuego, covered in a spicy salsa fuego and enchiladas Ricas –– roasted chicken and cheese enchiladas covered with a creamy green chile-tomatillo salsa. You can also sample the restaurant's New Mexican martini, made with Hatch-infused el Jimador tequila. 
Even Martin House Brewing has gotten into the act with their Salsa Verde beer, infused with roasted Hatch chili peppers, lime, tomatillos and cilantro. The limited release beer is available in cans and on tap at certain locations around town – check the Martin House website for more information.
Hatch chile season runs late summer through September (or, as they say, as long as the chiles last).