If you seek a personal encounter with ghastly ghouls, Fort Worth is your town!

The Fort Worth Stockyards is a paranormal nesting spot for apparitions who just can't seem to find a good night's rest. A spunky, petite guide, Kay McDonald, is on the team who leads the walking Fort Worth Stockyards Ghost Tour that begins at Cowtown Winery. According to Kay, well over a 100 ghosts haunt the restaurants, jewelry stores, tattoo parlors and saloons in this historic area.
Our tour began on a Saturday evening at 7 p.m. As this was a 90-minute walking tour, I was glad to be wearing comfy shoes and lightweight clothing as we strolled about on the spicy hot Texas night. The ghosts were a bit shy that evening, but certainly our strawberry blonde and fast-moving guide was not the least bit bashful. Kay gleefully called out the names and key points about the famous people on the sidewalk stars and gave us the lowdown on many local spirits, both the ghostly ones and those we might sip on in a few cool hangouts.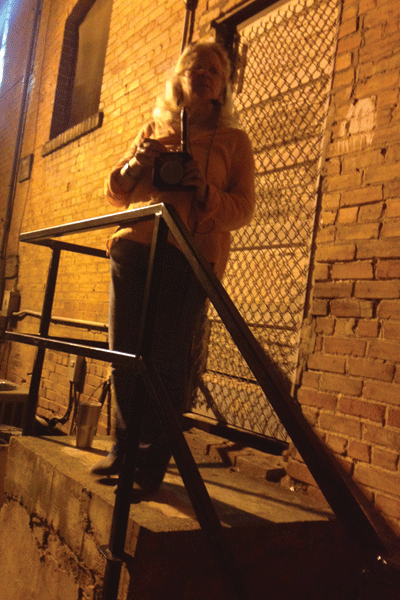 Most tours run Thursdays through Saturdays and one can also set up private tours as desired. During October even more tours are scheduled to spook us right up to the hallowed eve.
That Saturday evening we hot-footed it all over the Stockyards through crowds of black felt hats and leather boots, just like a bunch of boot-skootin' folks at a dancing saloon.
Kay encouraged us to "Party on!" as she told us about the teenage ghost Danny who may spill a glass of wine on the floor or toss a case of beer to make himself known.  Others passed during gun fights or acts of…passion. Kay didn't go into sordid death details but we kind of got the idea. Apparently store owners are happy to show guests captured pictures or videos of their ghosts if you simply ask.
We heard of perky ghosts apt to toss restaurant pies to the floor or bang around with a mop and bucket. Kay stated that many ghosts are "very active." I wondered if one would be "active" during our tour, but I can't say that I spotted anything, much to my dismay. Everyone on the tour appeared to be on the lookout and perhaps even a tad jittery…especially when we walked down to the Trinity River. As we walked away from the dark river and up a shadowy alley, a rickety wooden gate behind a brick building creaked open. I jumped. No one was there. I peered around but didn't see any fog or figure. Rats!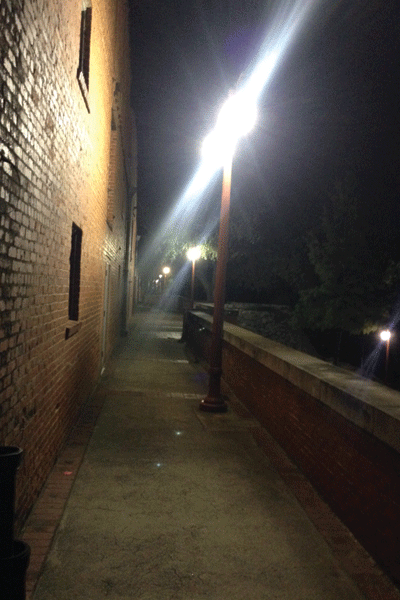 The sweetest ghost I heard tell of was the little Emma. She's the kind of sweetie for whom the store owners are still inclined to leave out toys for the ghost girl's entertainment. Beware…Emma may pull on your clothes to get attention. Kids!
We also heard of unfortunate bank robber ghosts who weren't sure how to use their explosives and a boy who runs about the Cowtown Coliseum repeatedly yelling "Pig!" At Miss Molly's Hotel a lady guest may have her hair braided by a ghost—complimentary, of course! What a generous gesture. Personally, I'd pass on that amenity--just a smidgen hair-raising for my liking.
In Stockyards Station moaning and groaning animals are said to be heard. Some tour people ambled down into the dark tunnel-like area and clicked selfies in the same area where cattle were hauled to the meatpacking plant. This former farm girl opted to remain near the nice bright streetlamp.
As we neared the end of our trek, we finally heard the story of the Madame who squeaks in rocking chairs and also plays the piano. As a piano and voice teacher, I wondered what her favorite tune might be? Do the cowboys, rodeo clowns and bulldogger ghosts all sing along? According to our guide, they may tap your shoulder, rub your neck, or even fill your path with a cold mist. Perhaps they'd like us to sing along!
All those on the tour were encouraged to click pictures in the hopes of capturing an orb or figure that only the camera's eye picks up. Kay shared some of her photos with me and declared that the spirits are kind to those who are afraid but perhaps less nice to the bold and brave. Thus, I couldn't decide if I should be timid or strong, but, either way, I was really happy to sip on my reward for surviving the tour—a glass of berry chocolate port.
If you are inclined to ride rather than walk, another company offers the Fort Worth's Ghost Bus Tour. This tour has personable guides and drivers who fill your evening with mysterious tales and historical facts about outlaws, cattle drivers and oil barons. Tours begin and end at Acre Distillery. While sipping a ghostly cocktail you visit such haunts as the Parker Cabin where the blue-eyed squaw, Ann Parker met an untimely death or see the location where J.F.K. spent his last moments in Fort Worth before heading to Dallas.
Other sources for sorcery knowledge are library books such as Paranormal Texas: Your Travel Guide to Haunted Places Near Dallas & Fort Worth by Tui Snider or Ghosts of Fort Worth: Investigating Cowtown's Most Haunted Locations by Brian Righi.
You may also visit www.hauntedplaces.org/fort-worth-tx/ to locate a plethora of paranormal hangouts at B&Bs, saloons and cemeteries—to name a few: The Texas White House, The Log Cabin Village, Thistle Hill, W.E. Scott Theatre, The Bull Ring, and the Lake Worth Castle. All boast of tales, often quite tall, that will tingle your spine and creep your crawlies.
Now, go grab your ghosts...if you dare!