Spend a day exploring the Fort Worth Stockyards and its historic Old West roots! The Fort Worth Stockyards Adventure Pass allows you to do just this and take in the best of the Stockyards at your own pace. This bundled offer includes: Fort Worth bandana, map, Stockyards Historic Walking Tour, entry to the Texas Cowboy Hall of Fame, entry to the Stockyards Museum, a souvenir photo at Billy Bob's Texas - the world's largest honky-tonk - and an opportunity to see the world's only twice-daily cattle drive.
Plan your Stockyards Adventure around the cattle drive, which occurs every day at 11:30 a.m. and 4:00 p.m. Don't miss real Texas cowboys drive a herd of longhorns down Exchange Avenue in the heart of the Stockyards. Each drover carries Fort Worth Herd trading cards with information about each steer and you can collect up to 20.
The Stockyards Historic Walking Tour provides fascinating insight into the history of the Stockyards, leaving you with a greater appreciation of the area. You can schedule a Stockyards Historic Walking Tour Tuesday through Saturday at 10 a.m., 12 p.m. or 2 p.m. (2 p.m. tour only happens if four or more guests attend) and Sunday at noon or 2 p.m. Your tour begins with a viewing of the film "Spirit of the West," which overviews the Fort Worth Stockyards and it's role in the cattle business. The 10 a.m. tour ends just before the first cattle drive.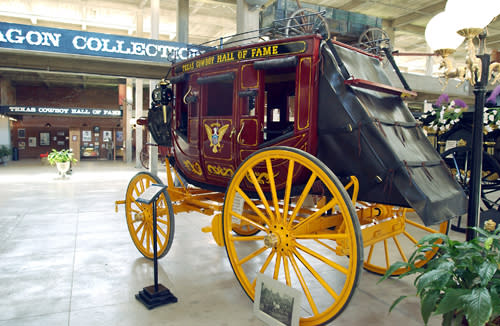 Continue your historic exploration of the Stockyards by visiting the Texas Cowboy Hall of Fame and the Stockyards Museum on your own. The Texas Cowboy Hall of Fame highlights individuals who exemplify the Western spirit and features over 60 horse-drawn vehicles, making it the world's largest collection of wagons. There's plenty for kids to explore with several interactive exhibits that show what goes in a chuckwagon and how Cowboys packed for the trail. The Stockyards Museum housed inside the Historic Livestock Exchange Building exhibits interesting artifacts related to Fort Worth's early days and the Stockyards.
Commemorate your day with a souvenir photo on a bull at Billy Bob's Texas. The photo can be taken at any time Monday through Saturday from 11 a.m. to 5 p.m. or Sunday from noon to 5:00 p.m.
For more information and ticket purchases, visit www.fortworth.com/stockyardsadventure.