There's no shortage of sweet treats in Fort Worth. Between Dude, Sweet Chocolate, Steel City Pops, Gypsy Scoops, and Sweet Sammies, you could have fresh, local sweet goodness almost every day of the week. Here are six more unique places to sate your sweet tooth in the Fort.
1. Alchemy Pops are house-made and sweetened with organic sugar or local honey. There's no artificial coloring in the popsicles, so what you're seeing is just the hue of the locally grown fresh fruit. Because the offerings are seasonal, the menus change frequently. You can join Alchemy Pops at their new location located at 411 S Main St Suite 109.
 

2. Freeze Factory is home to something you've probably never tried: Hawaiian Shaved Ice. But once you try it, you won't know how you lived without it! The shaved ice has a different texture than traditional ground ice for snow cones. The watermelon burst is what all the kids are talking about: It's a scooped-out mini-melon filled with flavored shaved ice, then topped with licorice strings, lollipops and all kinds of candy. The small drive-through store only offers outside benches, but we're hitting the beautiful days of fall where eating a snow cone outside seems like a great thing to do.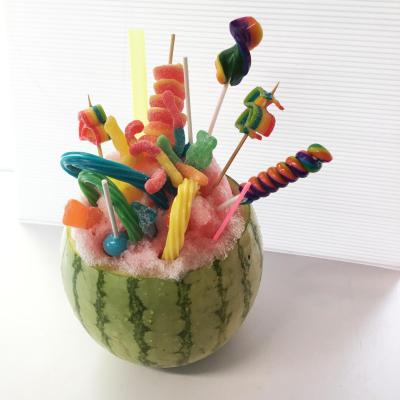 Watermelon Blast from the Freeze Factory
 
3. Kokitos Fruit, Desserts and Snacks offers homemade auga frescas, fruit smoothies and other treats like chocolate-dipped strawberries and fruit arrangements that are almost too pretty to eat! You can find piña coladas in real pineapple shells, and mango with chamoy, the sweet-tart-spicy seasoning blend used in Mexican cooking.
 
4. Melt Ice Creams has been around for about four years. In addition to the traditional "always flavors" like Beans (vanilla), Chocolate Chocolate, Salt Lick (caramel), Cup of Texas (coffee) and Velvet Vegan (chocolate vegan ice cream), the artisanal ice cream shop dishes out a "Sometimes Flavors" that rotate every 6 weeks. Creations range from Blackberry ice cream sprinkled with creamy mascarpone cheese and freshly toasted almonds to Guinness brownie ice cream with salted whiskey caramel swirl. 
House-made waffles and seasonal sundaes will knock your socks off.
5. Savor Pâtisserie offers French macarons (the ping pong ball-sized, cream-filled, slightly crunchy cookie-like treats) that melt in your mouth. Not to be confused with macaroons (almond paste dough that's shaped like a little star) or Emmanuel Macron, the current President of France. Buy them singly, by the dozen, or in an impressive-looking tower for a unique party gift. You can find traditional flavors (vanilla, chocolate, lavender, champagne or lemon). As a nod to Texas foodways, there are also red velvet and s'mores macarons as well.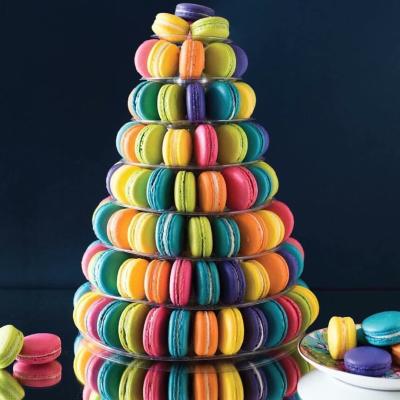 Macaron tower from Savor Patisserie​

6. Bahama Bucks's ice comes out as soft as snow from their super shaver. Snow cones are hardly news, but at Buck's you can get a snow cone with a core of your choice of vanilla, chocolate or strawberry ice cream in the center! It's two frozen treats in one package. You can even order Snow-2-Throw – perfectly round snowballs that can liven up your party package of Snow-2-Go portable snow cone treats.