Some drinks are best reserved for special occasions like wedding receptions, anniversaries, and (of course) the weekend.Several Fort Worth bars and restaurants serve up Texas-sized libations. Make sure to "roll deep" with your friends — some of these cocktails require groups of four or more. 
Texas Republic Bar & Kitchen
"Sorry, we don't serve 64-ounce drinks here," Texas Republic never said. Of course they do. The restaurant, bar, and adult play area boasts some of the most formidable drinks served this side of the Mississippi: Cherry Limeade (rum, vodka, cherry juice, fresh lime and champagne), Momma's Peach Pie (vodka, Triple Sec, cranberry juice, sweet and sour mix and Sprite), Ocean Water (rum, pineapple and blue curaçao ) and the 94-ounce Giant Mule (vodka, ginger beer and lime juice at $69).
Top Golf
Top Golf set roots in Fort Worth last year, leaving IKEA the only straggler left on my Fort Worth wish list. The Top Golf concept combines golf and arcade-style gameplay with the comforts of lounge chairs and wait service. Top Golf's bars serve "GOLFBAGS" for parties of two or more.
The cocktails (served in signature take-home mugs) include Pineapple Punch (rum, lemonade and ginger), Topgolf Marg (tequila, Cointreau and fresh lime), Citrus Cabana (rum, vodka, liqueur, cane sugar, fresh lemon and grapefruit juice) and more.

Landmark Bar & Kitchen
Sure, the words "Donkey Bowl" and "Horny Frog" piqued my interest. But do these cocktails deliver? For $19, you and a friend can triumphantly march back to your bar-area picnic table with the jumbo-sized mule (Cinco Texas Vodka, ginger beer, lime and mint) or Horny Frog (vodka, rum, gin, blue Curaçao, pineapple, sprite and gummy frog). Really, just one gummy frog?
Bar 2909
Bar 2909 has it all, or at least appears to. Amid the live sports broadcasts, fireplaces, food options and every kind of seating option imaginable is the Mega Mule. A pumpkin-sized copper mug greeted me and three friends recently after ordering it. Yes, there's an entire bottle of Tito's in this, but it went down smoothly thanks to hefty portions of lime juice and mint. Four giant straws completed the ice-cold drink.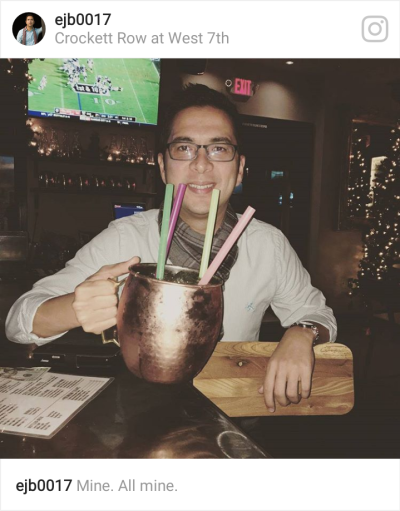 Joe T. Garcia's 
Fun fact: Joe T. Garcia's boasts one of the booziest margaritas in Texas, according to Texas Monthly. You can order a pitcher of this good stuff at the iconic Northside restaurant.
Rio Mambo
The popular Tex-Mex chain offers a "Grande" margarita upgrade for $10. You might consider supersizing your Mambellini (rum, schnapps and champagne) or Miami Vice (strawberry daiquiri) for that price.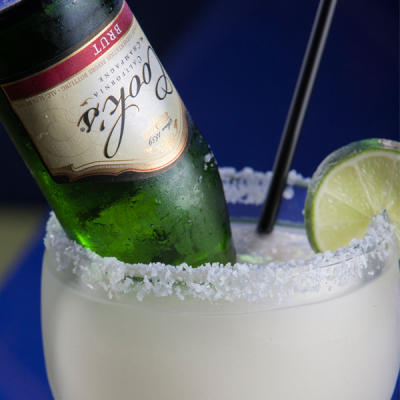 Reata
You don't have to own a mansion to drink like a millionaire at Reata Restaurant. The Millionaire Margarita (fancy tequila, Grand Marnier and lime juice) is only eclipsed by the Billionaire Margarita (even fancier tequila and even fancier Gran Marnier and lime juice).
 
Razzoo's Cajun Cafe
Razzoo's has been a staple restaurant of downtown Fort Worth and Cityview Centre for years now. Here, you can gulp down a popular Cajun cocktail — Gator Punch. The signature "trash can" drink promises to pack a punch. Served in a giant fish bowl, the mix of six liquors is blended to easy drinking perfection. Serves four.
Off the Record
You can snag a pitcher of Pimm's Cup, mojitos, margaritas and Moscow Mules at Off the Record. The West Magnolia vinyl store/bar has a great vibe, hip DJs and sublime cocktails.
MAIN IMAGE: @jolindalopez.