It's not often that a city can feature a set of soaring, chest-pounding arias as its seasonal rite of spring, but that is exactly what the Fort Worth Opera serves up this time of year with its annual opera festival.

This year's edition features high, yet still populist, literate references weaving their way through all three of the festival's major offerings. For La Traviata, no less a set of monumental themes than sacrifice and love, are played out in all their rapturous power through a series of Verdi's most mind and heart-tugging melodies. This beloved story will feature Verdi's incomparably rich orchestration all buttressing a cast of young, highly skilled Fort Worth Opera first-timers in what will be a traditionally-staged production.

Dog Days will have its regional premiere in Fort Worth. This work, originally based on a short story by Judy Budnitz, presents a post-apocalyptic, dystopian world pulled apart by incendiary war and fixates on a family in search of the better life they once enjoyed before war quashed so many of their dreams. The Wall Street Journal has deemed this work "one of the most exciting new operas of recent years." And if one regional premiere wasn't enough, the Fort Worth Opera will also present Hamlet. The Bard himself is all the inspiration this opera needs and its setting in what can only be described as a Soviet-scarred, harrowing landscape, only adds unsparing power to the well-known tragedy. The score, at the hands of Ambroise Thomas, is considered to be at once haunting yet tuneful.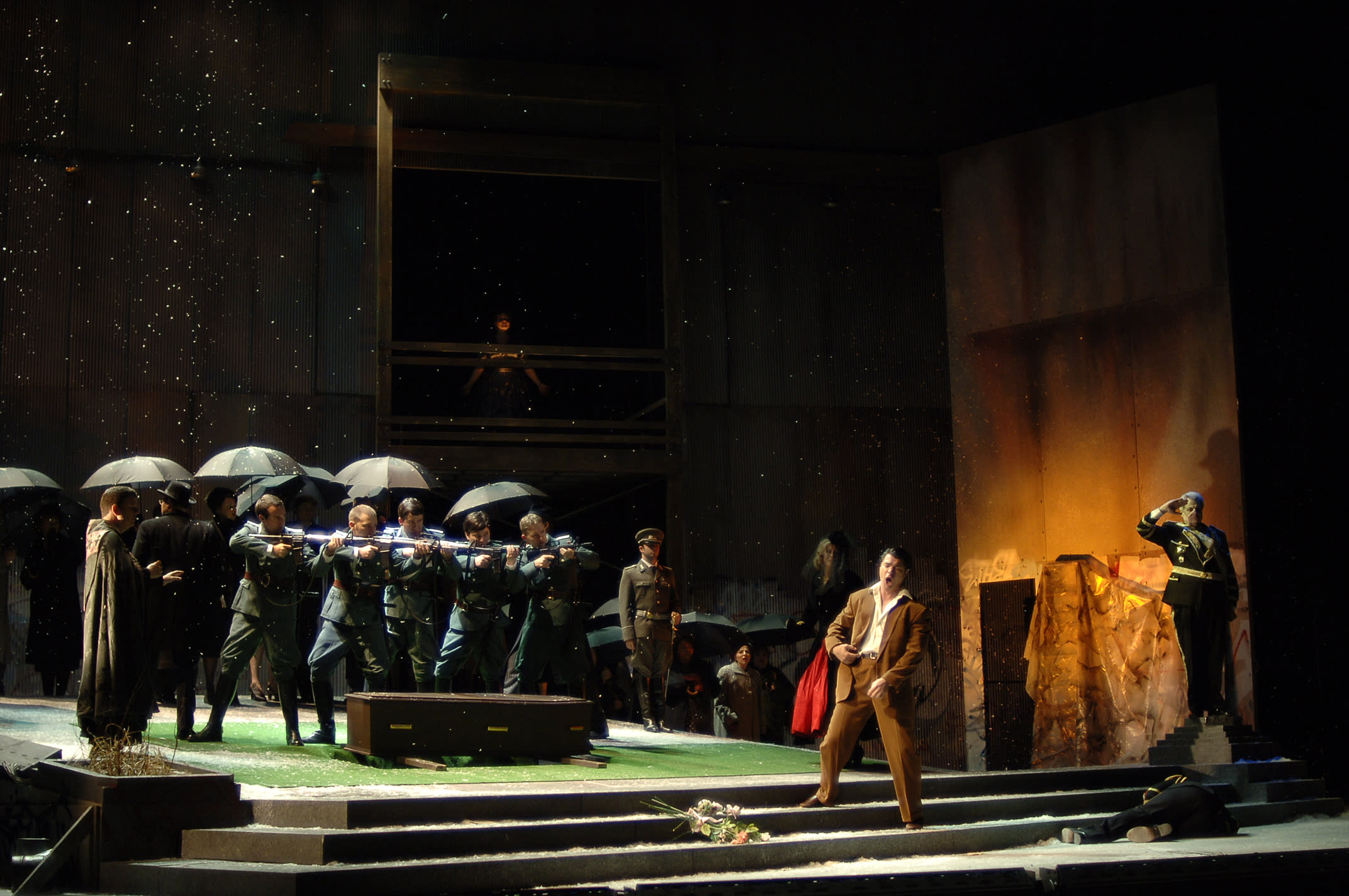 (Photo courtesy: Douglas Hamer; Lyric Opera of Kansas City)
That the Fort Worth Opera Festival would feature one of the most familiar and glorious pieces from the operatic canon -- La Traviata (in its first production in ten years) -- along side two bold and envelope-pushing regional premieres, pretty much sums up the artistic m.o. of the festival. And if that wasn't compelling enough, the Festival will unveil its third season of Frontiers, "the company's showcase for new works," May 7-8. The Festival will "house" in residence as many as six to eight specially chosen composers. Eventually, during the Festival, their work will be unveiled in 20-minute performances, specifically sung by a group of young artists, each accompanied by piano. Each of the composers in question will then participate in a highly illuminating, post-performance conversation.
In an Opera release, its general director, Darren K. Woods, said: "This season marks a bold step forward with three provocative works that challenge the human experience - from sacrificial love to testing the limits of one's own humanity. From the traditional to the contemporary, each work is vivid and spectacular, showcasing exceptional singers, exquisite sets, brilliant staging, and a one-of-a-kind musical experience." 
Details: The 2015 Fort Worth Opera Festival runs April 24-May 10. La Traviata and Hamlet will be presented at Bass Performance Hall. Dog Days will be presented at the Scott Theatre of the Fort Worth Community Arts Center. Note: performances include supertitles in English and Spanish.
For ticket pricing and show times, please visit www.fwopera.org or call 817-731-0726.