You may have heard about two "new" pubs in Fort Worth - Trinity River Tap-House (formerly The Pour House) and Chimera Brewing Company  (formerly Zio Carlo Magnolia Brewpub). Rest assured, little beyond the logo and names have changed about these pioneering gastropubs. The revamp was more than reason enough to chat with the businesses' proprietors and see what's new, though.
For Trinity River Tap House, this is the brewpub's third transformation in recent years. In October 2013, Pour House general manager Shawn Howell re-vamped the sports bar into a craft beer paradise by installing 75 taps and hosting craft-beer themed events. The well-lit, spacious pub still holds ample flat-panel televisions that run sports programming during business hours, while the outdoor patio offers an unencumbered view of bustling 7th Street.
Howell said the renaming was the last step in The Pour House's transformation to a craft beer enclave. With the new name, he said, the concept finally matches the moniker.
"A lot of things have changed recently, and in many ways little has changed," he said.
What is new is a larger waitstaff, revamped menu, and beer selection. Two of Howell's favorite brewskies currently on tap are Austin-based Real Ale's Scots Gone Wild, a sour scottish ale, and Rahr's annual Visionary Brew. This year, Rahr picked a smoked porter style. Howell said he is excited about a beer club Trinity River is starting later this summer that will offer perks and rewards that will be announced soon. Follow their Facebook page for tap takeover and other beer-related events and festivals.  
Chimera Brewing holds a special place in Fort Worth's craft brew renaissance.  
When it first opened as Zio Carlo in 2011, Fort Worth only had one other independent brewery, Rahr & Sons. Martin House would follow two years later. Open rafters, bare brick walls, and a bookshelf full of beer-related literature gives the Near Southside-area space an unpretentious and homey feel. And the brick oven pizza is arguably the best in town with toppings that range from prosciutto and speck (dry-cured ham) to brie and fresh arugula.
Chimera co-owner Adam Gonzales recently told me the renaming was actually the last step in a process that began three years ago.
"Rebranding was one of the many items on the list [when I arrived in 2012]," he said. "You have to make something worth talking about and everything else will come."
When he looked over the brewing equipment and kitchen lineup he realized that the name change would have to wait. He put a priority on creating a great revolving beer selection that blends beers made in-store alongside national and local brands like Founders, Rahr & Sons Brewing Co., and Panther Island Brewing. One original recipe to watch out for, Gonzales said, is Chimera's first barrel-aged beer set to be released in late summer.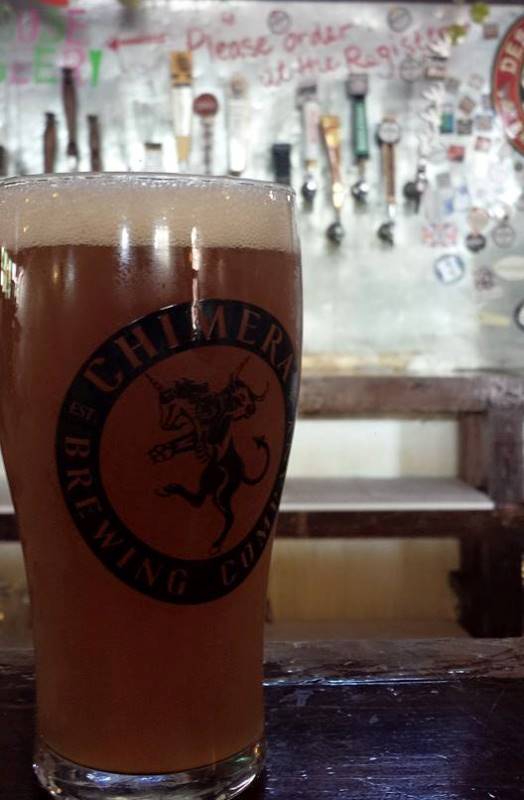 "We will bottle a good portion of it and have a very limited amount on draft. It is an Oud Bruin aged in a Syrah Barrel and a Rye Whiskey barrel. We will blend the two for the bottle release. On draft we will have a small amount of each one straight as well as the blended version. This beer will be 100% barrel aged, we didn't feel like blending back was a good option for us with this one."    
Besides serving great food and craft beers, Chimera Brewing hosts weekly live music and trivia game events and Sunday brunches.